Third Light gives back to local student computing facility
Having been founded by two Cambridge University graduates in 2002, Third Light has maintained links to the institution ever since – especially its Student-Run Computing Facility (SRCF).
Providing helpful computing and network services to university students and staff of all abilities, the facility is mostly funded through donations and sponsorship from users and alumni. We've previously offered internships to its members, and hope to once again when life has settled post-lockdown.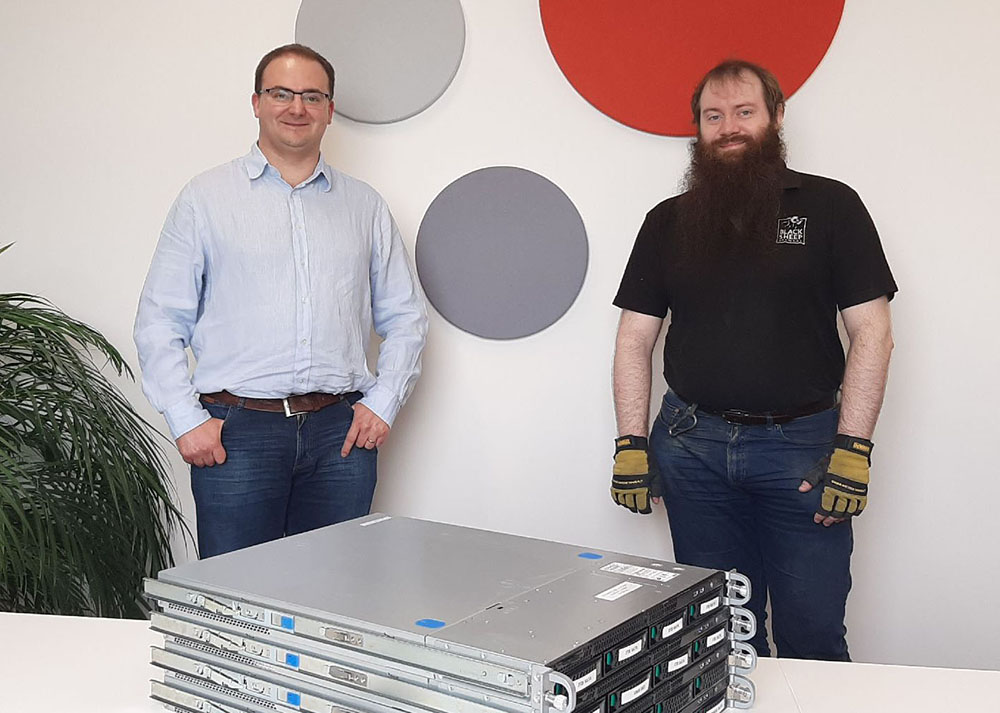 Technology Director Dominic Benson hands over to SRCF volunteer system administrator Andrew Cooper
One of the biggest ways we contribute to the SRCF benefits us – and the environment. You may have already read about how we regularly upgrade our servers to ensure reliable service for our users while reducing the amount of carbon emitted overall. This requires us to carefully assess the balance between the environmental impact of manufacturing those units and the improved energy efficiency they deliver.
"This program leaves us with a supply of perfectly workable equipment which we usually refurbish for less demanding testing or standby work, as Third Light expands in size," explains our Technology Director, Dominic Benson. "However, we always offer some to the SRCF as purchasing new hardware isn't usually an option for them. As a former member who first came across Third Light via a post thanking them for donated equipment and advertising a summer internship – which I took up! – I have first-hand experience of its value to students, during university years and beyond."
"Thanks to Third Light's donated machines we've been able to scale up our video conferencing service."
This side of Third Light's support has come into its own during this spring's COVID-19 lockdown, during which students have been relying on online services in place of face-to-face contact. The SRCF's remote teaching tool Timeout has facilitated supervisions and tutorials, meetings and chats for hundreds of students facing considerable upheaval to their learning routines.
"At a time when computing and remote work has grown increasingly important, the SRCF have sought to find new ways to support the University community, while battling with our limited funds," says Matias Silva, the facility's treasurer. "Thanks to Third Light's donated machines we've been able to scale up our video conferencing service and use the remaining machines for a resilient off-site platform that will host many of the services we're currently planning to support virtual collaboration among University members.
"The SRCF has for over 21 years continued to provide free computing services for all - and we have only been able to do so by standing on the shoulders of the many giants that have passed through it. For that, we are very grateful for Third Light's continued support."
If this work sounds like something your organization would like to support, you can contribute here. And if you'd like to know more about our environmental policies or technical infrastructure, just [email protected] - we're always here to answer your questions.
---