The key to better learning? A growth mindset
In a working world that demands ever-evolving skills, ongoing professional development is essential. However, confronting what we don't know often puts us in a position of vulnerability – unless we train our minds to be more open, trusting and resilient. Here's how to cultivate that 'growth mindset'.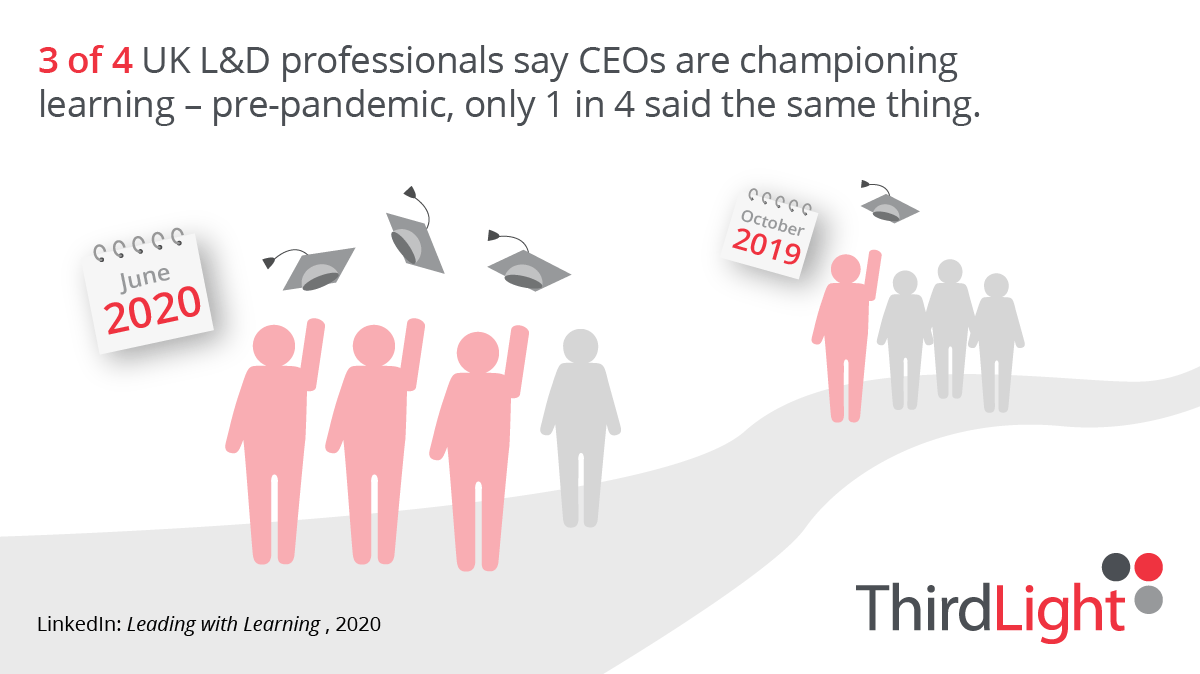 Our ideas and beliefs open – or close – the door through which we acquire new skills. Behavioural experts have identified the optimal way of thinking for personal and professional development: a growth mindset, open to the idea of change and recognizes that mishaps and missteps are opportunities for learning. It's the opposite of a 'fixed' mindset, which regards failure as an unthinkable horror and stays put to avoid any risk of it ever happening.
Having helped people at all levels of digital ability to use our software, Third Light's Training Manager Guy has seen the difference a growth mindset can make to an individual's learning experience. "It seems obvious to say 'no one knows what they don't know'," he explains. "But it's actually quite hard for any of us to picture anything we don't already understand – which then makes it feel more ominous than it really is. After all, the scariest monster in a movie is the one we can't see!"
You can choose to take moments of failure personally or view them as an opportunity to discover what you need to do differently next time

Guy Johnson, Training Manager
Learning journeys normally take place along winding, bumpy roads, at a variety of speeds – and it's rarely the smooth bits that result in the greatest progress. "It's inevitable that some stages will be more strenuous than others," says Guy, "but you can choose to take moments of failure personally or view them as an opportunity to discover what you need to do differently next time."
It may feel safer to stay in a comfort zone where everything's completely within your existing skillset, with zero risk of vulnerability. But in a rapidly changing world of work, playing it safe could eventually leave you unable to keep up with evolving requirements. A June 2020 LinkedIn report asked UK learning and development professionals if they had observed CEOs championing development, and 76 per cent of them confirmed – a substantial increase on the 28 per cent who had done so pre-pandemic, just nine months previously. If all of this resonates, here are five strategies to help you develop a growth mindset for this new working climate.


1. Tackle your inner voice
If you're struggling to get past an internal monologue that tells you something is impossible or that you're not up to the job, make sure to surround yourself with external messages to counter those arguments. That could mean enlisting someone close to you to serve as a cheerleader, or simply writing encouraging phrases and sticking them somewhere you'll see them often as you work.
2. Be prepared for the dips
Do you find it easy to start training, but harder to stay motivated? Knowing about the Conscious Competence Ladder model of learning might help you prepare for the rough patches. It outlines four stages:
Unconscious incompetence - a period of blissful ignorance of what's ahead
Conscious incompetence - where you learn enough to know what you're up against!
Conscious competence - the ability to use the new skill with focus
Unconscious competence - when you can do it without even thinking
"It's the second stage where things can feel hopeless," says Guy. "But if you think of a skill you have now where you're operating at 'unconscious competence' – anything from driving to dancing – then it's easier to remember what conscious incompetence felt like before that, and visualize the end goal as something that's truly achievable."
3. Acknowledge the slog
When you're having to really push yourself to make steps in the right direction or reset yourself after a setback, maintaining non-negotiable, full-throttle optimism can use up valuable?? While it's important to have faith in your ability to overcome obstacles, failing to acknowledging the work ahead won't help you tackle it. The mega-selling writer Glennon Doyle came up with a rallying cry that's being repeated by people all over the world this year: "We can do hard things."
It helps to focus on just one stage at a time – when you eventually move on to the next one, you'll have acquired the skills you need to tackle it
4. Break up your journey
If you were training for a marathon, would you expect to be able to run 26 miles from the get-go? "Any big goal needs to be broken down into smaller steps, but doing this for any kind of learning is absolutely essential," says Guy. "As you accumulate skills or face particularly challenging bits, no two stages will look alike, so it helps to focus on just one at a time – when you eventually move on to the next stage, you'll have acquired the skills you need to tackle it."
5. Convert setbacks to lessons
Failure is almost inevitable at some point on the route to your goal, but it's important not to get 'stuck' there. If something goes wrong, ask yourself what you've learned from it, and what you would do differently next time. This will help you move past feelings of disappointment or regret and focus on how you're going to tackle the obstacle again. "An organization with a culture of viewing mistakes as opportunities for growth will innovate and deliver faster in the long run," adds Guy, "so it's important to set an example that encourages others to approach their work this way, too."
You can read more about the training programs offered by Third Light here – and if you have any questions, just [email protected] – we're happy to help.
Author: Edie Mullen
Other articles you may find useful:
Third Light launches eLearning academy for Chorus users
We recommend training for a successful Chorus rollout; when team members know how to use its powerful collaborative features from the time of launch, everyone can reap the benefits as soon as possible.
Remote working: how to keep the creativity flowing
As more companies explore alternatives to the traditional office, how can distributed workers keep their thinking fresh in isolation? Here are some tips and tools to bridge the gap.
---