Register now for our spring 2021 Chorus webinars
As creative teams begin to establish new ways of working to fit distributed arrangements, digital asset management has never been so important for collaboration - especially with our solution, Chorus, which supports file syncing, comments and customizable virtual workspaces. Our first series of free webinars for 2021 have been created by our award-winning Customer Success team to cover everything you need to know to get the most out of Chorus, from content production to publishing.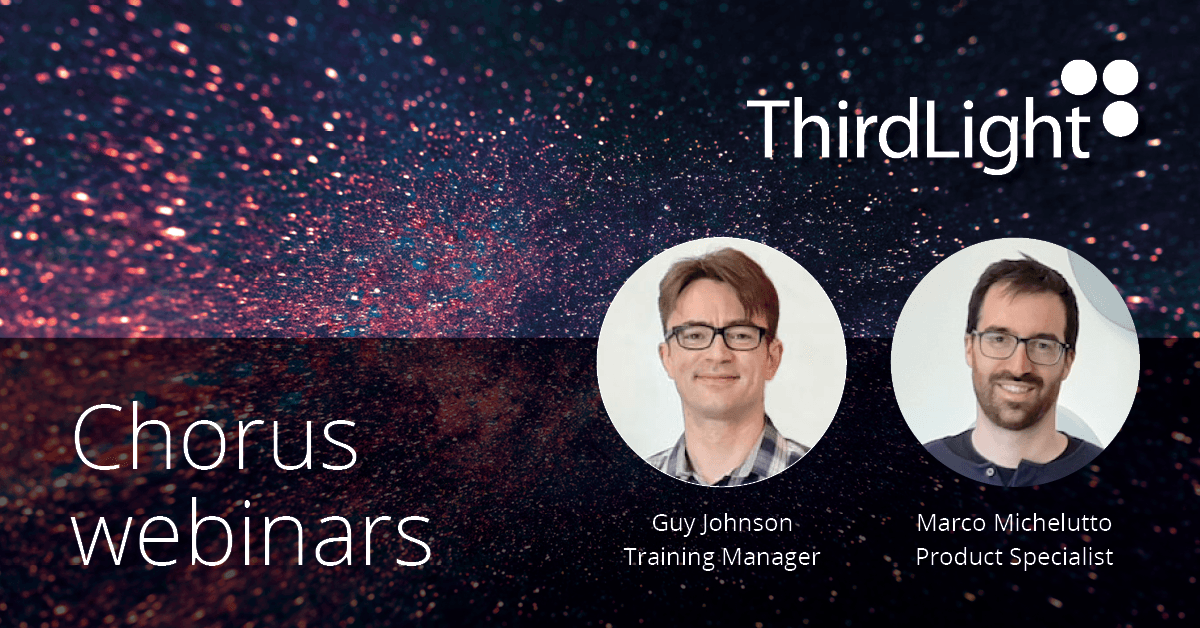 Whether you're already a Chorus user or would like to see how it could transform how your teams collaborate, our latest series of 30-minute webinars will look at real-life use cases, share effective strategies and reveal how your workflows can benefit from its powerful features. The free interactive sessions are hosted by Third Light's Training Manager Guy Johnson and Product Specialist Marco Michelutto - with the occasional specialist guest.
Chorus offers its users greater flexibility, agility and productivity in their creative projects - and these webinars will cover four specific ways of achieving this.

Danny Smith, Head of Customer Success
"We all found ourselves adapting and improvising to keep going remotely in 2020," says Danny Smith, our Head of Customer Success, "but this year we have the opportunity to use these new tools and processes in a more strategic context. Utilized to its full potential, Chorus offers its users greater flexibility, agility and productivity in their creative projects - and these webinars will cover four specific ways of achieving this."
Supercharge your creative projects
How to use Project Sync to transform the way you work
Taking a project from concept to finished content takes multiple stages of production, feedback and amends—with time-consuming file management steps in between. In this webinar you'll discover how Chorus's Project Sync app removes the boring file admin, speeds up workflows and frees you for the creative work that matters.
Thursday March 25, 2021 - 3pm GMT
If any of these sessions are of interest but you're unable to attend, register anyway and you'll get a link to a recording you can watch later, at a time that suits you.
Previous webinars
Chorus's spaces
Make a virtual workspace for creative collaboration
Few of us are in the same physical location as our colleagues now – but we still need to work together and keep the creativity flowing. In this webinar, you'll discover how to arrange and configure Chorus's spaces to support specialist teams and drive their unique workflows – while maintaining the security and control your organization needs.
Thursday March 4, 2021 - 3pm GMT
Unlock the value of your media, fast
Time-effective strategies for metadata application
Adding the right tags and keywords to your files will cut the time everyone in your organization spends hunting for them by as much as 70%. In this webinar, we'll show you how to cut the time you spend doing this, too, with Chorus's automation, AI and bulk processing abilities.
Thursday February 11, 2021 - 3pm GMT
Get the bigger picture
How to track the whole lifecycle of your content with Chorus
Your content delivers optimal return on investment when it's used, reused and repurposed, by multiple contributors across an organization. Managing that effectively requires oversight – but how do you get that? In this webinar, you'll learn how Chorus's tracking tools can gather and deliver the insights you need.
Thursday January 21, 2021 - 3pm GMT
What does your team need to get out of Chorus? Its flexibility and configurablility means it could provide a solution you might not have considered yourself. We'd love to know about any specific goals or issues you'd like us to cover in future webinars - just [email protected].
Author: Edie Mullen
Other articles you may find useful:
Third Light launches eLearning academy for Chorus users
We recommend training for a successful Chorus rollout; when team members know how to use its powerful collaborative features from the time of launch, everyone can reap the benefits as soon as possible.
Marketing in the COVID-19 era: the results are in
We joined forces with The Marketing Meetup group and fellow marketing industry company ContentCal on a survey of 536 marketers of a range of roles, sectors and seniorities.
---