Third Light hosting upgrades
Since 2002, we've hosted all our own internet services, and we periodically update them. Third Light has just completed a round of hardware refreshes, which has significantly expanded our capacity. Here is a brief summary of the investment we've made.
Third Light is unusual. We don't use public cloud providers - services like Amazon or Azure - but instead, we run our own data center services. We own the equipment, the routers, the storage and so on, and we have staff in our company who configure, manage and monitor these servers around the clock. We build all of our networks with high availability in mind, including fully redundant routers, switches and storage. We're not just a software company; in fact, internet hosting is a significant part of our business and operations.
Why do we manage our own hosting?
The reason we do this is simply that it gives us a better platform and, since we operate at a large scale in terms of storage, it is more cost effective for our clients. We are able to carefully manage backups, cross-site redundancy and make sure we're only running the latest equipment. This is essential for digital media library software, which is an intensive application. We use far more storage than would be cost effective on a public cloud, and we need it to be extremely fast. Conversion and delivery of graphics and video files benefits dramatically from CPU and memory upgrades and a fast, stable network.
We've been busy this year upgrading servers, and want to share some details with you.
Core platform upgraded by 10x in November
During 2015 we upgraded our primary data center to 10Gb/s networking and replaced all core storage with solid state drives (SSDs). More recently, in November 2015 we upgraded all of our core Virtual Machine (VM) capacity in our secondary data centre to the latest generation of Intel hosts. We also replaced all of our core storage for those services with SSDs and upgraded the remainder of our core network to 10Gb/s speeds.
As part of our upgrades, we've also expanded our core Juniper routers to cope with higher traffic levels. This is so we can comfortably run big events - like the Race of Champions - and deal with large video content being viewed by many simultaneous visitors. During that event we delivered around 500Mb/s of traffic using our Content Delivery Network (CDN).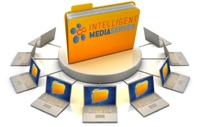 Overall, we've expanded our computing capacity by a factor of around 10x. This immediately benefits our existing clients as their sites are automatically upgraded to use the new, enhanced platform. We have retired the old equipment completely and will be donating it to charity as we have done in the past. Let us know if you are a worthy charity!
Comparing uptime figures
Our uptime figure for 2015 is 99.995%, measured independently by ippatrol.co.uk.
This means we have had 17 minutes of downtime. It is worth having a look at Cloudharmony.com (link) to understand the availability of the key public cloud providers. Many have significant amounts of downtime each year - although far better than in 2014. Do bear in mind that the impact of degraded performance (which is masked in these reports) can be significant, too. When a public cloud service runs slowly, it will normally still be considered 'available'.
If you're about to purchase a Third Light server, and are not sure if you want to host it in house or have us host it for you, hopefully this update will reassure you that hosting with Third Light is a great idea!
---