Connecting engineering projects with API - Matrix Solutions Case Study
With over four million images to manage, environmental engineering consultants Matrix Solutions chose Third Light software for its adaptable Application Programming Interface (API), its user interface, and its capacity to handle a demanding load.
Knowing how closely this project is aligned with our driving principle of building "API first", we interviewed the team in Calgary, Canada, to find out more.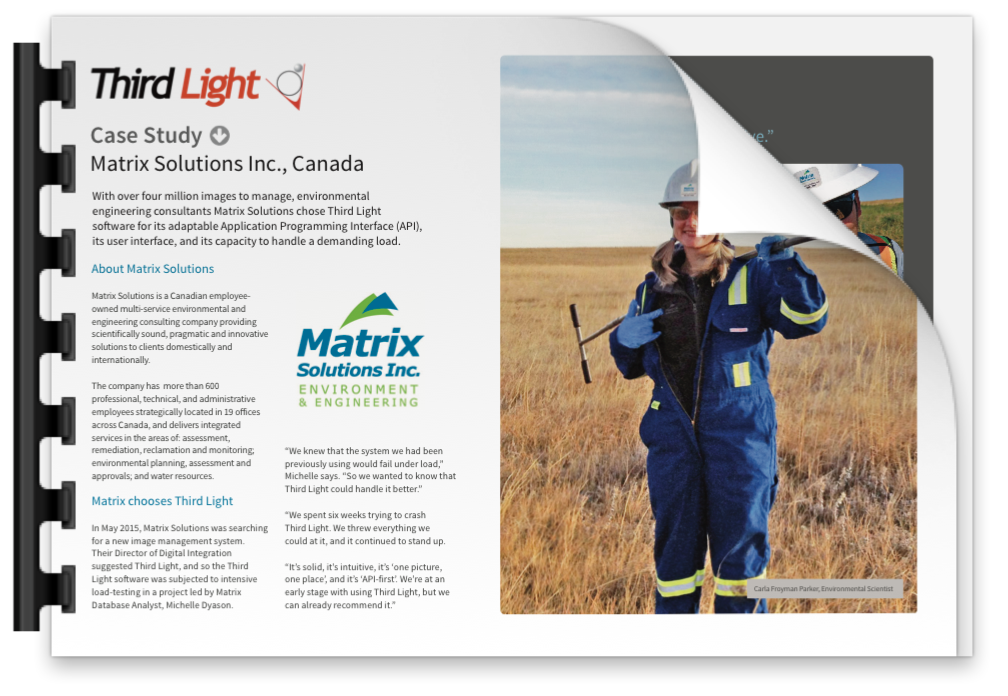 About Matrix Solutions
Matrix Solutions is a Canadian employee-owned multi-service environmental and engineering consulting company providing scientifically sound, pragmatic and innovative solutions to clients domestically and internationally. Their web site at Matrix-Solutions.com describes their vision: "A world where our industries, environment, communities and people can harmoniously and sustainably thrive."
Investing in digital media
In May 2015, Matrix Solutions was searching for a new image management system. Their Director of Digital Integration suggested Third Light, and so the Third Light software was subjected to intensive load-testing in a project led by Matrix Database Analyst, Michelle Dyason.
"We knew that the system we had been previously using would fail under load, so we wanted to know that Third Light could handle it better."

"We spent six weeks trying to crash Third Light. We threw everything we could at it, and it continued to stand up."

"It's solid, it's intuitive, it's "one picture, one place", and it's "API-first". We're at an early stage with using Third Light, but we can already recommend it."

Michelle Dyason, Database Analyst, Matrix Solutions
The API is critical to Matrix's work because of the suite of technical third-party applications that the company already works with, including Prometheus, OrientDB, PostGIS, AngularJS Leaflet, Iconic, and Reconyx.
Third Light extends our gratitude and personal thanks to the team at Matrix Solutions. We particularly wish to acknowledge their generosity in hosting Third Light's visit to their offices, and for assisting us in creating this case study.
---