Event Report: DAM EU - London - 25/26 June 2015
DAM EU 2015 took place at the Raddison Blu Portman Hotel, London in June 2015. The event drew a modest size audience with a healthy enthusiasm for the promised agenda. We have collected a few thoughts about how the DAM community and analysts positioned the sector, and the messages that came across most strongly to us at this event.
Event highlights
First up we had a keynote presentation from Diageo. Stephen McKillop delivered an insightful account of how Diageo's creation of an in-house DAM was led by a business need to conform to strict demands of their industry.
In such a highly-regulated sector, failing to comply to regulations quickly exposes the need for better governance of the material being published, specifically where varying geographical restrictions are concerned. Severe financial implications if this is not done meant the project was backed at a very senior level (eight-figure fines were quoted in one example). Consequently, as an internal driving force, the legal team applied significant weight to the program. This stood out to us as being atypical.
The timeline for the project was as follows:
2002 - started developing internal system
2003 – started on workflow as a result of the fine mentioned
2006 – DAM solution went global
To present – ongoing development and evolution of the system
Systems that evolve within a company to meet their own requirements (and prove so successful they reach market as their own offering) are always intriguing. McKillop delivered an insightful account of how their needs came to be recognised and met. He provided some impressive numbers: 2500 new digital assets in a month, 330,00 downloads in a year 70% - of which were external, 30% internal - and 132,000 approved transactions (16% rejected).
McKillop remarked that they did not want the service to look like a DAM system, and the solution was a collaborative effort between multiple departments. This had been recognised as the essential component for the successful adoption of the DAM. McKillop coined the phrase Traction, which he defined as having two core components: Commitment and Consequence.
As a company, their usage of the system is heavily audited internally, and this caused the topic of governance to be discussed by the audience. Under future aspirations, McKillop stated that improved performance, eg. in the speed of transactions, was expected by the business, while a desire for servicing E-tailer systems with the best possible content was also driving developments. On the age-old topic of search versus metadata quality, McKillop stated that it is difficult to tie compensation to commitment, in the context of the short term cost of entering metadata and the long-term success of searches.
McKillop also described the need to keep the UI "unemotional". He stated that search results being presented in an infinite scroll, rather than page by page view, was of great benefit. We immediately thought of this excellent post by Tim Strehle (of Planet DAM).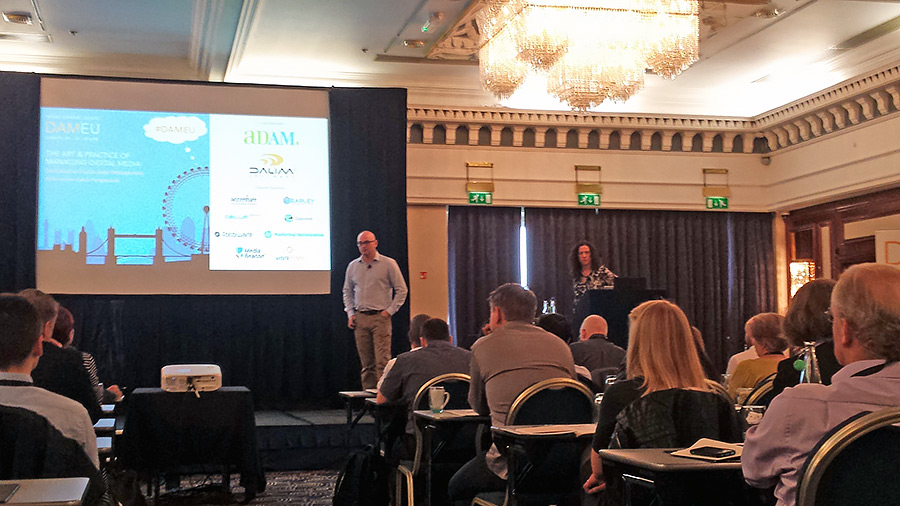 Industry update from Real Story Group
Theresa Regli presented "DAM in 2015: What will last and what will crumble?". The Real Story Group produces a "Digital Workplace & Marketing Technology Vendor Map" which may interest DAM researchers and buyers. Although we were unable to obtain permission in time to display this map on this blog post, it can be found at the Real Story Group's home page.
In our view this proved to be one of the best sections of the program. Introducing the relevance of metadata with a story based upon her family tree (impressively incorporating WW1, missing luggage and her grandfather) Regli broached the topic of how a DAM system needs a focal point of planning to ensure its future success.
The analogy presented was that DAM systems should have a blueprint of their architecture, in the same way a successful building project would, in order to reach their potential. Rebuilding, future planning, adaption, having a scalable architecture are all incredibly difficult in the absence of such a point of reference. Approaching the project with components as a mind-set, building with strong durable materials - the analogies go on, but the message was clear!
Not all programming interfaces (APIs) are equal
Regli made a comment that not all APIs are the same, and that APIs should be tested thoroughly. We agree: buyers in the DAM market should take this to heart and check that the API on offer is a fully-developed offering. Regli asked what constitutes "tested", where an API is concerned? These days we build our product entirely using its API, in order to ensure it has full test coverage, but it was not always so. We retired older APIs we wrote in 2005 - 2008 because they fell short on their ability to solve real problems and lacked coverage, for example. We suspect that testing APIs before buying a DAM may be stretching organisations whose IT departments are often already over-burdened with integration work.
Visual Assets at Marks & Spencer
Conrad Henson, Product Owner – Visual Assets – M&S.com delivered an excellent account of how their DAM system came about, and painted a picture of their solution, which is unlike the norms we are used to seeing in this sector. Henson described their DAM as being a warehouse rather than a vault, and remarked that they do not consider their solution to be a DAM. His talk was titled, "DAM Logistics: When your DAM is more warehouse than Library".
The M&S solution is designed for performance, and a specific health indicator they monitor is the time an average authorisation workflow takes. Surprisingly, Henson also reported that video is becoming less important to his department. Based upon minimal traceable gains in revenue from items supported at point of sale with a video, he stated that the likelihood was video would become less prevalent on their website and feature less prominently in their internal DAM solution, too.
As a design principle, the theme that came across was to "walk the journey of the user". Whilst the functionality of the system was described as being quite basic, in some respects the workflow solution appeared to be very well-developed and effective. However, perhaps underscoring the differences between M&S' solution and a conventional DAM, the primary method for searching was by the assets' filenames, depending upon a very specific naming convention.
Recurring Themes and Notable Remarks
The following remarks were noted:
"DAM is not just about the technology". User buy-in, adoption and governance are equally as important as the solution itself.
"Obscure the complexity": since not all users need to see everything, presentation of the right number of options and the right amount of information to particular users is a fine balance but needs to be done correctly. Too much structure, or removing the space for creativity, may turn some users away from a system.
"Agile" is something that many organisations want to adopt or at least understand. Ernst Kallus remarked that "Agile is common sense, strip away the dialogue" and that whilst very valuable for some parts of a process, sometimes it is not the right approach.
DAM sits as part of a broader workflow in an organisation and the successful DAM system should integrate as seamlessly as possible.
To assist with the success of a DAM implementation it is key to get sponsorship as high up as possible.
Regli expressed that the Number 1 challenge for DAM users is scalability (in the context of large assets stored in the cloud).
Observations from Third Light
The audience offered up some great questions, but the sessions were rather long and we would like to have seen more of the time spent on those questions rather than predetermined topics.
We feel that the DAM conference lacked a full discussion of several key areas. Perhaps the audience contained a few too many vendors and some of the best questions were withheld for competitive reasons. For example, here are topics that we feel are of great significance going beyond today's products into 2016, yet they were not mentioned at DAM EU:
Dropbox, Evernote, Google, Microsoft, Apple… the significance of the bigger players.
Syncing content, eg. for work in progress purposes, but without conceding all control over content, and the related question of "The Cloud" and Adobe CreativeSync in the context of huge assets such as videos.
Automation and assistive technologies, versus expert curators (for example, automatic object tagging, assisted tagging UIs, face detection and person recognition).
Upload channels (and social media generally)
Storage channels (other than the vague term, "The Cloud")
Asset bundles (e.g. multi-file assets that travel through the system together and must be retrieved together)
Emerging web technologies and the future of web applications (references to Web 3.0 need substance)
Despite being core to some of the talks and panels, there was also little detail on the future of workflow. Two of the key speakers discussed workflow and approval flow systems, but the focus of the conference was felt to be on DAM as a Library.
We would have liked to have heard more discussion of "what's next" in the sense of innovations as opposed to the known problems that DAM users may be facing in today's context. We were happy to discuss this point with other DAM vendors (where willing!) and our views on this were not dissimilar.
For other information about the DAM EU conference, see: http://www.eventrsuite.com/henrystewart/dameu2015/.
---
Articles Conferences DAM - Digital Asset Management Hints and Tips Metadata Video Asset Management