Controlling Metadata Access With The Multi-Tenant Metadata Module
If you have a mixture of internal and external users, or multiple clients sharing your agency DAM system, how do you ensure that only appropriate information is shared with your users?
Metadata tagging significantly improves search features, and can solve record-keeping problems conveniently. But, for many digital media libraries, some metadata is only intended for an internal audience. Notes and comments, records about previous uses and even value judgements about the quality or worth of a particular asset can't be allowed to fall into the hands of external clients.
Here is a simplified example of how metadata visibility should be filtered, depending on the audience: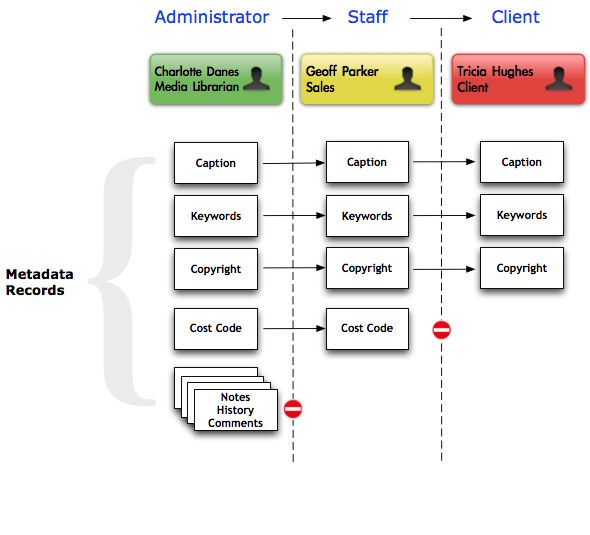 It is essential to address this requirement, since the primary benefit of centralising your content in a DAM system is to be able to quickly share and re-use assets without creating copies. This saves a great deal of time and money and is vital to the success of a digital media library.
Introducing Multi-Tenant Metadata
When there is a need to selectivity show or hide metadata depending on the audience that is viewing your assets, the Multi-Tenant Metadata Module can be added to your Third Light Intelligent Media Server.
The Module provides extra features that appear as user options (and group options). There are settings that control which metadata fields are visible - and which metadata fields are editable - depending on who is logged in. This gives a safe and convenient solution to the administrators of an IMS library that is being used by different audiences.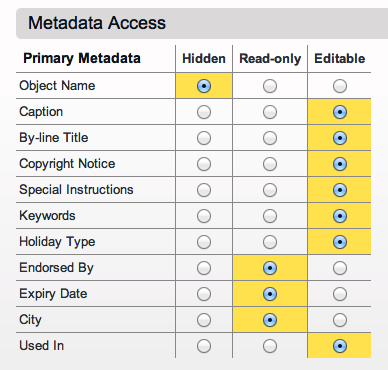 Tip: The Multi-Tenant Metadata Module is also perfectly suited to situations where different clients should see different metadata for the same asset (without overlapping visibility). For example, an agency working with numerous clients can confidently re-use a single stock image and be certain that it is tagged with project-specific words for each client. The Multi-Tenant Metadata Module protects the agency from disclosing to clients any confidential information held in the metadata for another client.
Video Walk-Through
How To BuyThe Multi-Tenant Metadata module is available as an add-on for the Premium Edition and Enterprise Edition. It costs
£300

/year and can be added free for 30-days as an evaluation option if you are an existing client. For more information and to request a trial, please contact sales.


---