Using The File Server Module For Creative Teams
When digital asset management (DAM) systems are deployed, existing storage and file servers will still be in use for works-in-progress. How do you make the most of DAM while also retaining a simple, familiar file server environment?
Convenience For Creative Teams
At its heart, digital asset management is all about centralized sharing and reuse of assets by many users. However, different users can find themselves working with the same content but in very different environments. For example, a marketing team may be mostly interested in searching and retrieving copies of finished brand materials (ideally suited to a web browser based DAM), but at the same time a creative team may be busy generating new copy in tools such as Adobe Creative Suite (best suited to a local operating system).
Local graphics and publishing tools can be extended with plug-ins, but this tends to lead to complex and at best partially-integrated workflows that only cover very popular tools. This is especially true of tools that allow content to be linked (instead of embedded) into master artwork packages, and it can be frustrating when newly-released versions of professional software need entirely updated plug-ins to be developed.
Since the creative team would prefer to be able to conveniently open and close files as if they were working on a local disk or network file server, it makes sense to take special care to accommodate their working practices in your digital asset management solution.
The File Server Module (FSM)
The Enterprise Edition of Third Light Intelligent Media Server can be used as a file server as well as a DAM application. You can mount your Third Light server on your Mac or PC, open, edit and save documents from any application (with no special plugins) and still keep track of your content inside the rich DAM features of our product.
The File Server Module offers you the ability to:
Store files in one, central DAM server
Access the files through your web browser
Access the files as a Windows network drive
Access the files from MacOS X as a network volume
For example, if you have an InDesign project with dozens of linked assets, you can store it in Third Light from the start. Throughout the project, your whole team can access the InDesign files on a shared network drive provided by Third Light, and at the end it is already in your DAM server (with a complete revision history). The storage, folders and permissions are all completely unified by Third Light in the centre of your project.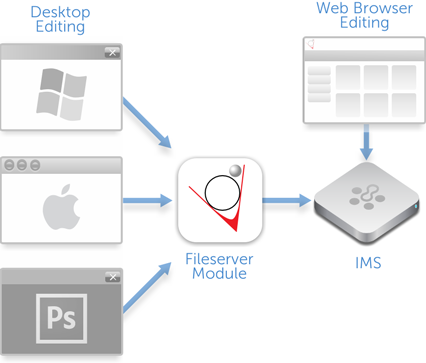 Tip: If you already have this module and would like to start using it, for technical details and instructions on connecting to your IMS server's file server module, please see the integration guide.
Video Walk-Through
How To Buy
The File Server Module for Third Light costs £500/year and can be added to any existing installation. For best results, your Third Light IMS server should be hosted locally on your LAN, and a gigabit ethernet connection is recommended. If you would like any advice on the deployment of this feature or would like a 30-day trial of the File Server Module on your site, please contact us and we'll be happy to oblige.
---