Exploring Third Light - free training in 2015
In the past year we reached out to a large number of customers (both new and old) with regular free webinars. Now, we're offering more in-depth training sessions in 2015 - make sure you book a place!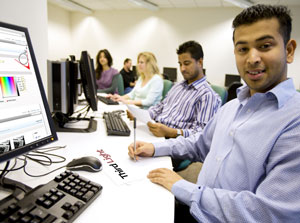 In 2014, hundreds of people benefitted from our free, monthly training webinars.
Anyone that attended one of those sessions knows that Martin asked for suggestions and ideas for future sessions, and he was delighted to hear your ideas.
We have looked at your requests and appreciate that you would like to go into more detail in certain areas. We will now be offering an expanded range of webinar subjects in 2015: our focus will turn to sessions looking at specific, key areas of Third Light's IMS software - such as metadata, download options, permissions and more.
If you attend these webinars, you'll gain a deeper appreciation of how Third Light really saves you time and makes tasks easier.
Book your place for 22 January 2015
The first Webinar in 2015 is going to be looking at metadata. In the 45 - 60 minute session Martin will go through the different types of metadata and time-saving features such as tagging multiple assets - and one of our killer features, Cascading Folder Metadata.
This session is on Thursday January 22nd at 16:00 GMT. To sign up simply fill in your details using our GoToWebinar registration page. As in the past, there is no charge and no limit on numbers.
| Location | Time |
| --- | --- |
| San Francisco | 08:00 |
| New York | 11:00 |
| London | 16:00 |
| Berlin | 17:00 |
It's completely free, so register now!
Have an idea for a training session?
If there are aspects of the Third Light software you would like to know more about, and you think that other customers would benefit too, we expect to be able to accommodate extra sessions. Please contact Martin Cox at [email protected] and we can look at scheduling a future webinar that would be perfect for you.
---