Upcoming webinar – Chorus: a deep dive. How to simplify your content workflows
As marketing and creative teams collaborate to create content while working from different locations, time-consuming file management is one of the main issues they experience. This often involves multiple stages of production, feedback, and amends from different teams and it's why using a digital asset management solution has never been so important.
For an insight into how we're simplifying this process for teams around the world, our Head of Design, Sam Phillips, and Chorus Evangelist, Carol Parish, will be hosting a webinar on Wednesday, 22nd September at 2:00 PM BST where they will demonstrate how you can streamline content workflows to free you and your team to focus on the creative work that matters, wherever you're working from.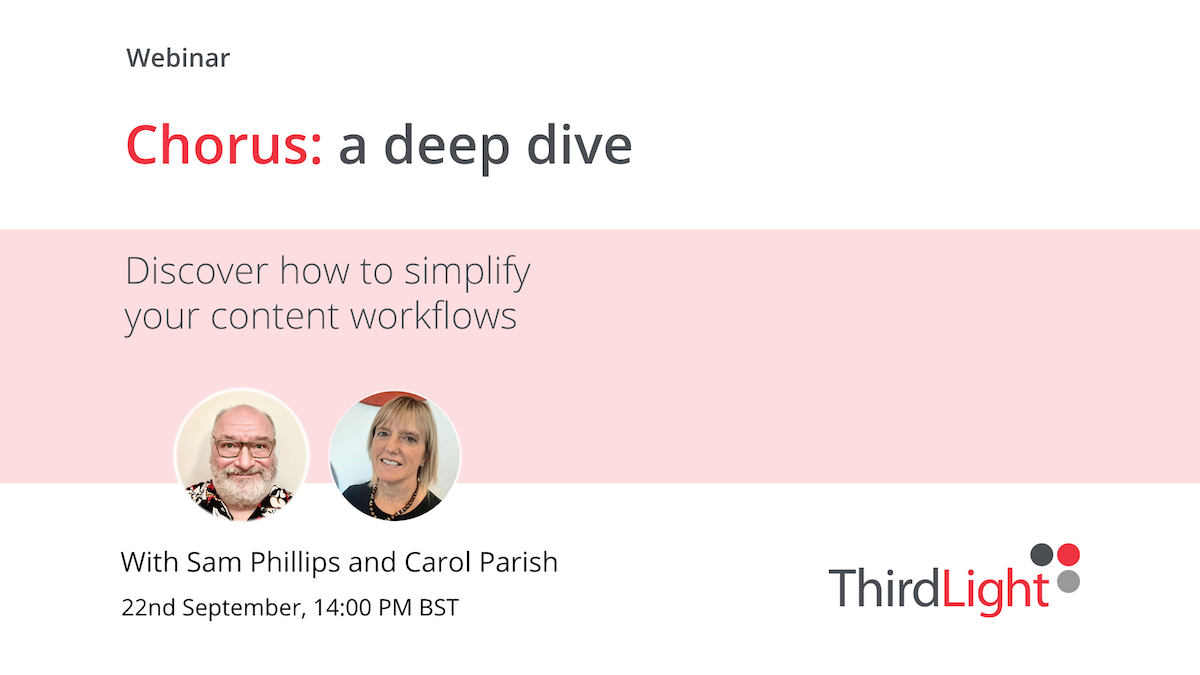 Simplicity and efficiency, that's certainly what we all want in our daily life. It may be interesting for us all to count how many times each day we upload/download/look for emails/convert files, all these things which take us away from our real focus, creativity and passions. I'm really looking to demonstrating how we can help teams put time back in their busy lives."

Carol Parish, Chorus Evangelist
Whether you're currently exploring DAM solutions or considering moving from a different system, Sam and Carol will go through the different options in Chorus that speed up your workflows, from content production to publishing.
Followed by Q & As
As an attendee, you will have the opportunity to have a Chorus site created by our product specialist, customized and branded for you to use and explore with your own digital assets.
Chorus transforms how marketing and creative teams collaborate to produce brand assets and content - and get the best return through its distribution and reuse. If you have any questions about how you can incorporate it in your organization, just [email protected]; we're here to help.
---