Space to create, space to collaborate
How you distribute digital content determines how much of the time and money invested in its making is unlocked – it's why we spend our time developing ways to make the process simpler, faster and more powerful. But when it comes to someone taking a peek at the early stages of your creative process, we know it's important you decide when this happens. Here's how you get this from our digital asset management solution.
Whether you're the person whose job it is to create marketing or brand assets or the leader responsible for their creative output, chances are you've a daily balancing act on your hands – especially if everyone's working remotely and online.
Using an online workspace is a lifesaver for any designer or multimedia editor who needs to maintain version control – capturing incremental changes that can be retrieved if one needs to take a step back. But a worry for some with many online workspaces is that fellow contributors can access this work, and chip in before everything takes its final form. Over time, this can inhibit a creative team member's vision and ability to innovate to solve problems.
Chorus saves your people time in many different ways – it's just a matter of defining the experience each group needs to get from it.

Guy Johnson, Product Specialist
However, the input of managers, stakeholders and fellow creatives is vital at the appropriate time, with a piece of work quite easily ending up zipping between the two states as feedback leads to re-examination and amendments (and more feedback). We asked our Chorus Expert, Guy Johnson, how Chorus can keep up with these changes without everything getting fiddly.
"For controls that follow the ebb and flow of a collaborative journey with minimal admin," he explains, "the answer lies in the container the file sits in. With Chorus, a simple click and a drag from a locked-down container to one that's less restricted means a file instantly inherits the 'rules' of its new location." With this in mind, here are four commonly used Chorus spaces and what they mean for your workflow:
When you want things fully under wraps: private spaces
Right at the beginning, when a designer's experimenting with ideas and wants the freedom to explore them without anyone looking over their shoulder – literally or metaphorically – Chorus's private spaces are the ideal place to start.
"Your secret weapon here," says Guy, "is the Project Sync app. Install this on your Mac or PC, and it can sync your work directly between there and any space you can access in Chorus."
Any user's Chorus private space is only visible to them, so in this instance syncing an Adobe work-in-progress file between that private space and a designer's local machine doesn't make their work any less private – it just means all their saves are captured in the background, one by one. It's not even noticeable but if any Chorus user needs to go back in time, they can find each 'save' made, right back to when the file was synced.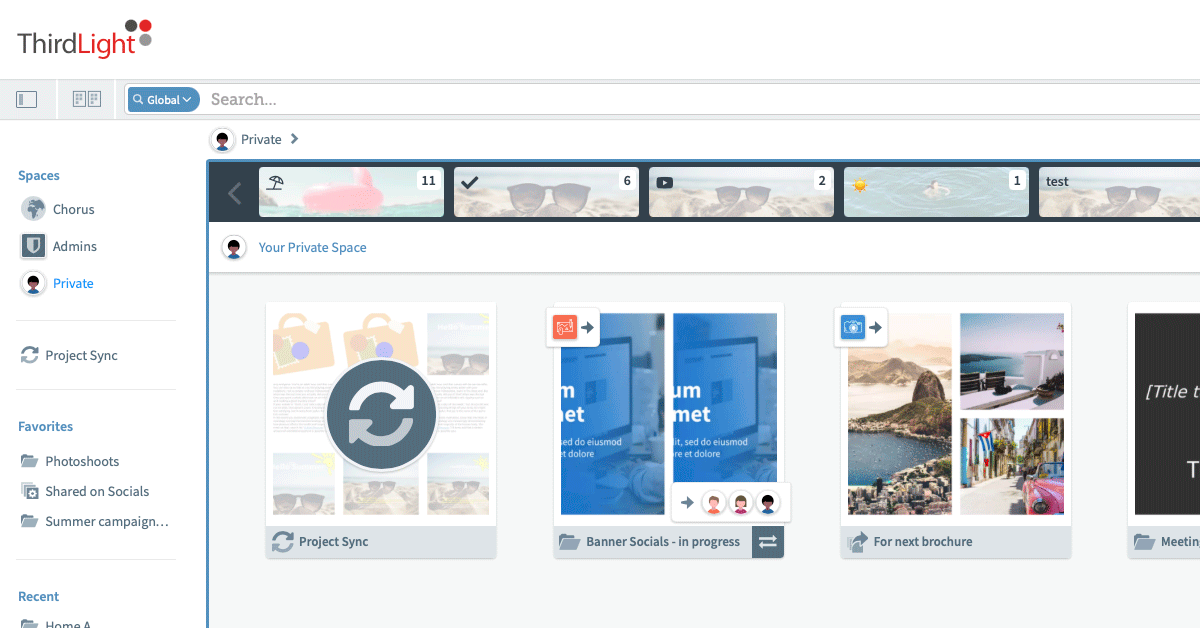 Now you're ready for feedback: a team workspace
When a creative is happy for other people to see their work, it can be moved from the private space into an area that lets immediate team members access it without anyone else stumbling across it. "The best place for this will be a project folder," says Guy, "set up in a Chorus space configured to support workflows, and shared only with the people who need to get involved." Once this project folder has been synced to a computer, a simple 'save as' will move the work there.
Instantly previewable by contributors in high resolution, a file viewed in Chorus needs no original software; if you can access it, you can preview it! Guy says: "This is great if you're a designer, as it saves you the job of exporting endless PDFs for everyone to check. And feedback can be left in Chorus by adding annotations on files and via the comments window next to that preview – no more trying to line up messages in one window against the work in another."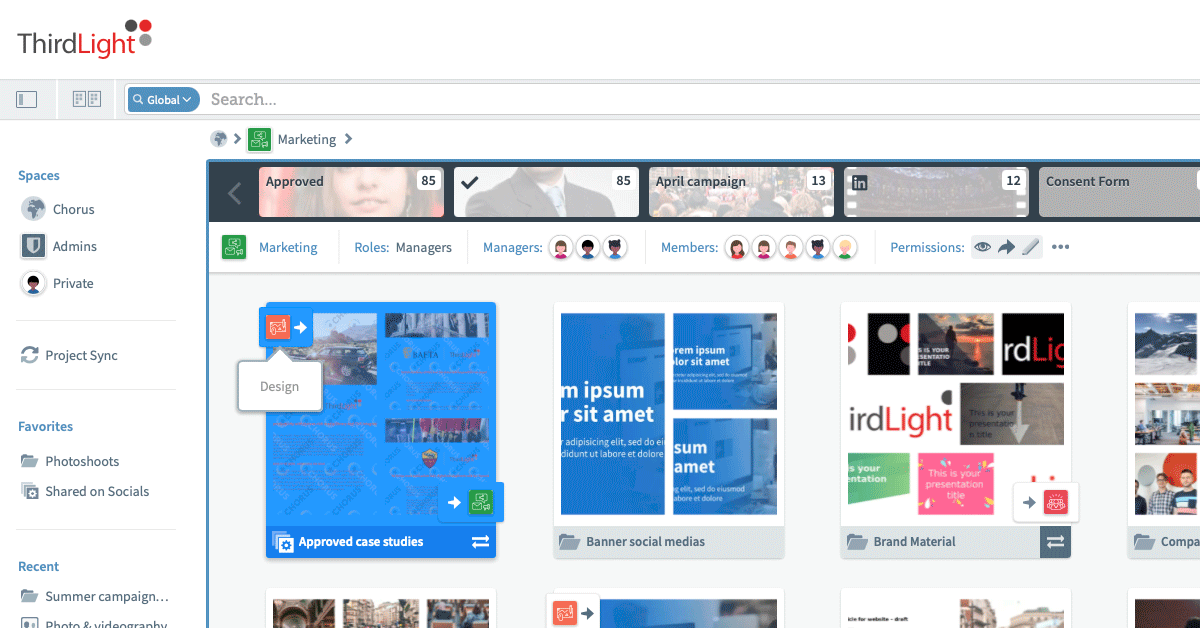 For companywide access: a library space
Once that draft has become a signed-off asset, it's time to put it to work. Your wider colleagues don't want to trawl through countless work-in-progress files as they hunt; they just need a simple place that serves them up-to-date assets, quickly and easily.
"These spaces can be configured to match all sorts of workflows, with smart automations that make working life far quicker for production teams," says Guy – "but if you also want somewhere simple for all users to easily navigate and use, you can create that too," says Guy. "Chorus saves your people time in many different ways – it's just a matter of defining the experience each group needs to get from it."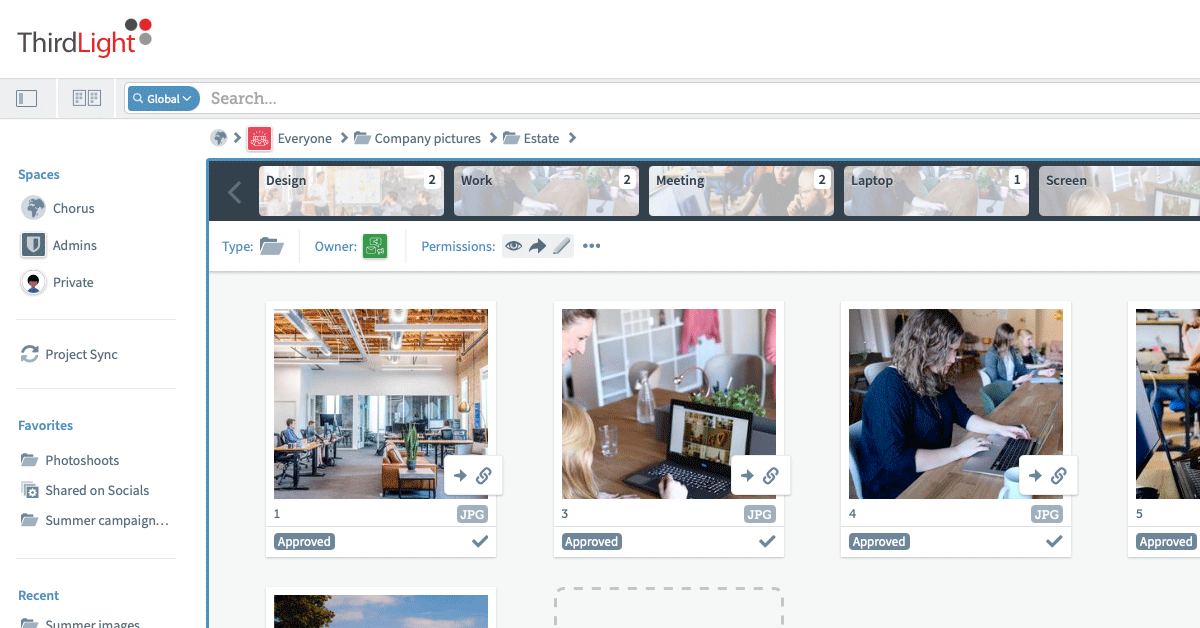 If you're sharing far and wide: published links
The final, most open form Chorus takes isn't actually a space; it's a temporary or permanent micro site that makes assets publicly available, with or without a password. "These are called published links, and you can make as many of them as you need," says Guy. "You don't want everyone you share content with to have to register as a Chorus user, and this is a safe, fuss-free way of getting it to them."
With branding and template options to choose from, these sites can be so open that they work as self-service hubs, minimizing content requests and accommodating any global timezone. "Content creation and distribution comes with so many stages and different goals," says Guy, "that one size just can't fit all. With Chorus, the system will adapt to what you're doing, where other solutions dictate that you change what you do to adapt to them."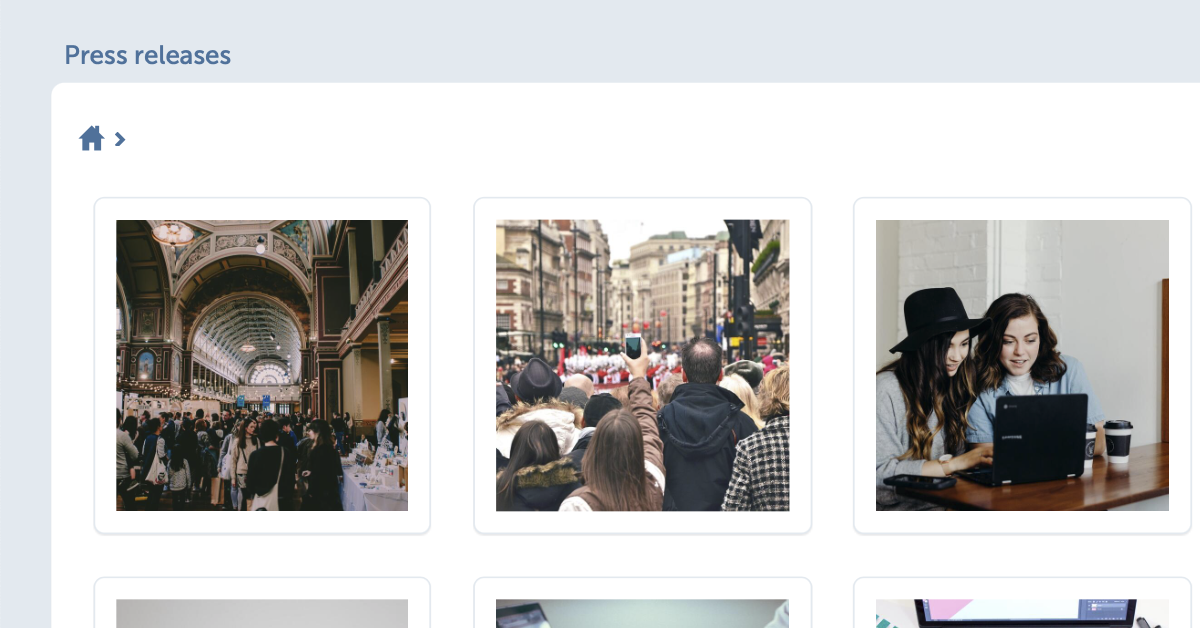 Chorus is the digital asset management solution that supports every stage of your marketing content production workflows. Book a demo today to see it in action - and if you let us know what your workflows look like, we can tailor what we show you.
Author: Edie Mullen
Other articles you may find useful:
Chorus update transforms remote creative teamwork
Built to drive creative work in progress, Chorus's the latest features are truly gamechanging - especially for remote teamwork.
Put your content to work with Chorus published links
We all know you get the best value from your marketing assets when they're fully accessible to the people who need to use, see or distribute them. Chorus helps you control and track who accesses it - here's how.
---