Simplifying team workflows with Chorus
Photographer, designer, manager… It takes many pairs of hands and countless stages to create what looks to the outside world like simple sales and marketing materials! Thankfully, Chorus is here to put it all in the cloud – and take care of the back-and-forth that slows down the delivery of many creative projects. Here's how.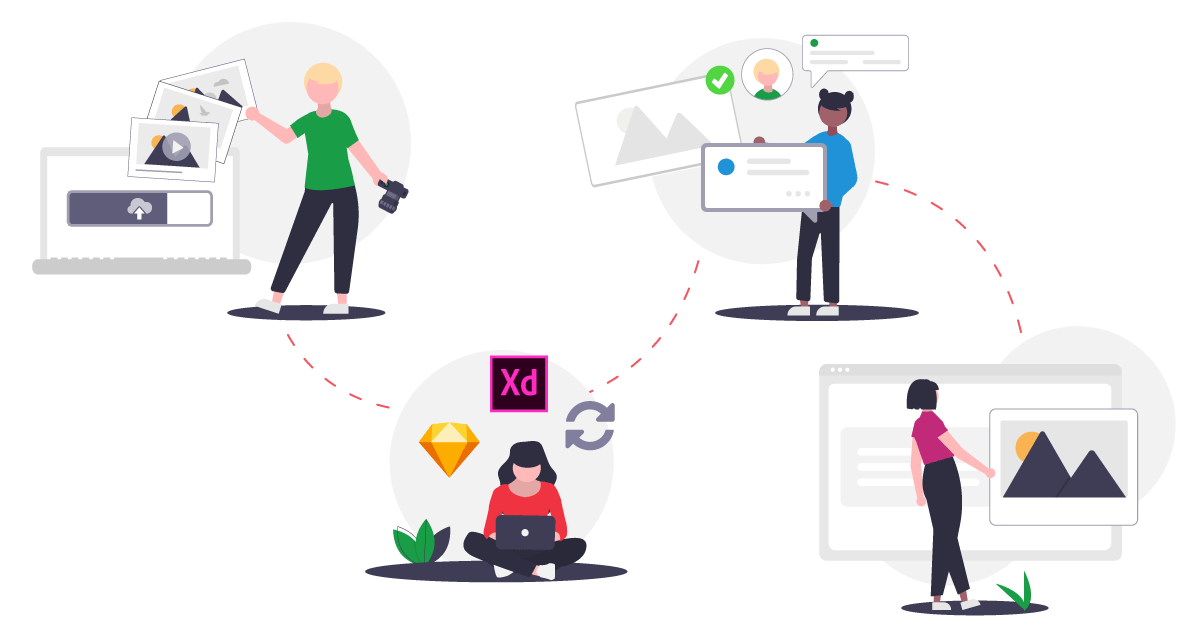 For a marketer, being able to put up-to-date, high-quality sales and marketing materials into your colleagues' hands is critical. Key components such as photography, graphics, copy, then actions such as feedback, amendments and signoffs, must be lined up at the right time so the next person in the chain can do their thing.
Most digital asset management solutions can store those components, but wouldn't it be great if yours could take care of the actions as well? That's where Chorus comes in, with its wealth of powerful additional features designed for production workflows and real-time content distribution. Let's look at what life is like for our team members of, say, a manufacturing company:
The team's production workflow – before Chorus
The photographer
Unless we have enough demand to warrant an in-house studio, our photographer is a freelance who sends product images via online file transfers or USB sticks as they juggle the needs of other clients. Any amendment of these images – say, retouch requests – doesn't stop at that work; it means our busy supplier must find time to re-upload those files and share a new link.
The designer
With an inbox of seemingly identical file download links from the photographer to juggle, our designer's workload starts well before the design parts begin. If working remotely, they might download the photography to their own machine to speed things up, promising themselves they'll file it all properly later. Their downloads folder now has hundreds of images with randomly numbered filenames starting with '.DSC', in a noisy machine that's running frustratingly slow…
Marketing manager
Marshalling these two creative types is our marketing manager. It's a struggle for them to maintain a repeatedly pinging inbox as they email back and forth with feedback and signoff requests, and their downloads folder is getting pretty full up too – with each project's draft and proof PDFs files, from V1 onwards.
Commercial team
Also filling up our marketing manager's inbox are countless emails from the sales agents whose job it is to take these finished materials on the road. There are questions about file types, file versions and file formats, plus exasperated messages after the wrong presentations were opened in front of customers. Their bottom line demands that these things just work.
The team's production workflow – with Chorus
As our team collaboration begins, it's important to take a look at the engine that drives every stage of their workflow: the Project Sync app. Uploading and downloading is time consuming – and can lead to version control issues – but this is all a thing of the past when Project Sync is loaded on everyone's Macs or PCs. Whether it's an image being retouched, a draft layout that needs feedback or a finished sales presentation, work synced to Chorus instantly updates accordingly for anyone viewing it there online. And if it needs any kind of feedback, this can sit in the comments window within Chorus.
A quick clip of Project Sync in action.
Effortless updates for image editing
The first team members to benefit from this are our photographer and designer. The photographer has been assigned their own project folder – it's the only part of the company's Chorus site they can access. As they add product images, they can also add metadata – the SKUs they've been given for each item they shot, for example.
The designer can then view shot after shot in high resolution online and suggest retouches via the comments window next to each image. When the photographer syncs these files to their desktop, the designer can see – and approve – any subsequent edits on Chorus right away. These approved product images can be moved to the more public area for everyone who needs to use them.
Faster design handovers
Now it's our designer's turn to put their work in the cloud. Creating a new project folder for their work and sharing it with our marketing manager means everyone knows what's happening (and where) from the get-go. Syncing this to their Mac and putting work-in-progress files in it means everything instantly matches up in the Chorus site – and everyone's on the same page.
Our designer isn't just happy not to grapple with all those file transfer links anymore; they also love that the days of exporting PDFs for feedback are over, too. When there's a draft InDesign layout ready to show the marketing manager, they can preview that - also in high-resolution – with no need for the original software. A few notes left in the comments window, and our designer's updates to the layout appear in that same preview (don't worry, each previous save is tucked away in case anyone needs to go back in time).
Accurate, up-to-date distribution
Now the signed-off materials are ready to use – so our marketing manager moves them into the special space in Chorus from which commercial team members help themselves to what they need. Travelling representatives really appreciate having Project Sync, because any updates from Head Office pop up automatically on their laptops the minute they connect to a Wi-Fi signal.
Should our commercial team want their retail partners to have self-service access of their own to commonly used materials such as brochures or pricelists, they can set up their own branded microsite for this via Chorus's published links feature – even one (or more!) per customer, if that's required. Expiry dates can be added, passwords added and the option of making users agree to our company's terms and conditions before downloading.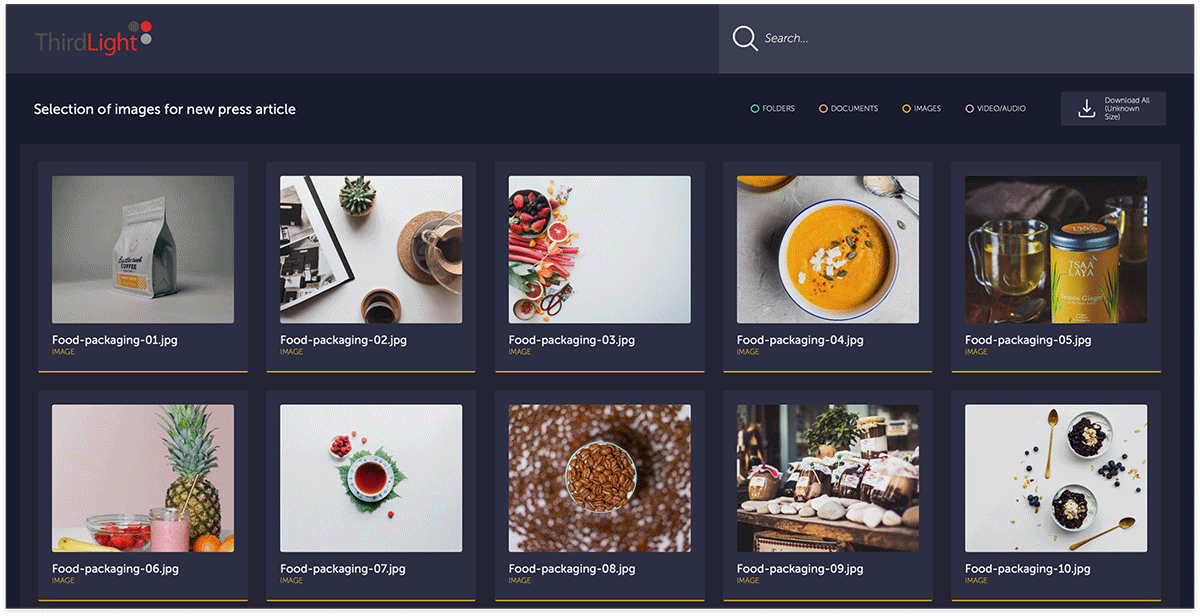 Brandable, customizable published links are a great way to help external partners access your content - quickly and simply.
From media generation to marketing material distribution, Chorus has taken away so many of the chores and sources of confusion for our team's ways of working – leaving more room in their day for creative thinking and less potential for error and waste. If you'd like to see how it could achieve all of this for your marketing and creative teams, book a demo today.
Author: Edie Mullen
Other articles you may find useful:
Picture this: a DAM solution built in your image
So, you're wondering if some kind of software could help your marketing and creative teams manage and publish their content – especially now everyone is working remotely. A digital asset management (DAM) system may be the solution, but which will work best for your users? Configuration is a key consideration.
Planning a change? Don't forget to factor in feelings
Whether you're introducing a timesaving digital tool, rolling out software or transforming how an entire company does business, the chances of a successful launch will increase by a third if the people at the centre of your plans are emotionally invested.
---