Project Sync: the Chorus app that powers creative collaboration
Media libraries make it quicker and simpler for teams to find the photos, artwork, video and copy they need. But we've found a way of saving them even more time: an app that syncs those assets straight onto their desktops.
Anyone who's worked with colleagues to take marketing collateral from 'V1' to 'FINAL' knows drafts can go back and forth between collaborators numerous times - an even more complicated process now our working locations are in such a state of flux. It's why many marketers prefer to store assets in production outside their media library before it's ready to be shared with the wider world, trading that library's security and searchability benefits for agility and speedy hand-offs.
Wanting our media library, Chorus, to deliver maximum possible value to its users, we set out to solve this problem with additional functionality that could give as much support to work-in-progress projects as it does the publishing of those finished assets.
Enter Project Sync, an app that provides a seamless link between Chorus site and workstation. The benefits? From companywide version control to eliminating clunky plugins, there are many; whatever the people in your organization need to achieve, Project Sync provides a live link between team members and workflows.

Linking assets to layouts
Someone creating a layout on InDesign, for example, would previously have downloaded an image from a media library (creating the duplication the library was rolled out to avoid), or made use of one of those unreliable plugins. With Project Sync installed, the file they need within Chorus appears instantly on their desktop and can be placed on the layout from there. Should a colleague edit that image, the changes automatically flow through to the synced asset in the layout. The same thing applies to copy within a Word document or an Illustrator file.
Managing creative production
If a manager needs to provide guidance and signoff on Adobe layouts or illustrations, chances are that's done via a PDF, generated by the designer with each iteration and messaged back for examination. If the team is using Project Sync, amends are preview-able right away within the Chorus site - no software required. The heads-up comes via the new comments feature (a big part of the latest Chorus update), meaning what everyone has to say is collected in one place, next to the file or container.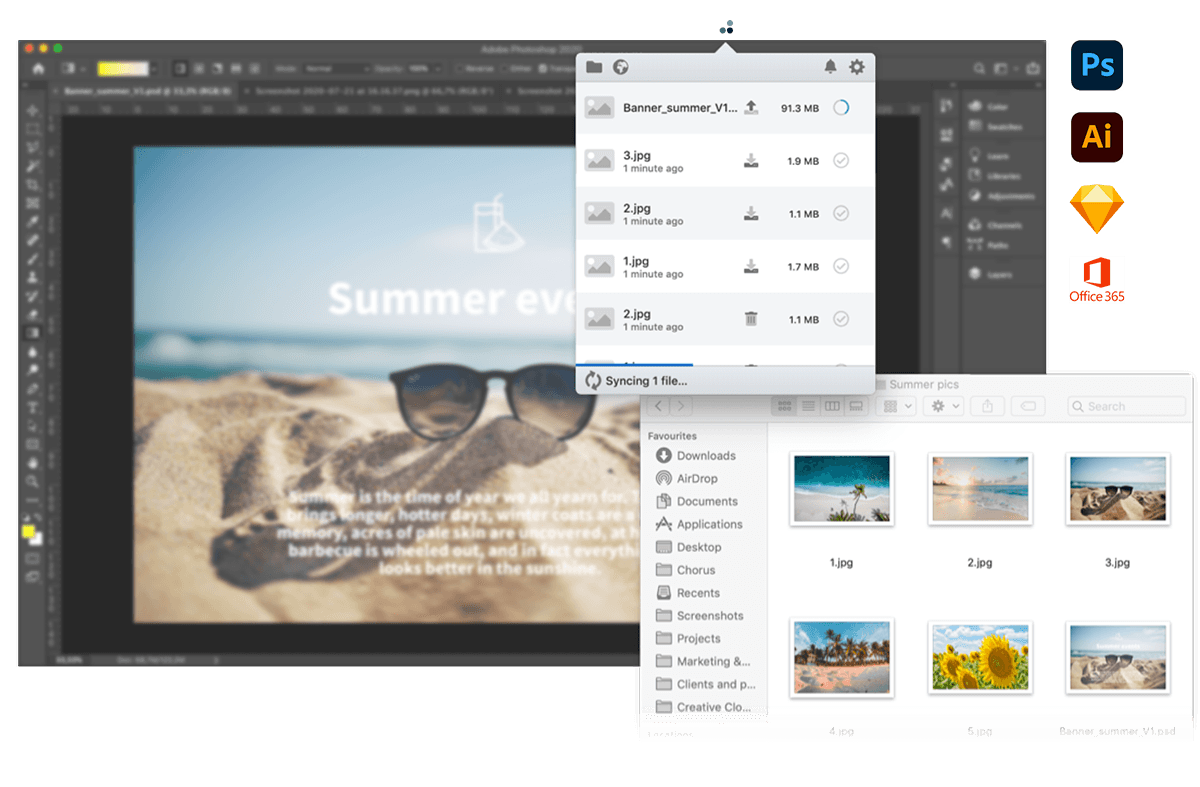 Keeping brands updated
A marketing function can control which brand assets an entire company uses - and external suppliers, too - if everyone has that folder synced to their Macs or PCs. Refreshing files and removing the out-of-date ones happens with the click of a mouse.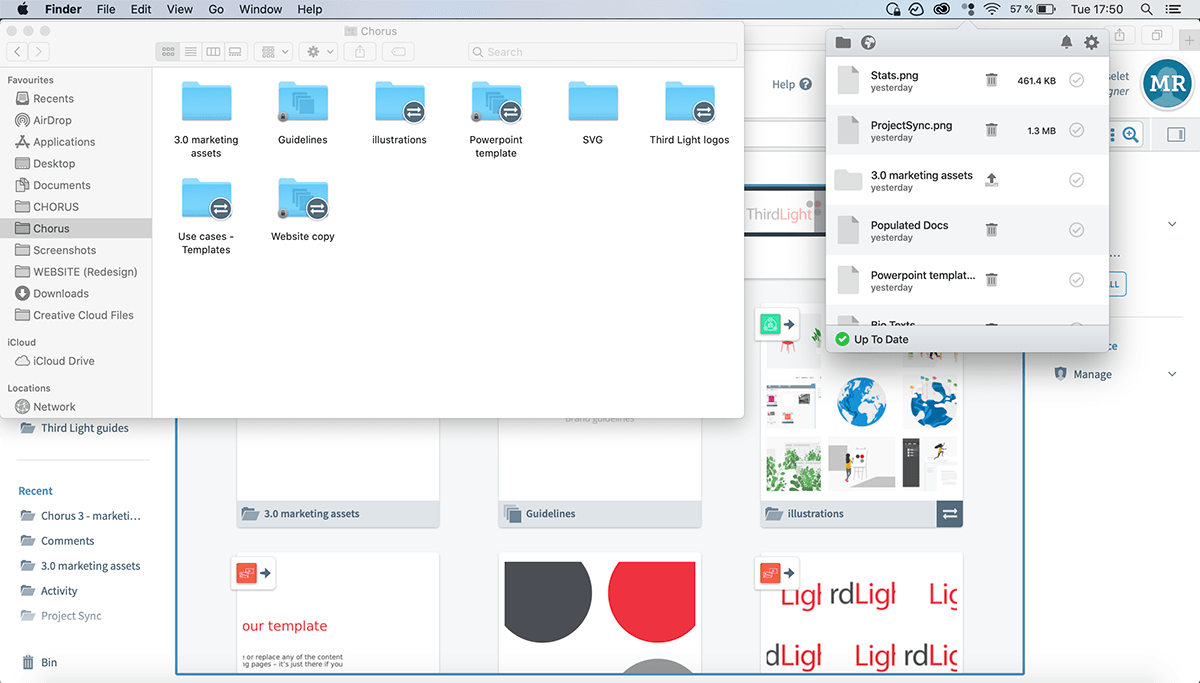 Working offline
With Project Sync enabled and the right files synced, there's no need for anyone to use a VPN or even stay online to work - amends instantly update across the Chorus site once you're back online. It's ideal for anyone who's roaming to work or using a metered connection.
The combination of shared project folders, file syncing, and comments stood out as the perfect solution for a next-generation DAM system: simple, powerful and flexible enough to fit into any workflow.
While Project Sync is the perfect tool for helping teams deliver in the current period of global uncertainty and shifting work locations, our product team have been shaping for much longer, it as a key part of the Chorus solution envisaged right at the beginning of its conception.
"The suite of powerful collaborative tools our users see today," explains Head of Design Sam Phillips, "is the result of extensive research and consultation with a wide range of users - and careful honing and testing in real-life scenarios. When we first started exploring designs to support work-in-progress, the combination of shared project folders, file syncing, and comments stood out as a perfect solution for a next-generation DAM system: simple, powerful and flexible enough to fit into any workflow."
Would you like to experience Project Sync for yourself, as part of the Chorus digital asset management solution? We're offering a free 30-day trial so you can see it in the best possible context: in action on your own projects. Any questions? Just [email protected]; we're here to help.
Author: Edie Mullen
Other articles you may find useful:
Chorus update transforms remote creative teamwork
When it comes to the groundbreaking features that make up this particular update, we feel like shouting from the rooftops. Why? We think it's an amazing creative collaboration tool for anyone using Chorus – especially those doing so remotely.
DAM pricing: how to navigate the maze
So, you're searching for a digital asset management system to organize your company's media. While this sounds straightforward enough, you may be wondering why it's such a challenge to get a concrete answer on cost. Let's explore why this might be, and how you can find a path through it all.
---