Online workspaces: why content teams need specialist solutions
If your team works with media, you won't see as many benefits from Dropbox, Google Workspace or Microsoft 365 as your information-based colleagues do. The difference? Digital asset management capability. It's why Chorus is the specialist solution for content production and publishing.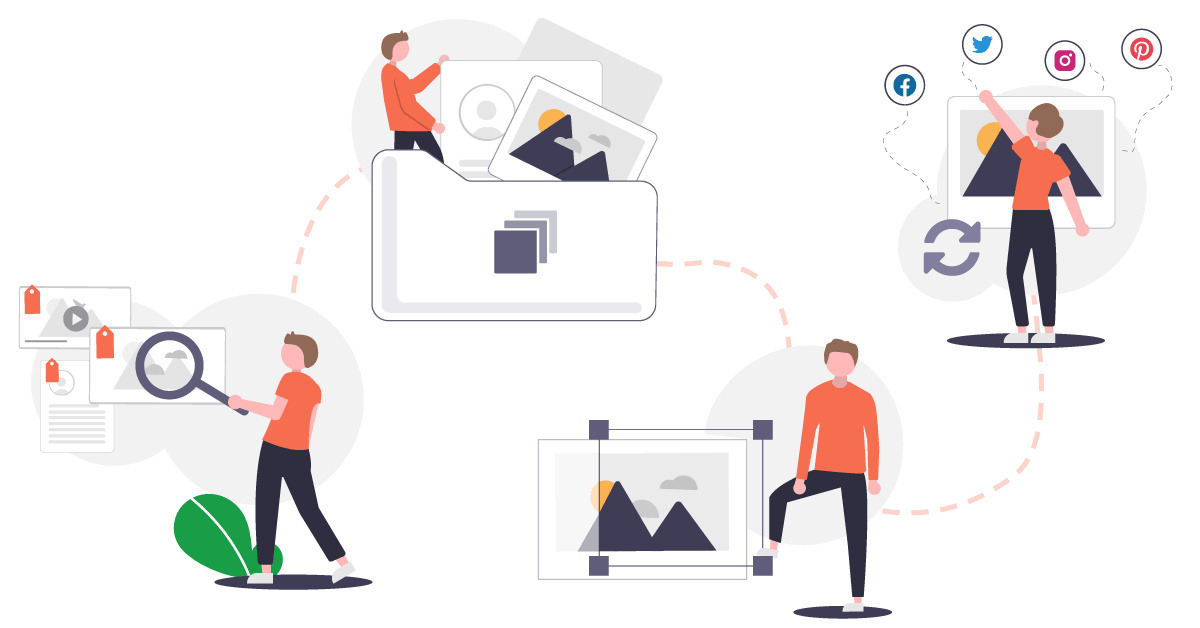 In what's been a transformative year for online working, the big enterprise software solutions have never been so smart and powerful for remote collaboration. They've also enhanced how they integrate with external tools for communication and project management – forming a 'stack' that helps everyone get things done together, as effectively and simply as possible.
However, if you're part of a brand, creative or marketing team, the story's a little different. Documents are a breeze to find, share and work on but creative workflows start to get complicated. For example, if your designers need a workspace to create visual content with their Adobe apps, Sketch or other specialist software, the part of the process that involves handing over to marketing for feedback can be challenging. With completely different needs, tools and skills, these two teams - one working on creating content and another needing to collect the finished item for use - can spend a lot of time trying to stay organized and connected.
Time-consuming media management chores are simplified and creative collaboration is freed from the limitations of a general solution.
While Chorus can still integrate with your marketing stack, its power reaches beyond document management or online feedback. It was built to handle digital media work in progress, with powerful features that drive production workflows and support the whole lifecycle of a finished piece of content. Time-consuming media management chores are simplified - or completely automated - and creative collaboration is freed from the limitations of a general solution.
Here are five common scenarios creative content teams face that illustrate how digital asset management can improve on general workspace solutions.
"We have to download and convert all our project media."
Before a designer begins project work, essential prep usually involves downloading from online storage the images and graphics they're going to use, before opening them up with Photoshop to export new versions in the right size, file format and color space for the finished item. This way of working takes up valuable time and encourages the creation of duplicate copies – which leads to ever-increasing storage costs.
Chorus takes care of this entire stage without any of these problems. Assets can be clicked and dragged into a collection, then the required versions of the whole batch of assets can be generated - to a wide variety of specifications - in one go with the derivatives tool.
The Project Sync app means a designer doesn't even have to download these new versions; they're transferred directly into the relevant project file on their workstation, ready to link into an Adobe artwork file. Even better, because of the smarter way files are being passed around, instead of copied, usage and activity records stay in one place.
Chorus's derivatives tool isn't just a godsend for designers; it's so easy to use that it works for everyone else in your company, too.
"Our designer's spending a lot of time cropping images for other people."
Designers can find their workloads dominated by jobs that don't call on their full skillset - and it's not satisfying for them or strategic for your budget sheet. With digital teams needing ready-to-go images for email and web, and social teams wanting pixel-perfect posts, headers and banners, this demand soon takes its toll.
It's quite common for teams to package up high-res images and send them to designers via online solutions with instructions, then wait for them to do the work, package the new versions and send them back the same way. The alternative is multiple licenses for Photoshop, which, if used for cropping alone, is like buying a sports car to do the weekly grocery shop!
Chorus's derivatives tool makes self-service possible. It isn't just a godsend for designers; it's so easy to use that it works for everyone else in your company, too. It can be preloaded with the latest set of dimensions ratios for common social media content such as banners and post images – so people can get the crop they need from a drop-down menu, ready to load.
Watch the derivatives tool in action
"We need our workflows to be quicker and more responsive."
With a general solution, designers have to 'translate' artwork created with specialist software before others can see and comment on it, exporting and uploading PDF after PDF with each iteration. As the project progresses, versions stack up in the online project folder, taking up increasing amounts of space. People giving feedback have to download each version to do so, and these contributions end up scattered between multiple versions.
Chorus offers that same platform for feedback but it's all in one place – a comments window right next to the work itself. There's no need to pump multiple PDFs into a project space when each update to the artwork file is sent straight into the cloud by the Project Sync app.
No matter what the file format, Chorus ensures they are also previewable in high resolution by anyone who needs to see and comment on the changes. And you can go back as well as forward; previous iterations can be retrieved and every detail is collected in a convenient activity dashboard.
Chorus subscriptions include an unlimited number of users - so there's no need to play musical chairs when a new freelancer comes on board.
"We need to collaborate with people outside the company."
When it comes to sharing project work with external contributors, arrangements vary greatly across online workspaces. But if your company has paid for terabytes of storage and your supplier is on the free version, they're likely to find it difficult to access a hefty project folder.
The only way around this for most solutions is to hold back a number of extra licenses or let them keep copies in some other system entirely. This isn't efficient; loose ends and copies tend to spread quickly. Because it was created with marketing teams' specific ways of working in mind, Chorus subscriptions include an unlimited number of users - so there's no need to play musical chairs when a new freelancer comes on board.
Everyone can enjoy the same tools and features, and your extended team can work side-by-side in the same virtual production space. Security is taken care of - you can assign all external users a specific category that can only access relevant assets.
"We need more than a workspace of folders."
Our final difference is a huge one. Most marketing teams need more than the decades-old idea of files and folders to support their overarching goals.
With a limited amount of content and a well-maintained folder structure, people could technically find what they're looking for. But in reality, the storage offered ends up being just that: a static, neutral location that's challenging for the uninitiated user to explore and self-serve, especially if the desired files are spread across the folders they're organized into. Beyond file names, there's no scope for keywords, tags or business-critical information.
Digital asset management systems add this missing tool: metadata. They give users the ability to search for textual tags, not just browse through folders. In Chorus, every space supports a whole spectrum of powerful metadata options to allow people across your company to search by every kind of criteria. AI features can be used to add tags automatically, and you can customize the software to add your own.
When you add this rich information, the whole experience of organizing projects and of looking for files changes. Users browsing for files will find visual search cues above files and folders to show how they're grouped. Visual labels that tell users what an asset's for. Smart collections can monitor changes in metadata and present matching files as if they're folders, putting the right content into people's hands without them ever having to fill in a search bar.
And when you want to make content available on a public-facing platform, Chorus's link publishing feature allows you to create all the trackable, brandable media hubs you need – with configurable access levels for each one. Hook one up to a smart collection, and it's a live content feed that updates itself with zero effort from your team.
These are just five reasons Chorus is the specialist solution for marketing, brand and content teams; to learn more just [email protected] or head to the live chat window on our homepage. And if you'd like to see all these tools and features in action for yourself you can do so immediately, free for 30 days.
Other articles you may find useful:
Discover the work-in-progress possibilities of Chorus
While Chorus excels at traditional digital asset management, we're also pretty proud of its ability to power the production of those assets beforehand. Here's how it all happens.
Chorus: the powerful tech behind a creative solution
If you'd like to know more about the standards we hold for the management of our system and see exactly how your valuable files and content are in such safe hands, we've compiled all the facts and figures you'll need.
---