Discover the work-in-progress possibilities of Chorus
Traditional digital asset management (or 'DAM') solutions have always been shaped as depositories for finished assets, ready for everyone to find and use in their own work. Now, while Chorus excels at this, we're also pretty proud of its ability to power the production of those assets beforehand. Here's how it all happens.
Some companies initially just store and share finished marketing assets. But as time goes by, ambitions are realized and the needs of a team evolve, many leaders are starting recognize the potential efficiencies of a DAM before those assets are finished, too.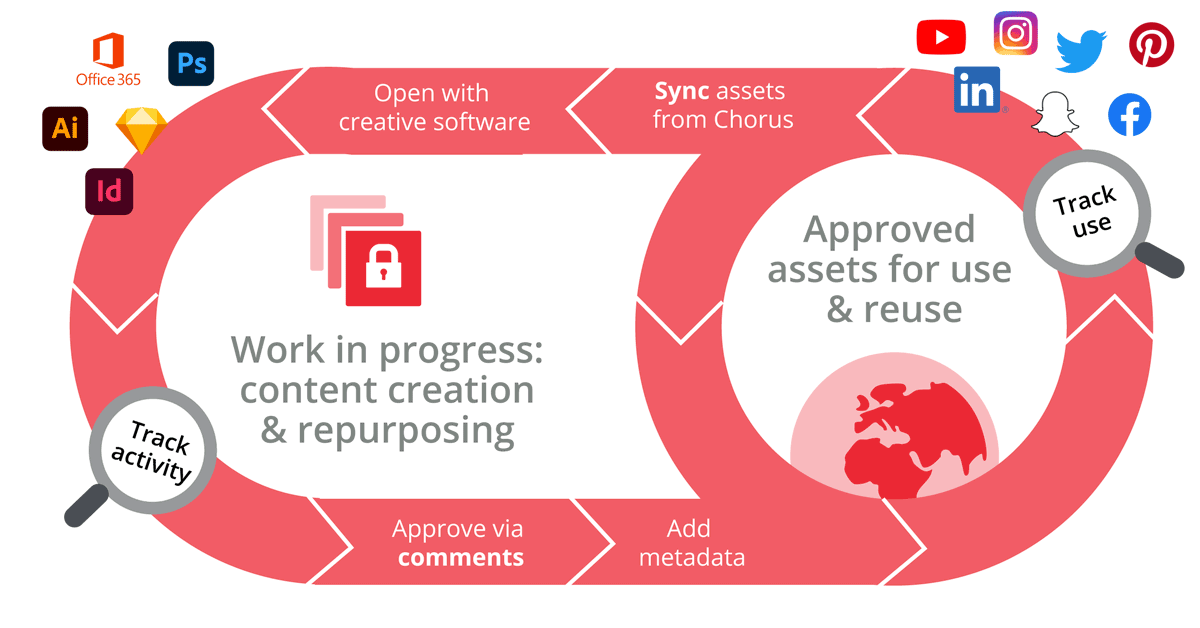 If you're only familiar with Chorus as a DAM solution (seen in the right half of this cycle), here's how the full lifecycle of your content creation and reuse can take place in one powerful, secure location: Chorus.
This need for scalable software solutions is why we've devised a series of additional work-in-progress features and tools for Chorus. Together, they can be used by content creators as well as content users, unlocking the entire lifecycle of a business's marketing assets. As both a creator and work-in-progress user of the solution, our designer Mégane Rousselet is perfectly placed to share her advice for getting the best out of its collaborative tools.
It all starts with a project folder
"Creating a folder for your project in Chorus at the very beginning will ensure everything from the brief and planning to final drafts are all in one place," says Mégane. "This folder can then be shared with each individual who's contributing to the work."
If teams are using a project management tool such as Asana, Trello or Monday, path URLs for anything key to the project can be added here for everyone's reference. Mégane's a big fan of limited metadata at this stage: "It's not worth adding the kind of keywords you'd put on finished assets so a wider group of users can find them, but it's really useful for team members if files are marked according to their status – 'In Progress', 'Needs Review' or 'Draft', for example. There's a quick dropdown menu for these options." And if someone needs to find stuff in the meantime, Chorus lets you search for folders as well as assets.
File syncing – the key to remote teamwork
Once a project folder is set up and everyone's added to it, file syncing – via the Project Sync app – is what transforms creative collaboration for remote teams. "This app places the project folder, 'live', on the Mac or PC of each team member working on it," explains Mégane. "No matter what software you're using – Adobe, Sketch, Office 365, you name it – this one app links it the Chorus assets you need. Even the kind of really large video files you'd use with After Effects or Final Cut Pro, now we've added ProRes Proxy."
Everyone can contribute with no uploading or downloading needed, at any stage. When a designer amends a layout in a synced project folder, this change automatically updates in everyone else's version, and within the Chorus site itself, right away – with each revision stored in the system, too. "Working this way also means everything's backed up in case of disaster," adds Mégane. "Plus, assets can even be worked with if everything's offline; the minute connectivity returns, Project Sync will kick back into action."
Curate and select media from Chorus
Although this is a work-in-progress project, it's still going to use existing finalized assets from the Chorus site: photography, video, audio… even copy. If our collaborators set up a collection in the project folder, everyone can contribute to a 'playlist' of options, and chat over the best candidates.
"When project assets are synchronized to a designer's computer, they're then immediately available to place on InDesign layouts, or edit in Photoshop," says Mégane. "It may seem quite simple compared to a plugin for Adobe, but anyone's who's had to maintain that sort of functionality – often for multiple programs – will be blown away by how quick and easy Project Sync makes working with any kind of 'linked' media."
Feedback and signoff
When it's time for everyone to share feedback on work, the team can head to the Chorus site to have their say, be it with comments or simple, time-saving emoji. "Any file can be previewed on Chorus in high definition," adds Mégane, "even those made with Adobe or other specialist software. There's no need for a designer to export a PDF or JPEG. And everything that's been said is logged right next to the file or container it's referring to."

Let your content fly free!
Now a finished asset is signed off, a simple click-and-drag can move it to a more widely available space; adding metadata means it's now easily findable by others. But the genius doesn't stop there; content users can now harness the power of file syncing to generate multiple iterations of that asset for campaigns and publishing across multiple locations. "Once a master asset has been created," says Mégane, "Chorus's derivatives tool unlocks the next stage of an asset's lifecycle."
Derivatives allow the user to create multiple variants, from crops to colorspaces, without taking up any extra storage space. A Photoshop file of a social media graphic can be downloaded as a PNG or JPEG in a variety of pre-set dimensions for social media or web components. "With derivatives and Project Sync, a social media manager can sync folder after folder of 'oven-ready' assets to their computer, pre-cropped for whichever platform they're posting on."
Tracking the lifecycle
In Chorus you can also track the progress of project work stage by stage, and refer back to previous project conversations in the comments windows. "Creative work is often a case of learning, and iterating," she adds, "and the success of a project is likely to result from information gained from the one before it."
As all of this activity flies thick and fast, detailed, automatic record keeping by Chorus means any repurposing of content can be informed by real data. "Chorus's dashboard shows everyone site activity and asset usage – by whom, for what purpose, and when," says Mégane. "So teams can see what content is popular, what's not working and what could benefit from an update."
Chorus transforms how marketing and creative teams collaborate to produce brand assets and content - and get the best return through its distribution and reuse. We're offering a free 30-day trial so you can see its powerful features in action on your own projects. And if you have any questions, just [email protected]; we're here to help.
Author: Edie Mullen
Other articles you may find useful:
Remote working: how to keep the creativity flowing
As more companies explore alternatives to the traditional office, how can distributed workers keep their thinking fresh in isolation? Here are some tips and tools to bridge the gap.
Planning a change? Don't forget to factor in feelings
Whether you're introducing a timesaving digital tool, rolling out software or transforming how an entire company does business, the chances of a successful launch will increase by a third if the people at the centre of your plans are emotionally invested.
---