Collections: the Chorus 'playlists' that save everyone time
When your team members and colleagues are looking for specific assets to help them do their work, Chorus makes sure everything is findable in a jiffy. But when you need more control over user experience – directing everyone to specific files for example, or curating picks for your next project – that's where the collection tools step in.
This flexibility of user journeys to images is one of the most useful tools in Chorus.

Patrick Davis - Digital Product Owner, the Francis Crick Institute
From Photoshop masters to PowerPoint presentations, every file that sits in your Chorus digital asset management site has an original location from which it doesn't move. It's metadata, the information attached to it, that helps users find the exact item they're looking for – in a way they couldn't if everything was stored on a shared drive or a generic cloud-based solution. But what happens when people don't know what they're looking for, or need to make their own compilations of files?
If you need to make using Chorus as effortless as possible for occasional users, compiling and curating those assets will help gently nudge them in the right direction, saving them – and you! – a considerable amount of time. "We think of collections as 'playlists' of files," says Third Light Product Specialist Marco Michelutto; "allowing an individual asset to appear in other compilations without ever straying from its original location."
Patrick Davis, Digital Product Owner at our customers the Francis Crick Institute, is a big fan of collections. "Chorus's search is really powerful but we've found that sometimes people want to browse images based on a more abstract theme or a specific project. This flexibility of user journeys to images is one of the most useful tools in Chorus."

Control and signpost content for wider use
If you want to encourage colleagues across your organization to use the freshest brand assets, compiling them in one, impossible-to-ignore place means the whole 'toolkit' can be downloaded in one action – perfect for those who aren't regular Chorus users. Want to make these assets available publicly? Share that collection as a published link , and anything added to it will update there too, automatically.
A specific – but common! – challenge for organizations is controlling which brand assets its employees use. "People appreciate the convenience of keeping files on their own machines," explains Marco, "but this can trigger every brand manager's worst nightmare: 'logo creep', where defunct graphics in current files take forever to unpick and correct. Chorus's Project Sync app can populate everyone's workstations with the same 'live' collection of signed-off, up-to-date media."
Curate, discuss and select media
Within marketing and creative teams themselves, collections are a great way to compile media for design and production use. Multiple contributors can add to or edit a collection, making this an ideal tool for photo editing when everyone's working remotely.
"If you use collections for your work-in-progress projects, Chorus's comments feature is essential," says Marco. "It'll let everyone discuss the selections and make the final choice, right next to the media in question, and give managers an overview of why and how decisions were made."
Manage your assets more easily
If you need to present files for a less creative purpose – say, to present your users with an overview of the last week's uploads or recently signed-off media, the smart collection is your time-saving answer. Configure a smart collection to hunt automatically – for certain keywords, labels, or criteria such as file status, format or size – puts all those specific files in one place, no hunting required.
"We have keywords such as 'working together', 'students' and 'break-out spaces'," says Patrick, "which lets our editors find images in those theme areas. The real strength is that the smart collections do all the work automatically."
"This is a great way to make sure colleagues can find the correct assets," adds Marco, "but it's also an incredibly useful tool for admin and production workflows – like a to-do list that automatically presents you with the files you need to deal with."
If new files haven't had metadata added yet, bulk-labeling them as unprocessed and setting a smart collection to grab anything with that label means you can work through everything in one place until there's nothing left in that container. If you need to keep an eye on media that'll need updating soon, set a smart collection to gather every asset with a looming expiry date.
Bookmark the files you use every day
Whether it's a suite of sales collateral or core design elements, we all have our go-to assets for getting work done. If you have access to a file, you can add it to a private collection – a compilation that only you can see.
"A private collection isn't accessible by any other user," says Marco, "so there's no need to spend time making it tidy for others. It can be a low-maintenance holding area for whatever you're working on, or with, especially if you're syncing these files locally to your computer to do so. Whoever you want to make life easier for, there's a collection for that!"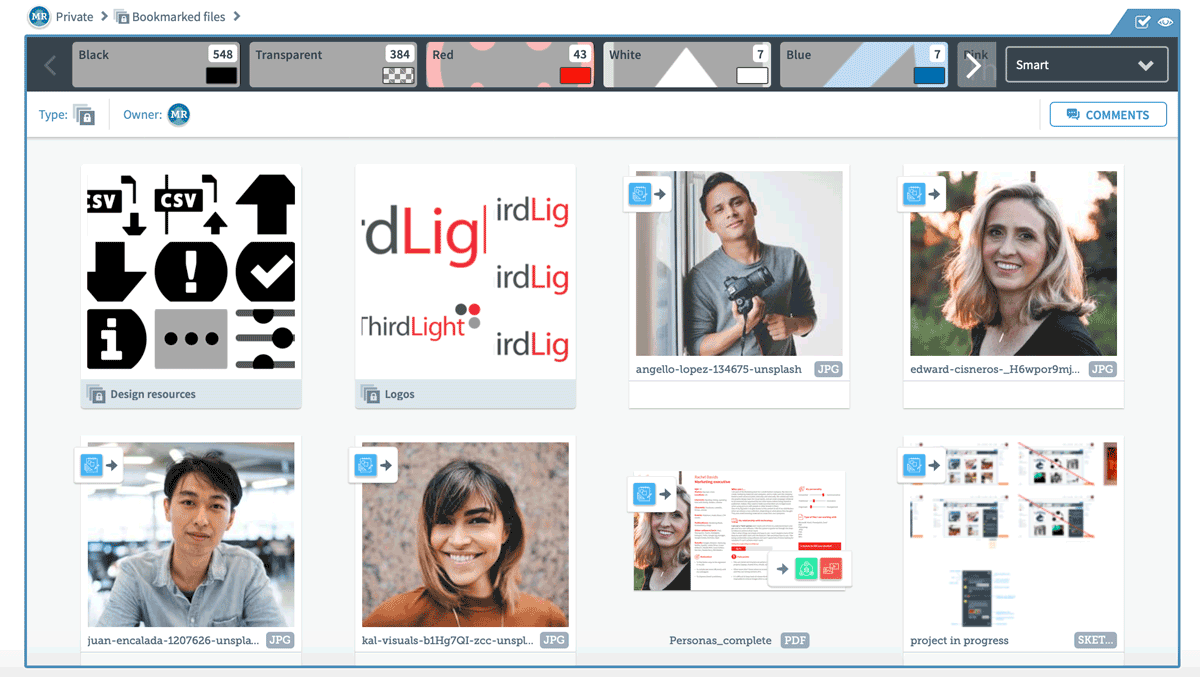 Chorus transforms how creative teams collaborate to produce content and get the best return through every stage of its lifecycle. We're offering a free 30-day trial so you can see its powerful features in action on your own projects. And if you have any questions, just as[email protected]; we're here to help.
Author: Edie Mullen
Other articles you may find useful:
How to maintain your brand in remote workspaces
With so many external factors beyond our control, strengthening an organization's brand identity is not only achievable but strategic; the only challenge is how to do it remotely.
Spark joy in your workplace with effective metadata
it's never been more important to remove clutter from our digital working spaces the same way we would our homes. The answer? Metadata.
---