Chorus's labels: your visual customization tool
Metadata, such as tags, captions and keywords, is an essential part of any digital asset management software; it's how you help everyone find the files they're looking for. But if you want to build on that searchability so your users can navigate, organize – and even manage workflows – intuitively, Chorus's labels feature adds a crucial extra dimension to DAM.
How media assets are presented to users can save huge amounts of time for your team – and the rest of your organization. Every team has different objectives, deliverables and ways of working, and labels help you build a file management structure that links these to your users. How? We asked Chorus Designer Mégane Rousselet to explain.
When you need to convey information about assets in a way that also categorizes them, labels provide the greatest value – we think of them as 'metadata you can see'.

Mégane Rousselet, Product Designer
"Captions are great when your users want to see specific details of a media file," says Mégane. "And if they need to find images with a certain theme, keywords will show you every related asset. But when you need to convey information about assets in a way that also categorizes them, that's where labels provide the greatest value – we think of them as 'metadata you can see'. They're particularly valuable when displaying the intended use of an asset, which is so important if you want your media to be used correctly – and as widely as possible."

Use them to… share asset info at a glance
Master file? Latest version? Labels show your users exactly what you want them to know about an asset. You can create your own to match specific aspects of your business or choose from a wide range of icons – reactions and symbols, numbers for version control and even recognizable logos for social media brands.
"Chorus's derivatives tool lets you produce multiple variants of one image, to the very pixel," says Mégane. "But if you're creating a large bank of assets for different social posts, the minute differences in size are hard to spot with the naked eye. Adding labels that show the platform each asset is for helps everyone find what they need instantly."
Use them to… automatically organize assets
Whether it's ready-to-go social media assets, short video clips for training or master design files, an organization's contributors need certain types of assets to do their jobs. Label your Chorus files according to those people's needs and you can automate the job of putting a whole site's files in the places they need to be – it just takes a smart collection.
"Smart collections work 24-7 in the background to search and gather assets based on the criteria you set for them," says Mégane. "They pick up on labels the same way they would keywords, file formats or upload dates – only because labels are exactly what you make them, the possibilities for customization are endless."
Use them to… create a workflow
When used in conjunction with smart collection, labels can minimize file hand-off between collaborators, contributors and approvers. For example, if you're using labels to mark files according to their place in a workflow – from DRAFT to SIGNED OFF – then setting up a smart collection for each 'stage' label puts all the files each team member needs to deal with in one place.
"If they've completed that stage of the job," says Mégane, "they can replace the label – and it'll vanish from their workflow and appear in the next contributor's smart collection. And if your team is selecting assets for content creation, labels mark the chosen files for others to see."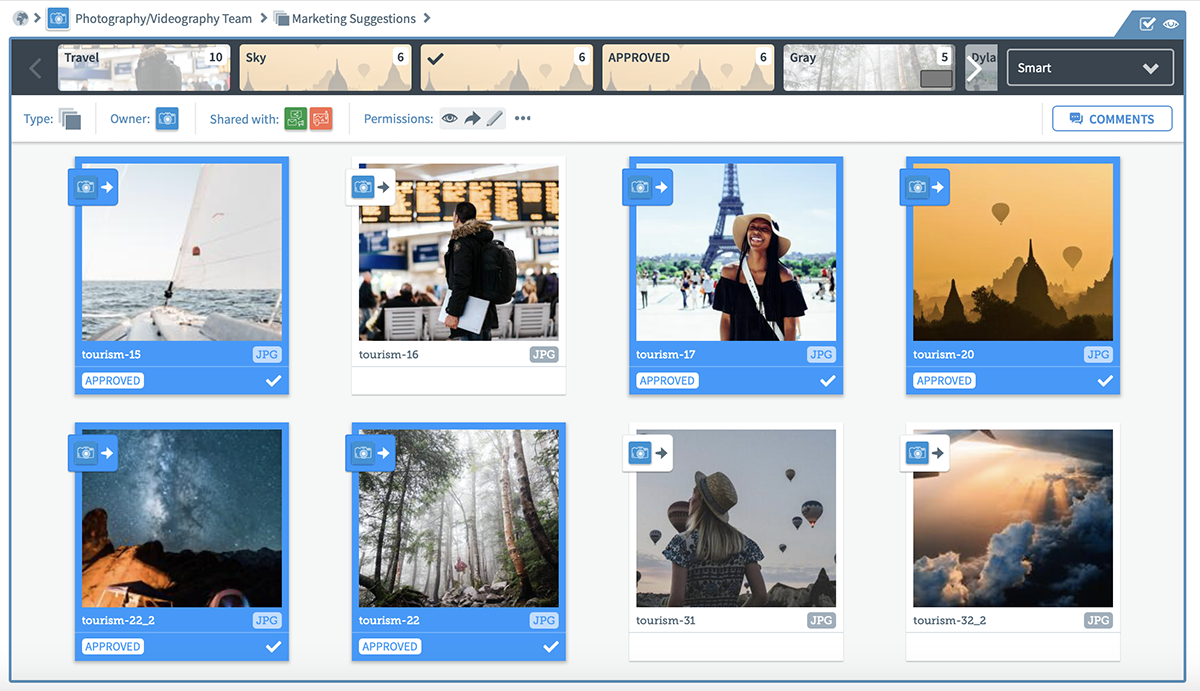 Mark selected assets so designers can see your choices at a glance
Chorus transforms how marketing and creative teams collaborate to produce brand assets and content - and get the best return through its distribution and reuse. We're offering a free 30-day trial so you can see its powerful features in action on your own projects. And if you have any questions, just [email protected]; we're here to help.
Author: Edie Mullen
Other articles you may find useful:
How to maintain your brand in remote workspaces
With so many external factors beyond our control, strengthening an organization's brand identity is not only achievable but strategic; the only challenge is how to do it remotely.
Picture this: a DAM solution built in your image
If you're currently looking for a digital asset management solution for to help your teams create content remotely, configuration is a key consideration. Here's how - and why.
---