Chorus update brings more simplicity and speed to content workflows
From subtle user experience improvements to whole brand-new features, we're always working on ways to make Chorus more user-friendly and powerful. It's why we're particularly excited about this update. We often hear from customers about how time efficiency is crucial to the success of their work-in-progress projects, and how beneficial is having access to tools that work seamlessly with their workflows.
So, this month we take simplicity in Chorus to a new level, with a redesigned metadata UI, including a panel builder with the option to assign colors and permissions to them, web-optimized downloads plus enhancements to SFTP uploads for a much faster user experience.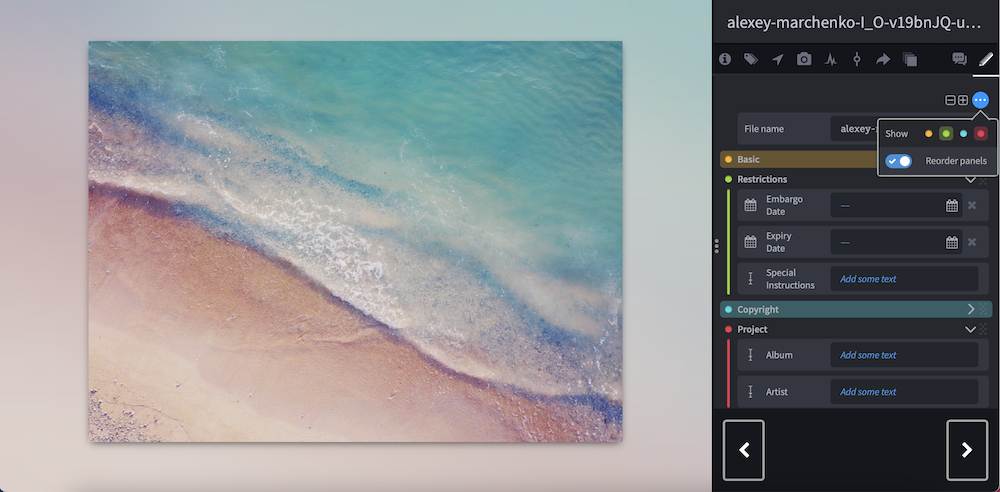 Let's have a look at how they work:
Revamped Metadata UI
We've introduced a new metadata manager where you'll be able to create and use existing panels. To make it more intuitive, you can now also use drag and drop to create panels and add fields.
As an additional feature we've also added new colored panels, which allow managers to assign a color to each panel as a visual aid to help everyone know if certain panels belong to a particular team. For example your social media team could use the color blue, and the design team the color red, the choice is yours. Assigning team colors this way means you can sort your panels and organize them in whichever way you prefer. You may choose to put your panels at the top, so you see them first for example.
In addition, for those cases where you need to have control over who can view certain panels, we've also added panel permissions. Each panel now has a dropdown menu to control who can view and edit it, based on their role.
Watch this video to see a quick overview of these updates.
SFTP uploads
To make the experience from media creation to publishing simpler and faster, we've upgraded our SFTP engine to allow you to SFTP your media into any folder. We know speed means faster content output, especially in live situations where you need quick access to media. You can now upload straight from a professional camera into a shared folder, giving your team instant access to every shot, live, as it happens. Chorus supports your workflow from the moment the shot is taken through to publication and distribution.
In this video we'll show you how you can use SFTP uploads in Chorus to support your workflows:
Web-optimized downloads
We know that having vivid and rich images on your website can help tell your brand story. But, when it comes to your website performance, even if your website is well optimized, having larger images will slow down the load time. Images often account for most of the downloaded bytes on a website. As a result, optimizing images can often yield some of the largest byte savings and performance improvements: the fewer bytes the browser has to download, the faster the browser can download and render content on the screen, which overall would help your website visitor have a positive brand experience.
To help with this, we've added a new image format to optimize your images for the web. Now you can export images, safe in the knowledge that they will be as small as possible without sacrificing quality—and your page-rank will thank you too!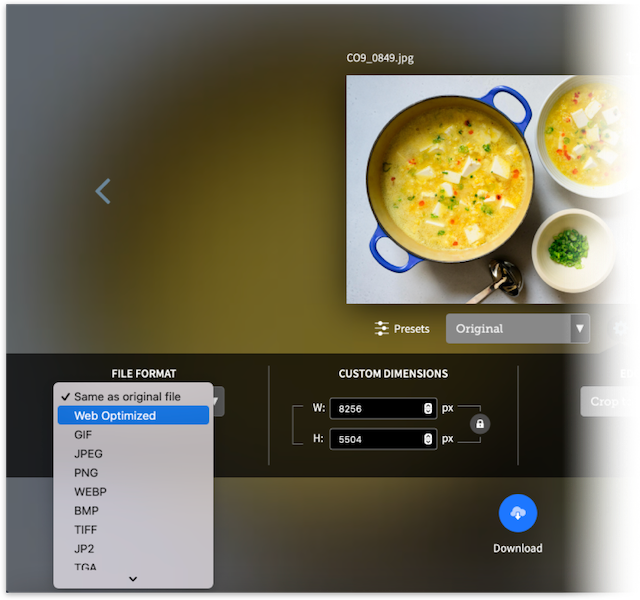 We hope you enjoy the features and improvements in this Chorus update. If you'd like to watch them in action book a demo today, we'd be delighted to show you. And if you have any questions about how Chorus can help you simplify your workflows, just [email protected] or head to the live chat window on our homepage.
Other articles you may find useful:
Simplifying team workflows with Chorus
It takes many pairs of hands and countless stages to create what looks to the outside world like simple sales and marketing materials. That's why it's crucial to have a robust and reliable system in place that can take care of the back-and-forth to avoid slowing down the delivery of your creative projects.
Planning a change? Don't forget to factor in feelings
Whether you're introducing a timesaving digital tool, rolling out software or transforming how an entire company does business, the chances of a successful launch will increase by a third if the people at the centre of your plans are emotionally invested.
---