Chorus update boosts team communication with Slack integration plus new notifications manager
Efficient collaboration has always been at the core of our digital asset management solution. We know the positive impact of using tools that focus on teamwork and task automation because we use Chorus ourselves. Chorus has streamlined the way we work and made us less error-prone. Slack integration has sped up communication, and the new notifications manager has helped us focus on what is important, by filtering out the noise. We're thrilled to be able to pass these benefits on to you.
"We realized early on that the future of DAM was all about team collaboration, and the future of team collaboration was instant feedback. These past few months, everything we've been working on has been focused on speeding-up communication," says Sam Phillips, Head of Design. "Slack has revolutionized the way teams communicate; Chorus seeks to revolutionize the way teams collaborate. Slack integration crushes feedback cycles from days to minutes by making feedback instant and normal conversations possible."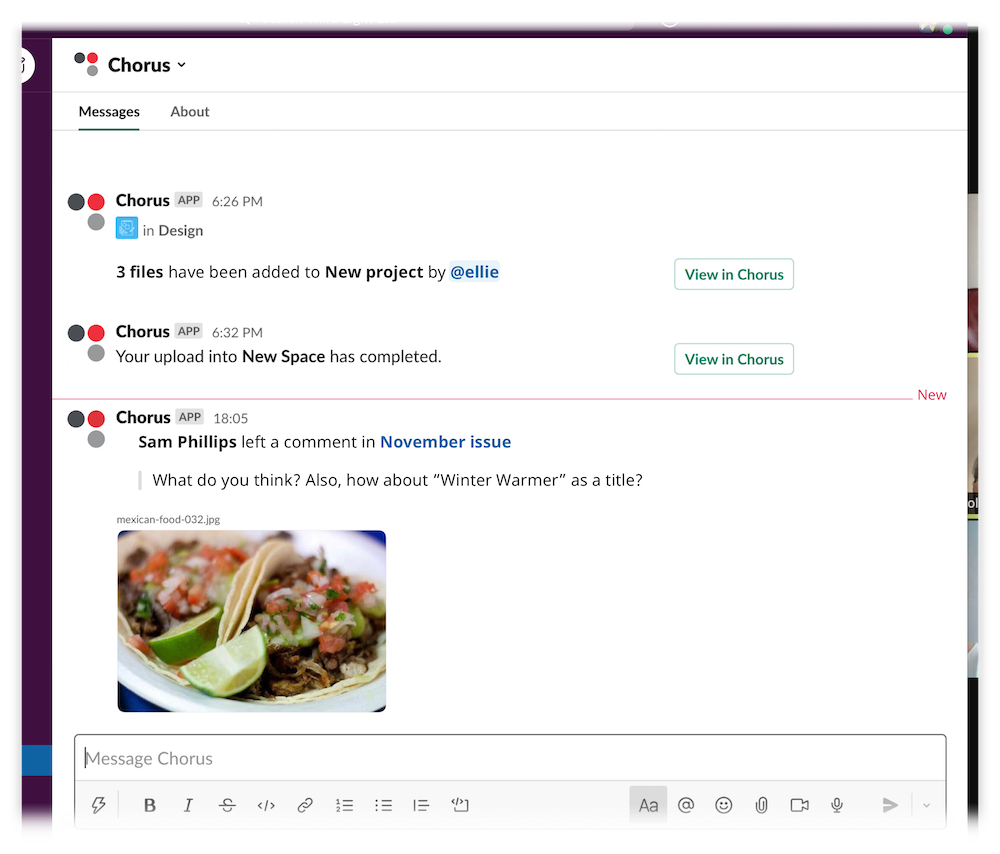 "While instant feedback is essential for efficient teamwork" continues Sam, "we soon discovered a downside: noise. Unless you have full control over which messages reach you, important messages can get lost in the scroll. So, we added a notifications manager to give you a tool—a scalpel—to cut through the noise and focus on what is important."
Here's a quick snapshot of what's included in Chorus 3.6:
Slack integration – Recognized as the go-to messaging tool for business, Slack can now be connected to Chorus! Chorus can send notifications directly to a personal Slack channel; folder and file comments can be sent to any Slack channel, allowing a team's conversation in Chorus to be mirrored in their Slack. Each folder's comments can go to a different Slack channel, even private ones, so, each team's conversation can be independent, and only seen by those who need to see it, cutting the noise for everyone else.

"Slack has revolutionized the way teams communicate; Chorus seeks to revolutionize the way teams collaborate. Slack integration crushes feedback cycles from days to minutes by making feedback instant and normal conversations possible."

Sam Philips, Head of Design

New notifications manager – This major new feature allows you to control which emails Chorus can send you, by accessing your profile and navigating to the Notifications tab. You can now set notifications for many additional events, and control them differently for each space.

Uploads and expiry notifications – Tracking the expiry dates of licensed files is tricky. If you need to renew a license, you need to be informed before the license has expired. Now you can have many reminders, each with different periods, so you can have advanced warning a month, a week, and a day before if you want.

When working on a project it's often vital to know when an important file has been added to the folder. Now you can as we've added a notification and a way to set it one or off for each space you are in.

@Comment emails – As part of the comments module which can be added to a Chorus subscription, we now send email notifications for missed comments. Each thread you follow, and each @comment you miss will be bundled-up and emailed to you on the hour, easy!
Public API – We've added an API for user impersonation. This enables closer integration with externally authenticated 3rd party tools.

What's next?

We really listen to and value our customers' feedback, and are always seeking new ways to improve the Chorus experience. If this update gets you excited, wait until you see what's coming in the next version. We can't wait to share it with you in only a few weeks time. Keep an eye on this blog for more news!

From media generation to marketing material distribution, Chorus has taken away so many of the chores and sources of confusion for our team's ways of working – leaving more room in their day for creative thinking and less potential for error and waste. If you'd like to see how it could achieve all of this for your marketing and creative teams, book a demo today.

Other articles you may find useful:

Discover the work-in-progress possibilities of Chorus

While Chorus excels at traditional digital asset management, we're also pretty proud of its ability to power the production of those assets beforehand. Here's how it all happens.

Planning a change? Don't forget to factor in feelings

Whether you're introducing a timesaving digital tool, rolling out software or transforming how an entire company does business, the chances of a successful launch will increase by a third if the people at the centre of your plans are emotionally invested.

---