Chorus 3.3: carefully researched to make your life easier
From enhanced search responses to bandwidth-friendly video file syncing, the latest Chorus update is set to supercharge anyone's experience of using it – especially for collaborative work in progress. Here's how the latest features and improvements are going to put time back in your day.
This spring's set of refinements to Chorus are the result of consultation and workshops with users before solutions were crafted for each one. We spoke to Third Light's Design team, Sam Phillips and Mégane Rousselet, about the thinking behind some of these clever developments.
Edit video - wherever you are - with ProRes Proxy
ProRes Proxy is much smaller, frame-accurate version of a video file used for sharing and reviewing. They're useful for sharing work in progress with the rest of the team for review. They are smaller files that use less bandwidth to sync but don't sacrifice quality — every frame is kept in whole so the whole file can be scrubbed (which is when the editor toggles back and forth to get to exactly the right bit) and every cut appears in the right place.
Now we've added ProRes proxy, a video editor can export a high quality version of the video file they're working on at a much lower resolution without dropping frames.
"Working with proxy files is rapidly becoming normal for video editors," says Mégane. "Now we've added ProRes proxy, a video editor can export a high quality version of the video file they're working on at a much lower resolution without dropping frames or limiting the ability to scrub. The latest cut can be synced with the Project Sync app, reviewed and approved by the team in low resolution before a final cut is made from the high-resolution original."
Search for the container as well as the assets
While DAM users could technically rely on metadata alone, most of us use folder names to organize files; it's a great additional way to help everyone navigate to assets they might not know the name of, but know the context of its creation. From 'accounts' to 'finished video', folder names are useful metadata. So we've added Path Search to our search engine, to make it easier and quicker to find the folder you're looking for - even before you've finished typing in the search bar.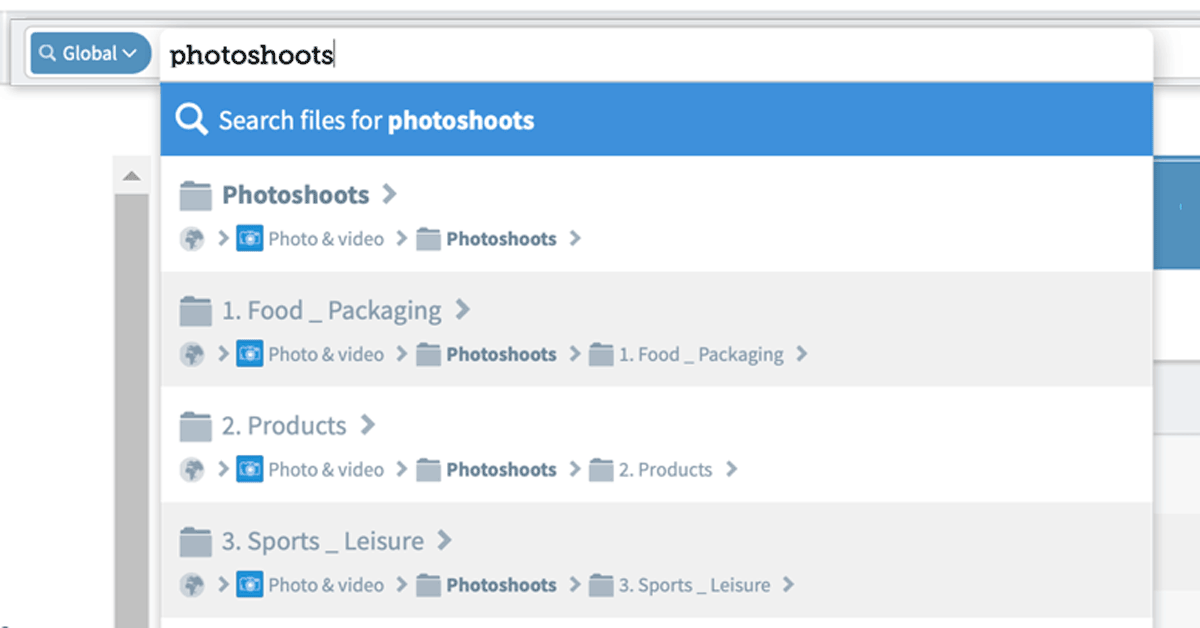 It's also of particular use before an asset is even finalized. "Tagging unfinished work files simply isn't a priority for busy creative teams," says Sam. "And let's be realistic, how many files get tagged after a project is finished? The quickest way to navigate should be to search for the project folder, which is why we've taught our search engine about folder paths and the importance of metadata held in folder names."
Now, if you type 'finished video' or 'accounts' you will instantly be shown a list of the folders with that name - even before you press enter. "If you don't see the folder you want right away, mention another folder it's in and it will soon show up," says Sam.

Streamline approval on project assets requiring different signoffs
This improvement was created to simplify things for users of the workflow module, which captures usage notes and approval requests. "Until now, contributors to work-in-progress projects with media 'gated' for approval from multiple sources had to request assets by each location they originate from, space by space – and from within those original files." explains Mégane.
With workflow collections, a user can curate all the assets they need into a single collection in their private space, then one request to use everything in there is automatically split between anyone who needs to give the thumbs up. "Every time someone approves some files, you'll know about it – with no need to wait for all approvers before you start work," she adds.
Weather Wi-Fi disruption with more robust uploading
Have you ever started a giant upload, left it ticking away in the background – then come back to find the Wi-Fi went down and you have to start from the beginning? With Chorus, you can now add large Photoshop files, videos or your 100-slide presentation to your projects with greater confidence.
"Traditionally, when a DAM uploads a large file it sends it all in one go", explains Sam. "This means that, if the connection is lost, what gets left behind is incomplete and unusable and the file has to be sent again. We've taken the advanced upload engine from our Project Sync app and added it to Chorus itself, so that when interruption strikes your site will remember the place it left off and continue from there.
"As long as you keep your browser tab open, Chorus will work away in the background sending data whenever it can. If you start an upload before boarding a flight in Rome it will continue where it left off when you connect to the Wi-Fi in Schiphol."
Stronger tools for integration – and more of them
Knowing how varied and rigorous some integrations need to be, we've been working to develop our public API to ensure it's up to the job.
When it comes to meeting very specific business requirements, a good API is an essential tool. It allows different systems to talk to each other; for example, our customers use ours to make Chorus a seamless part of a wider operational 'ecosystem'. Knowing how varied and rigorous some integrations need to be, we've been working to develop our public API to ensure it's up to the job – embracing industry standards REST and gRPC (which both work effortlessly with all modern programming languages).
We're also constantly improving our repertoire! In Chorus 3.2 and 3.3, we added a number of new API methods, mainly around user management and metadata manipulation. We added a Go library for us to use internally, but as it's too useful to keep to ourselves we decided to release that too!
Chorus transforms how marketing and creative teams collaborate to produce brand assets and content - and get the best return through its distribution and reuse. We're offering a free 30-day trial so you can see its powerful features in action on your own projects. And if you have any questions, just [email protected]; we're here to help.
Author: Edie Mullen
Other articles you may find useful:
Collections: the Chorus 'playlists' that save everyone time
When you need more control over user experience – directing everyone to specific files for example, or curating picks for your next project – that's where the collection tools step in.
Why smart businesses are investing in digital collaboration tools
Already compelled this year to trial new professional solutions (such as messaging, videoconferencing or file storage), many business leaders are waking up to the longer term potential of digital tools for global collaboration.
---