A day in the life of a training specialist
We'd like to think Chorus is pretty great at smoothing and simplifying collaborative project work. But we also know that any professional solution is even more powerful in the hands of its users when combined with effective and informed training. Our programs are delivered and devised by specialist Guy Johnson; we checked in to see what his average day looks like.
Before work kicks in, I always start the day with a good breakfast before taking my dog, Amera, for a walk. The shift to working from home gave me the time and space for my long-held dream of adopting a retired greyhound – she's been able to settle in really nicely, and gives me a great excuse to get outside more regularly. There will always be a playlist on the go, I like to keep the music eclectic as it wakes up my brain.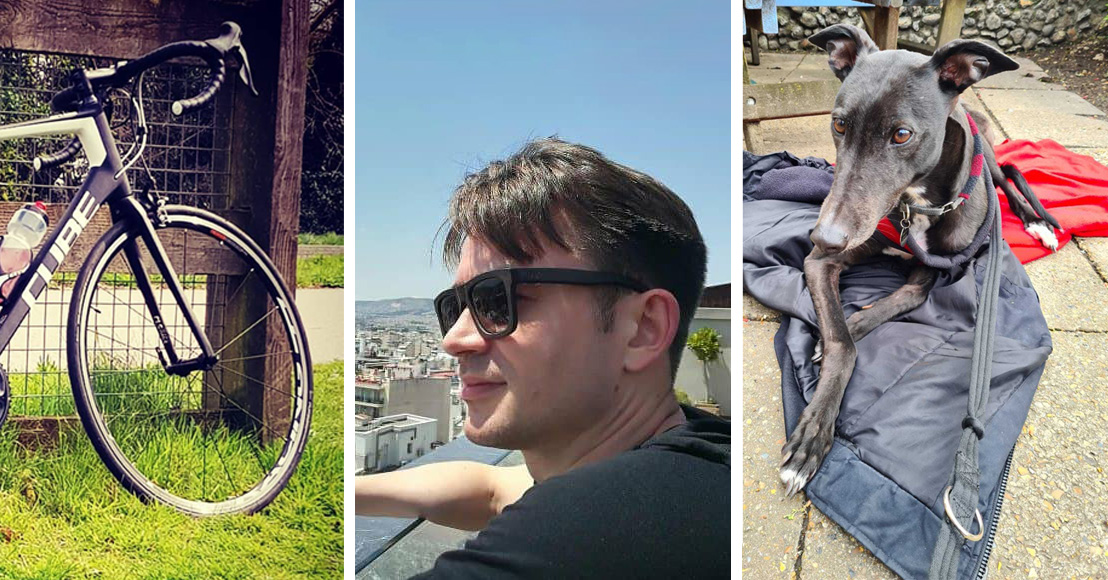 L-r: Guy's bike, Guy himself, and his treasured hound Amera
Once I'm back at my desk and everyone's online, I catch up with the rest of the Customer Success team. We work on such a range of projects that it's important to update each other at least daily. Danny, the team leader, and Abdi, our newest recruit, help customers troubleshoot and develop how they use their site, so we're always spotting opportunities where training can help them achieve what they're setting out to do.
Meanwhile, our product expert Marco often helps long-term customers move over from our legacy system to Chorus, so we team up on this quite often. It's an ongoing process that involves working with people used to just the basic functions of a traditional digital asset management platform, and helping them learn how to use the more powerful collaborative features of Chorus in their day-to-day workflows.
We really enjoy hearing people's reactions when they realize how it resolves their specific production problems
Between us we also run the majority of customer webinars, where we demonstrate all sorts of tips and tricks to help them get the most out of their sites. We know from customer feedback that Chorus is easy to pick up and use, but there's always another page in the playbook for people to discover. The most exciting webinars are the ones where we reveal new features – we really enjoy hearing people's reactions when they realize how it resolves their specific production problems.
Once everyone's on the same page I turn my attention to the inbox, where a collection of questions, insights and session requests from customers need a quick response. I spend the rest of the morning finalizing plans for a training session devised around a company's specific use cases, which also requires examples to be set up in their dedicated Chorus training site. Delivering the session will also mean handling Q&As for users and recording the whole thing, so it's important to be fully prepared for every scenario.
I get a lot of satisfaction from helping folks find ways of working that fit their new circumstances
Before 2020 I used to travel to many of our customers' workplaces, and I miss the face-to-face aspect of in-person training. But I'm so glad we can carry on working with people via video conferencing, and I get a lot of satisfaction from helping folks find ways of working that fit their new circumstances too.
Lunchtime arrives, and Amera is already up and waiting for her next spin around the park. She's a great companion for a working owner – especially one who's on Zoom most of the day – as she's more than happy to chill in her bed in-between our walking breaks (or sprinting, in her case!). Cooking is a big thing for me, so when we get back in I'll be whipping up something for lunch or researching recipes for later tonight.
In the afternoon, it's time to set up some more content for the eLearning platform we launched last summer, after some customers told us they preferred to access training at times that fit into their working days. Knowing how people like to learn from different media, I created a multi-stage program of videos, guided simulations, imagery, and graphics. This project is permanently active; I'm constantly updating the core structure with all the features that often emerge with a new Chorus update, and adding fresh use cases as customer feedback comes in.
Watch a few snippets of the eLearning course in action
If I have a spare moment in the day, I like to practice what I preach and use it for professional development. I think it's so important – not just for professional development but also for wellbeing and keeping my mind fresh, especially for those of us working and living in the same physical location. Honing my Photoshop skills is really useful for working with customers who rely on it for their workflows, and I'm just beginning to learn Python for coding.
When the day ends, I like to decompress by hitting the tarmac on my road bike for a few miles, especially as we move into summer. After some more cooking I'll usually read or catch a documentary, cuddled up with the dog – but I can't wait to get out again soon and spend time with family.
If you'd like to learn more about the training Third Light offers, get more details here - or drop Guy an email if you have any questions.
As told to: Edie Mullen
Other articles you may find useful:
Need flexible training? Discover the eLearning academy for Chorus users
As essential as we believe training to be, we also know what a challenge it is to get everyone in one place for it - which is where our new Chorus eLearning academy comes in.
Chorus: the powerful tech behind a creative solution
If you're an IT person, or you'd just like to know about the standards we hold for our management of the system and see exactly how your valuable files and content are in such safe hands, we've compiled in one place all the facts and figures you will need.
---