How Third Light's teams found space to collaborate – wherever we are
When everyone at Third Light suddenly had to work remotely during lockdown, Chorus's configurable, secure 'spaces' helped everyone keep working, without skipping a beat. Why? Our digital asset management solution goes light years beyond simple media storage; it's built to transform work-in-progress projects, too. Here's how.
Most other DAMs and 'media libraries' require a manager to administrate them. Having one person doing this when everyone's working from different locations leaves them with an almost impossible job! Chorus puts the power back into the hands of the people using it, letting each team manage its own space. The power to create your own spaces, as and when you need them, is one of the many ways that Chorus supercharges collaboration for so many creative teams. Add Project Sync and comments to that and you have the ideal place for any team to work together – effectively and securely.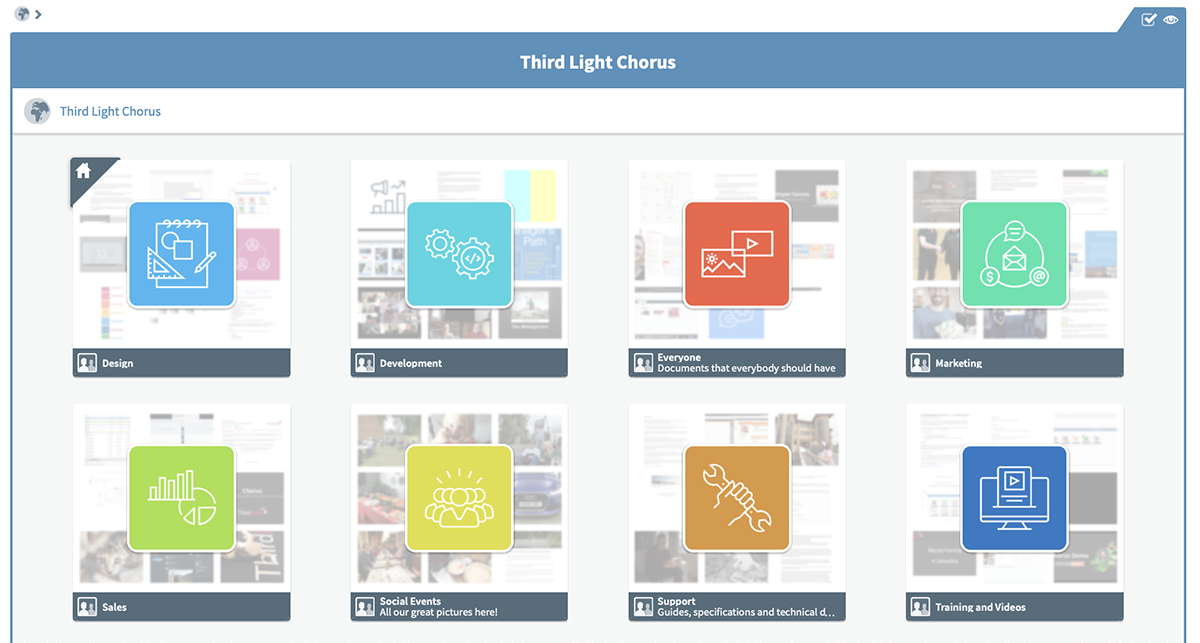 Here's how our spaces look - but they can be configured to suit any organization
The thinking behind spaces
"Work happens across an organization in different 'bubbles' of collaboration," explains our Product Specialist Marco Michelutto. "Perhaps it's a team working together on the same projects, or a temporary collaboration between a few people from across the company. Or maybe the entire organization needs to be involved with something, or have access to certain files.
"You can have a space for each of these purposes, so that everyone can safely bring their files to the cloud, knowing they are still in charge. They get all the benefits of being on the same system as everyone else without the restrictions of a traditional DAM – for example, waiting for admins to set things up for them or assign access."

How spaces worked for us
At Third Light, we set up our own Chorus site with spaces for our Sales, Marketing, Design, Development, Customer Success and Support teams, one for our events activity and another that everyone can access for companywide files and assets – such as logos and guidelines. Depending on who's working in it and what they need to achieve, each space has different access permissions, file containers, tags and labels to fit the specific workflows within it.
Marco says the best way to ensure maximum efficiency and autonomy for a space is to configure it based on existing workflows of a team – and to look beyond standard departmental lines. "Look at your organization and watch out for these bubbles of work," he says. "Can you group your files by asking: 'who is in charge of these?' That's where you can start building the spaces that make sure people aren't working in silos."
Can you group your files by asking: 'who is in charge of these?' That's where you can start building the spaces that make sure people aren't working in silos.

- Marco Michelutto, Product Specialist, Third Light
When we moved to home working with just a few days' notice, were able to pick up exactly where we left off – with secure, accessible and labelled files. Once we added Project Sync – which links selected site files to your desktop, with no need to download or upload) – to the mix, things got even more seamless.
Collaborating with others
Spaces even served as virtual working areas outside the company; our marketing team set up a sub-space in which to collaborate with an external supplier creating the launch video for our latest Chorus update. "A dedicated space meant the animator could get all the assets he needed without accessing our more internal files," says Vanessa Daly, Third Light's Head of Marketing. "And when he had storyboards or video files to share, we could preview them right away, tag them with labels and share them instantly within the team for feedback."
A dedicated space meant the animator could get all the assets he needed.

- Vanessa Daly, Head of Marketing, Third Light
It's flexible enough to give contributors autonomy in a controlled setting, says Marco. "You can have a space for that event that is coming up, and that only a handful of people need to be involved with. And that intern that is helping out with it, but should not be able to normally edit or delete files? You can give them full powers just for this project, and they can do their job without hassle."
Chorus has powerful syncing and communication features that free up precious time for the creative, collaborative work that counts – wherever you are. We're offering a free 30-day trial so you can see its powerful features in the best possible context - in action on your own projects. And if you have any questions, just [email protected]; we're here to help.
Author: Edie Mullen
Other articles you may find useful:
Remote working: how to keep the creativity flowing
As more companies explore alternatives to the traditional office, how can distributed workers keep their thinking fresh in isolation? Here are some tips and tools to bridge the gap.
Planning a change? Don't forget to factor in feelings
Whether you're introducing a timesaving digital tool, rolling out software or transforming how an entire company does business, the chances of a successful launch will increase by a third if the people at the centre of your plans are emotionally invested.
---