How Chorus now supports creative conversations
Digital tools for file storage and collaborative communication came into their own this year. But many creative teams found they needed a more joined-up combination for effective collaboration - so we started looking for a way to make this happen.
Nobody uses digital tools the same way - the combinations of people, workflows and sectors are near-infinite. But when it comes to creative production in particular, a lot of marketing and creative teams using them find it a challenge to link feedback to visual examples or drafts.
While powerful in their specialist areas, when used side-by-side in the creation of marketing assets these tools can overlap (which cause duplication) or have gaps (which let us down). It's why we've configured Chorus's latest update with powerful features that take care of everything… in one place. Here's a short clip of comments in action.
"Chorus is a great platform for people to collaborate on projects," explains Mégane Rousselet, Third Light's User Experience Designer. "However, to do this optimally everyone needs to be able to exchange and discuss ideas, make requests and review work-in-progress content. This is why it was crucial to add comments to Chorus, and we hope people will be able to use them for many different use cases."
Our Product Specialist Marco Michelutto is currently working with Chorus's existing users to explore how they've been using the new features. Here are some of the real-life ways he's observed teams using comments to connect with each other - even if they're working far apart.
Collaborate in a single space
"What you see a lot in teams that collaborate remotely," says Marco, "is that the communication happens across multiple platforms. Where is that note from Bob about this project - was it an email or a slack message? The comment module organizes these discussions right next to the files you're working on."
And it's speedy, too (especially if everyone's using the Project Sync app to seamlessly update the files they need between Chorus and their desktops): users can tag each other for instant notifications that take everybody to the bits they need to see, and all relevant comments are summarized in each user's notifications feed.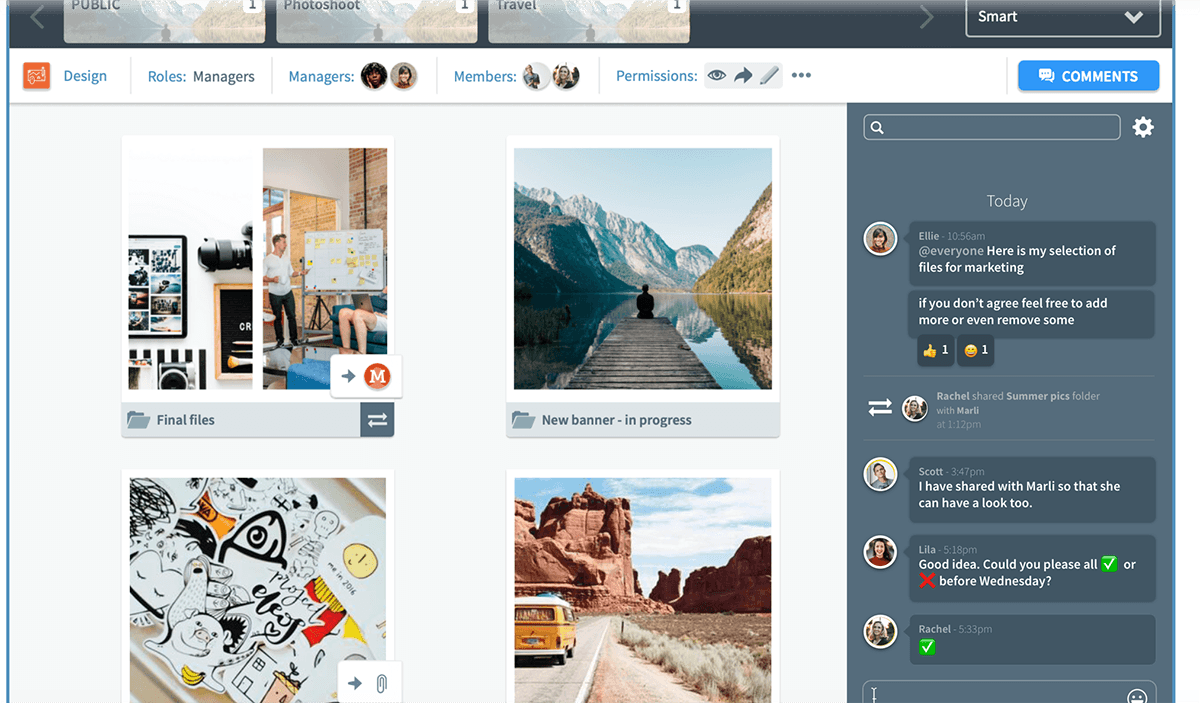 Good communication goes beyond just exchanging words. People need to express emotions when they talk about creative work.

Marco Michelutto, Third Light Product Specialist
Communicate with care
Creative feedback is so important for productivity and originality; sometimes "more talk, less action" is a good thing! There is, however, a balance to be struck. With everyone putting themselves out there creatively, tone and nuance is vital – but take too long to formulate it and momentum can be lost. Adding a wink or a thumbs-up can add vital context, fast, and leave less room for misinterpretation. It's especially useful for multilingual teams collaborating globally.
"Good communication goes beyond just exchanging words," says Marco. "People need to express emotions when they talk about creative work, and emoji are a great way to do that."

Power processes
Emoji aren't just a quick way of expressing how delighted everyone is to see a new draft: "There are enough symbols to choose markers for all the stages in your team's workflows," says Marco, "from 'check spelling' to signoff. With a few more clicks, you can tag a colleague with the good news so they can move to the next stage right away."
Celebrate achievements
Finally, emoji have a role to play in general team communications. When everyone's in a rush to get to the next project, it can be hard to remember to celebrate achievements - but taking a moment to pat each other on the back is invaluable for morale and bonding, especially if everyone's contributing from different locations.
"We all find emoji invaluable on other platforms," says Marco. "We couldn't do without them when building a way for people to talk to each other in Chorus".
Would you like to learn more about next-generation Chorus, its new comments and Project Sync features? We're offering a free 30-day trial so you can see the whole suite of tools in the best possible context - in action on your own projects. And if you have any questions, just [email protected]; we're here to help.
Author: Edie Mullen
Other articles you may find useful:
Spark joy in your workplace with effective metadata
it's never been more important to remove clutter from our digital working spaces the same way we would our homes. The answer? Metadata.
DAM pricing: how to navigate the maze
So, you're searching for a digital asset management system to organize your company's media. While this sounds straightforward enough, you may be wondering why it's such a challenge to get a concrete answer on cost. Let's explore why this might be, and how you can find a path through it all.
---