SportsPro Live – inspiring innovations set to transform fan engagement
SportsPro Live is the world's leading sports industry and technology conference. This year, Carol Parish, Third Light's Business Development Manager and Mégane Rousselet, Third Light's User Experience Designer, report back from the event on the inspiring innovations, newest technology and the hottest topics that are set to transform digital fan engagement in the sports industry.
Keeping ahead of the game
Mégane tells us:
"It's so important for us, especially in the design team, to know where the industry is heading and what people want, so that we can make sure that we're providing the right features in our software to match their expectations. With customers like Southampton FC, AS Roma, and NASCAR, we have to constantly be aware of what's happening to make sure we're ahead and on track."
The sports industry is moving fast. It produces an enormous amount of content, and that content goes far beyond the game – it extends to before and after, the players and their health, the venue, the city - the entire experience and how that can be consumed with the technologies we now have available.
Mégane continues:
"The sports industry is focused on catching people's attention and driving emotion. Currently, that means delivering new content and in different ways, letting the fans 'feel' the game and choose how they consume it – watching a goal from a chosen angle or monitoring a player's heartbeat as he sprints down the pitch. It also means letting them take part – sharing their own images and comments."
Volumetric video
The future of football will look very different and volumetric filming is set to revolutionise the way fans experience sport, allowing them to view players from any angle at any time they choose - effectively putting them in control and letting them decide how they watch the game. It will enable them to relive the best moments and view match action from the perspective of their favourite player.
Carol says:
"Fans really are leading the way and making choices about how and when they engage. Arsenal FC are using volumetric video to capture height, width and depth of data which is then used to build 3D images of the players. The fan of the future will be able to follow a player's journey out of the changing room and onto the pitch - they'll quite literally \be able to live the moment with the player as he scores a goal."
Innovation and the future
Andreas Gall from Red Bull delivered an inspirational talk on innovation and the future, encouraging us all to be more instinctive in our roles as digital explorers and adventurers – a lesson we should take from the sports world. He explained how sports people use their instincts, their gut feeling, and their sixth sense, and that we should apply this more in our business decisions. Combined with accurate machine data this approach will deliver the best innovation outcomes.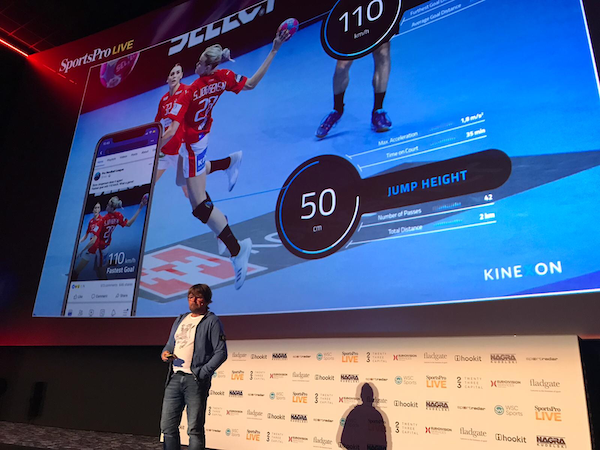 Andreas was urging people to try things more, to explore their potential to work. Whilst talking about one of his team's ideas to design 'digital companions' based on an athlete's biometric data, he said that only by trying new ideas will you know if they have the potential to really work, and how they can be developed to work better. He described testing the product where the heart beat data was presented alongside other data, like speed, as well as the visual of the athlete themselves, but with so much data to look at, people found it confusing. So, one of the team suggested transferring the heart beat information into a sound, instead of a visual, and the effect was incredible.
Carol concludes:
"The technology and accurate data presented an opportunity, but you need the creative thinking to drive the innovation."
Role of digital media libraries in sport
Content, and how it is consumed, is at the heart of technology innovation in the sports industry, so there's no doubt that organisations need effective strategies and systems in place to be able to manage, store and reuse that content. Digital media library solutions will continue to play a key role in providing a unique way to collect, distribute and archive content from anywhere in the world and at any time – rapidly and in real-time if required.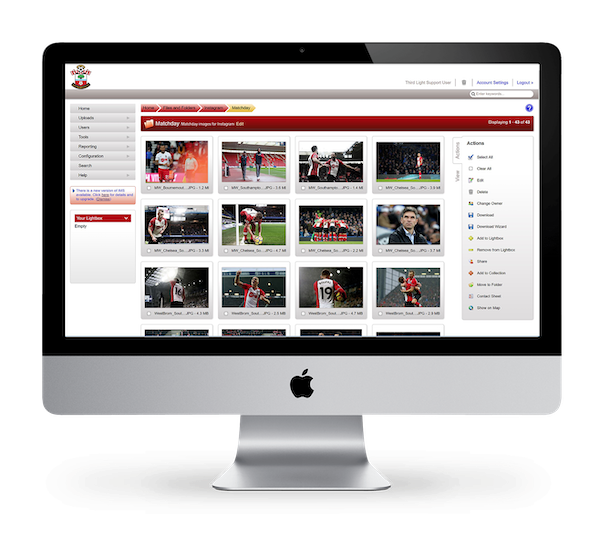 Third Light works with leading brands and sports teams worldwide to help them manage, store, share and distribute digital files more efficiently. You can find out more at www.thirdlight.com , or just ask@thirdlight.com. Or, if you haven't tried our digital media library yet, sign-up today for a 30-day free trial.
---