Case Study: Switching from Documentum to Third Light
Founded in 1952, Tri-State Generation and Transmission Association, Inc. is a wholesale electric power supplier that serves approximately 1.5 million consumers with a 5,348-mile high voltage transmission network. The Association is responsible for 200,000 square miles of service territory across Colorado, Nebraska, New Mexico and Wyoming, and employs more than 1,500 people.
Finding the right solution
In 2014, Tri-State approached five well-known suppliers in the DAM market to evaluate their digital asset management products. The new system would be replacing an existing Documentum solution, which was frustrating Tri-State's users. The team wanted a product with more appropriate features, but that was also easier to use. After a detailed evaluation they chose an Enterprise Edition of Third Light.
We checked in with the team at Tri-State to see how they were getting on 12 months later. This case study tells their story - and it sounds like they have made the right choice!
"Third Light was perfect for us. We initially wanted it for our huge photo library, but now we use it to backup our various artwork, video and animation files as well. We love how intuitive the system is. It does everything we need and more, and it's FAST. We are VERY happy customers."
Trina Van Patten, Graphics Coordinator, Tri-State.
"Third Light has been wonderful in training us and answering our many questions. Our group spent about a year reviewing a number of true DAM systems and decided to go with Third Light. Now I can't believe how long we struggled with that other system."
BJ McShane, Senior Business Analyst, Tri-State.
"Administering hundreds of images has become more streamlined and efficient, leaving more time to get other work done. We keep finding new ways to use our digital asset library that hadn't occurred to us when we first requested a new system. We are extremely pleased."
Lisa Sowell, Multimedia Specialist, Tri-State.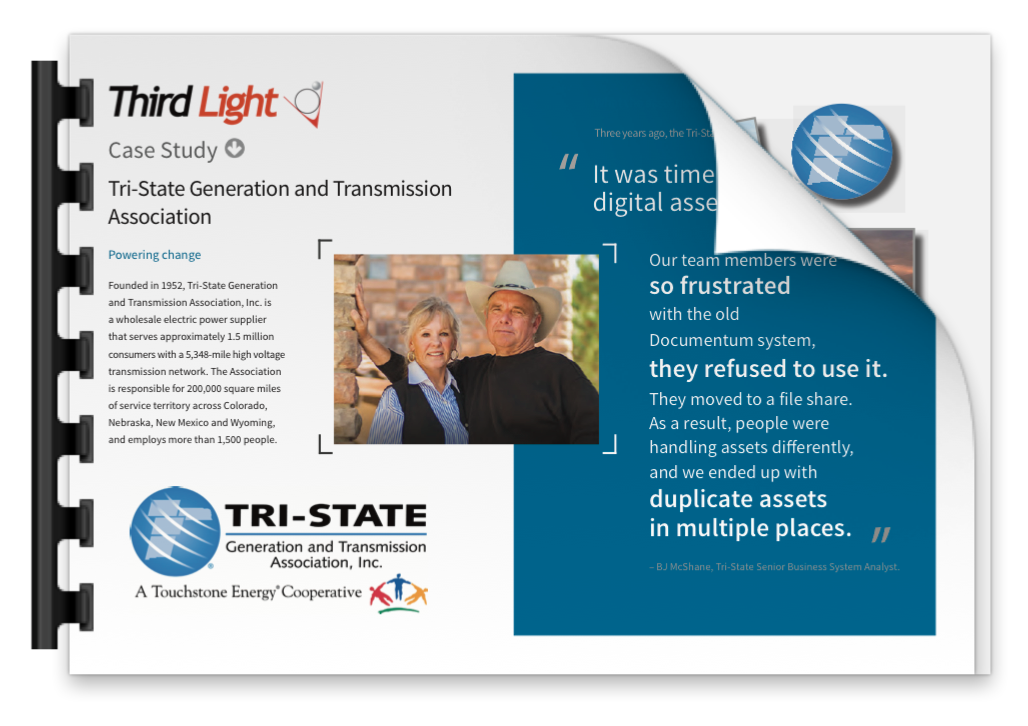 Third Light wishes to thank BJ McShane, Trina Van Patten, Lisa Sowell and the team at Tri-State for their feedback and assistance creating this case study.
---