PowerPoint presentation builder gives Cushman & Wakefield a head-start
Cushman & Wakefield are a leading global real estate services firm that helps clients transform the way people work, shop and live. Working with over 43,000 people in more than 60 countries means that a lot of effort goes into coordinating and standardising internal systems and centralising media management. We were lucky enough to speak to Andrew Bolt, Digital Tools & Technology Lead - Americas Marketing & Communications, to find out how a recent software implementation has transformed the way their teams work.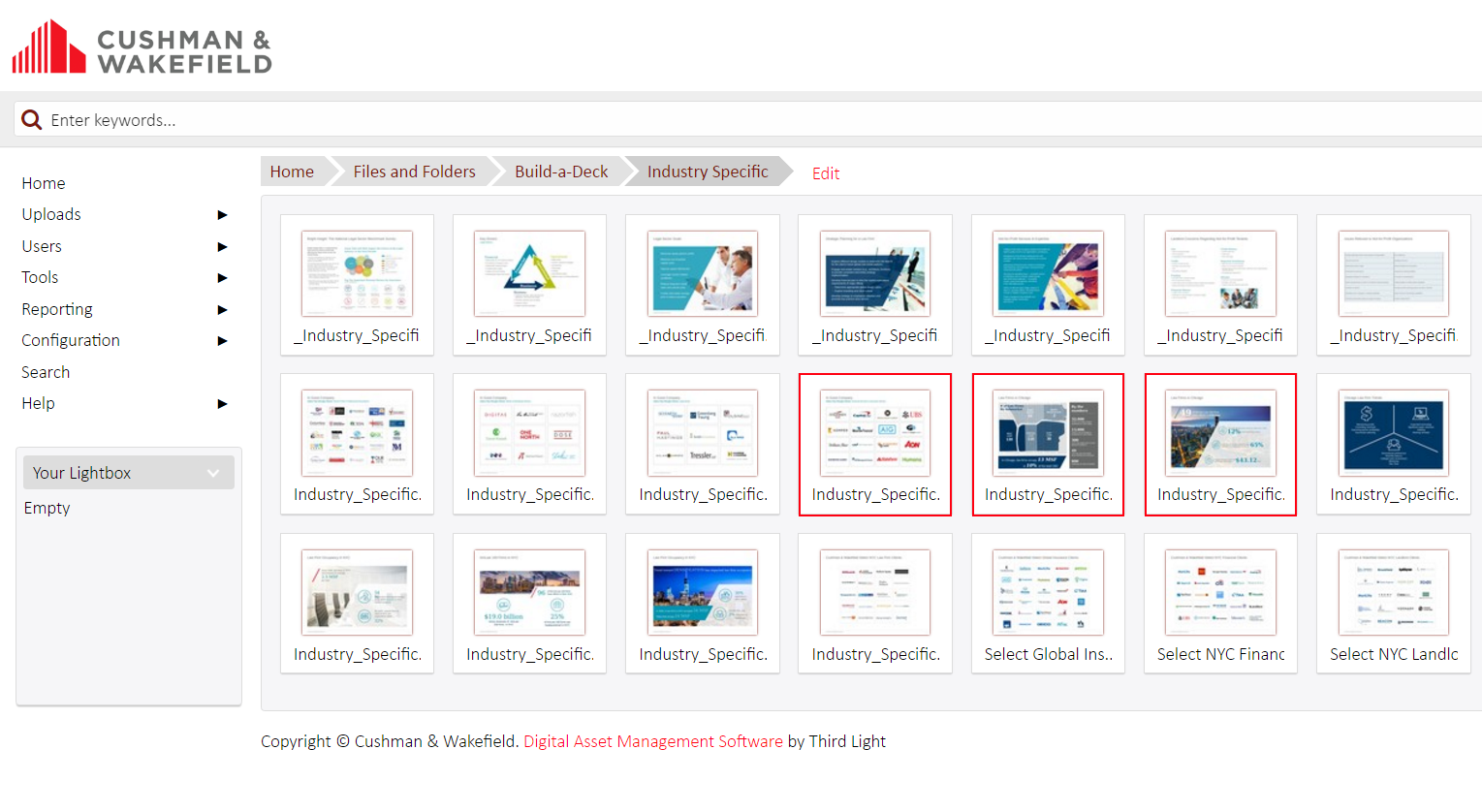 A trusted partner with a personal touch
The technology team at Cushman & Wakefield were looking for a tool that would automate the process of assembling a PowerPoint presentation. They specifically needed a tool that would enable their internal teams to quickly and easily create presentations on their own without waiting for marketing to do it for them. This 'speed to market' was critical in being able to meet with prospects ahead of the competition.
Andrew explains why they approached Third Light's Professional Services to deliver their solution:
"We were looking for a trusted partner with a personal touch, and we very much appreciated the fact that Michael Wells, Third Light's Founder and Director, personally advised us on this project. The project involved the delivery of assets and as we were already using Third Light's digital media library, we knew their team would have the extensive knowledge and experience required. We were confident they could create the best practical solution and they did not disappoint."
Professional Services deliver bespoke solutions
Simon Freytag, Third Light's Professional Services Principal Consultant tells us:
"The exciting thing about this project is that it reflects how assets in Third Light are more than just archived or stored - they are used to do things using the built-in tools like sharing assets over email, cropping and downloading assets, or sending assets to Dropbox. But further to that, the API lets us build in other, more specific functionality. This project illustrates that capability really well."
Third Light's digital media library can be extended or designed to support any other tool or function a customer might need. For Cushman & Wakefield the challenge was to build an extension that makes the software work as a slide library. A modern microservice architecture was used to build the PowerPoint itself and took advantage of Third Light's template extensions to make the functionality available in the interfaces already familiar to their staff. The result enables staff to quickly and easily select their chosen slides from the media library which are then automatically built into a complete, ready-to-use PowerPoint.
Andrew goes on to say:
"Besides being on-time and on-budget, the Third Light team exceeded our expectations by recommending improvements we did not initially consider. While we are still going through our market-by market roll-out, our users are happy that we automated their presentation building process and we have had very positive feedback. Administrators were pleased that they could use an intuitive system and train people on a platform many were already familiar with. Management were also very happy because they saved a substantial amount of money by using an existing, trusted vendor that could quickly offer the solution we needed."
Third Light's Professional Services is your consultancy partner for hands-on, practical help and customizations. You can read more about our services here, and if your team need something 'out of the box' please contact [email protected]. If you haven't tried our digital media library yet, sign-up today for a 30-day free trial.
---