Case Study: Howarth Timber
The largest privately owned timber company in Britain, 175-year-old Howarth Timber Group is a network of 28 timber and builders' merchant service branches, and a comprehensive source of equipment for building, landscaping, plumbing, heating, electrical, bathroom fittings, windows, floors and doors – everything including the kitchen sink.
In 2013 Howarth embarked on a project to put all of its branches, services, and products online – with live stock availability, live prices, detailed product specs, and in-depth advice and information for customers. The project would radically change Howarth's online business model, and require the coordination of 27,000 digital assets.
Howarth Timber employed Third Light software to manage its website assets. The project goal? To increase monthly web visitors from 30,000 to 60,000.
Click here to download the PDF
"Howarth's new website has completely changed the relationship we have with our customers, and the Third Light platform has changed the way we work with our assets. In future, we hope to give our suppliers user access to the library so they can upload their own product images and logos – making our work easier still."
Rebecca Galyer - Online Manager, Howarth Timber & Building Supplies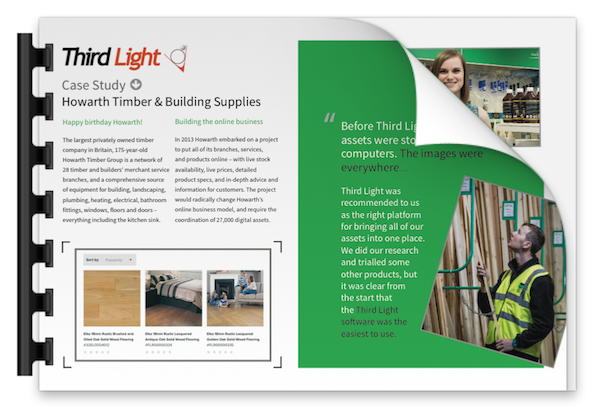 ---