Case Study: Third Light at UKTV
UKTV is a multi-award winning media company with eleven core brands: UKTV Play, Dave, Watch, Gold, Alibi, Yesterday, Drama, Really, Home, Eden, and Good Food. It's home to the most popular non-PSB channel in the UK, and reaches more than 42 million viewers every month. A 'David to the Goliath brands', UKTV is the fastest growing broadcaster in Britain.
UKTV chose an Enterprise Edition Third Light media library to host all 168,768 of its image assets. The system is accessed by 21 administrators, and 600+ in-house and press users.
"We use the Third Light software to manage our video-on-demand imagery across a range of applications including iOS and Android apps. We have a lot of programme assets that each need an image assigned to it, and with the Third Light plugin we are able to quickly search the programme ID number that the images are tagged with."
"The Third Light library has streamlined so many processes. There's no more manual editing or manipulation, and all programme-related images are sourced from the same place for multiple uses."
Oliver Davies, Head of Digital Delivery, UKTV.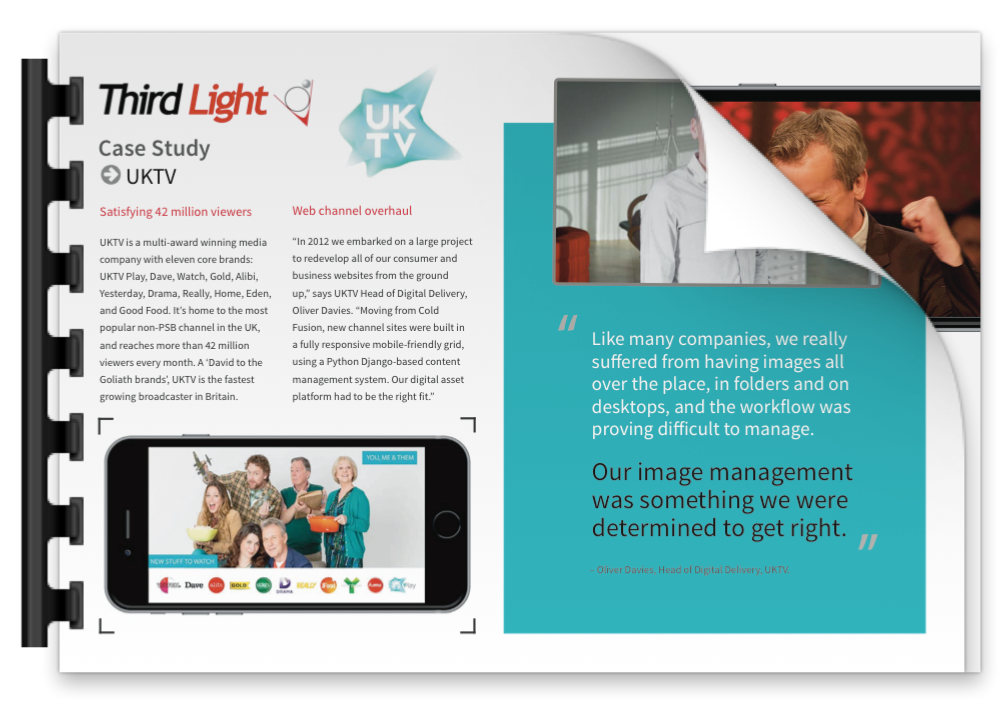 Third Light wishes to thank Oliver Davies for his help and acknowledge his input in creating this case study.
---