Third Light and LGS join forces to deliver the perfect technology solution
It's no surprise that with a combined 35 years of experience and expertise in asset management, Third Light and LGS can together deliver perfectly tailored, multi-functional, end-to-end solutions for their customers. Integrating services to meet the needs of all user requirements avoids disappointing customers with an off-the-shelf product and a one-size-fits-all attitude. Our team explains how they've worked together to keep their customers happy.
Third Light is a specialist software provider, and its core business is to develop and host solutions for digital media management, storage and collaboration, while minimising technical complexity. LGS provide a complete range of content management solutions that simplify and manage complex processes of delivering media and documents across multiple output channels. They have in-depth knowledge of the software market, enviable technology expertise and a proven track record in seamlessly integrating solutions.
Roland Henry, Commercial Director at Third Light reports:
"By working together we can deliver more value to those customers who have specific requirements and workflows. Very often our own customers are looking for tailored digital media library solutions, and of course they've come to the right place, but there are customers looking for more than that, maybe automated workflow or fully integrated approval processes, and by working with LGS, we can deliver solutions to those customers too."
Luke Alexandre, Sales Manager at LGS says:
"Our ability to work with established, respected technology partners has enabled us to deliver multiple solutions to our customers, so they don't have to go elsewhere. This means we can support the entire integration and management process and help with any maintenance along the way. Our customers typically run very busy businesses themselves, and often don't have the time to coordinate multiple suppliers, let alone the intimate knowledge of the technology market required to make the right choices. Our integrated services provide exactly the sort of reassurance they need, minimising the complexity and number of solutions and suppliers they need to deal with."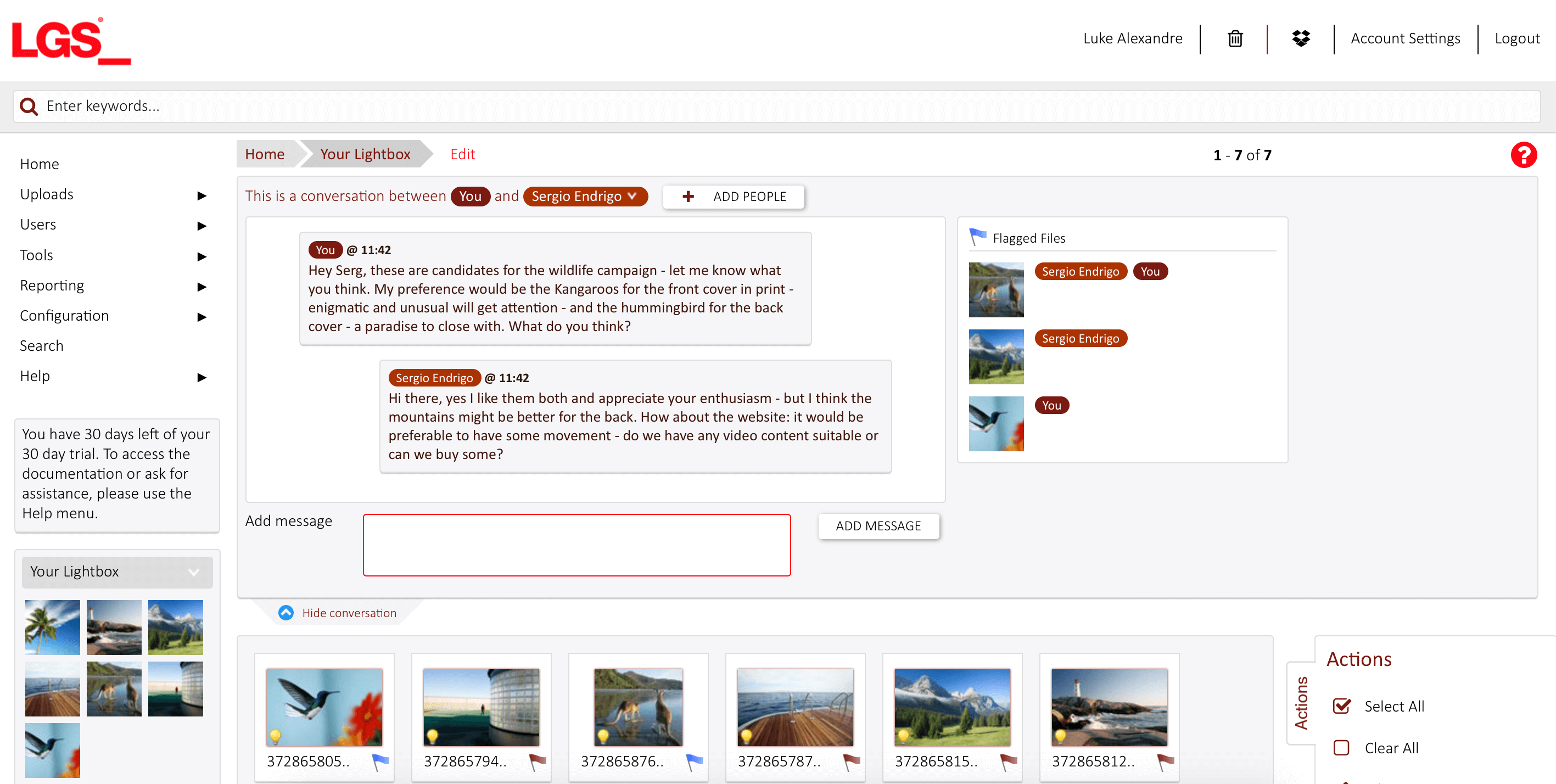 MullenLowe benefits from enhanced collaboration
A great example of a customer that has benefited from this partnership is the MullenLowe Group - a creatively driven global marketing communications company with an international client list that ranges from luxury brands with centuries of tradition to 21st century internet behemoths. It employs 6400 people in over 65 markets and offers integrated creative services, a behaviour-driven activation brand, a full service globally-integrated digital marketing agency and a 350-person media shop.
MullenLowe needed to source a centralised digital asset management (DAM) solution for one of its major global clients against a strict set of requirements. The solution had to be easy to both configure and use, yet robust enough to handle being accessed from more than 10 agency locations and by more than 100 people each week, including the client's staff. They required 24/7 system availability that needed to be able to support users in different time zones, with full backup and fail-over capability to provide a seamless service.
Security and legal compliance were also critical factors; a completely configurable file storage structure was essential, but it had to be accessible via a single sign-on and without compromising the security established by MullenLowe's IT environment. In addition to the uploading and downloading of assets - the DAM needed to offer strong reporting tools and asset branding capability.
LGS worked collaboratively with MullenLowe to understand those needs, and after exploring several different solutions, it was agreed that Third Light was the best fit.
Commenting on the decision to work with LGS, Aggy Kouzos, MullenLowe Regional Technology Director, EMEA said:
"LGS stood out because they fully understood our needs, but importantly, also understood our business. LGS's knowledge of the culture and processes employed within an ad agency were a great help in being able to run a successful pilot of Third Light and then to actually implement it.

"Moving away from numerous emails and the use of FTP services to discuss assets and then distribute them has been very beneficial."
In security terms, the ability to link both MullenLowe and client staff into the firm's security structure means that MullenLowe can manage users' access levels and asset sharing from one simple interface. Third Light's advanced search capability has significantly speeded up users' searches - now they can search via multiple attributes, such as image orientation, file size or format.
"Third Light has been everything that we had wanted our DAM system to be," says Aggy Kouzos, adding, "It was a bespoke solution to a specific need for a specific client. It has helped shape and structure the way we look at DAM and how we look to collaborate with clients. It's a solution that we know can be implemented for any client or project where we have to deal with a large amount of assets and where client collaboration is required."
He concludes, "LGS has proven to be an excellent business partner who genuinely wants to work with you to develop a solution and not just a product. Their industry knowledge and experience is second to none and working with the LGS team has been a great success."
For further information about this or other partnerships, please contact Roland Henry, roland.henry@thirdlight.com.
---