Drupal Plugin Available For Third Light
In this newsletter, we're announcing the availability of a powerful new plugin for the popular Drupal CMS, and we'd like to invite you to join one of our training seminars free of charge. We're also proud to announce that we're going to the BAFTAs!
See you at the BAFTAs?

The team from Third Light will be behind the scenes this year!
The EE British Academy Film Awards are being held in London on 16 February, with widespread television and media coverage already building up to the big night. Third Light is proud to be supplying our digital asset management solution to the team at BAFTA. We'll be helping distribute content in real-time during the event, and we'll have a team on site at the Savoy Hotel and the Royal Opera House in London to provide IT support.
Don't miss the buzz - you can join the conversation with BAFTA on Twitter and Facebook using #EEBAFTAs. We'll set up a gallery of our photos from the evening and post it to our Twitter account and Facebook page.
Drupal Plugin for Third Light

One of our objectives in 2014 is to make working with images in Content Management Systems (CMSs) much easier. For us, that means making Third Light integral to your CMS using a plugin. Our first CMS Plugin is for Drupal.
When you're adding an image, you'll see a new icon that gives you direct access to your images in Third Light. Searching for a file, resizing or cropping and placing the image in your Drupal page is so seamless you might think we've built IMS directly into your CMS! Here are some illustrative screenshots to show how it works.
Starting up the Third Light plugin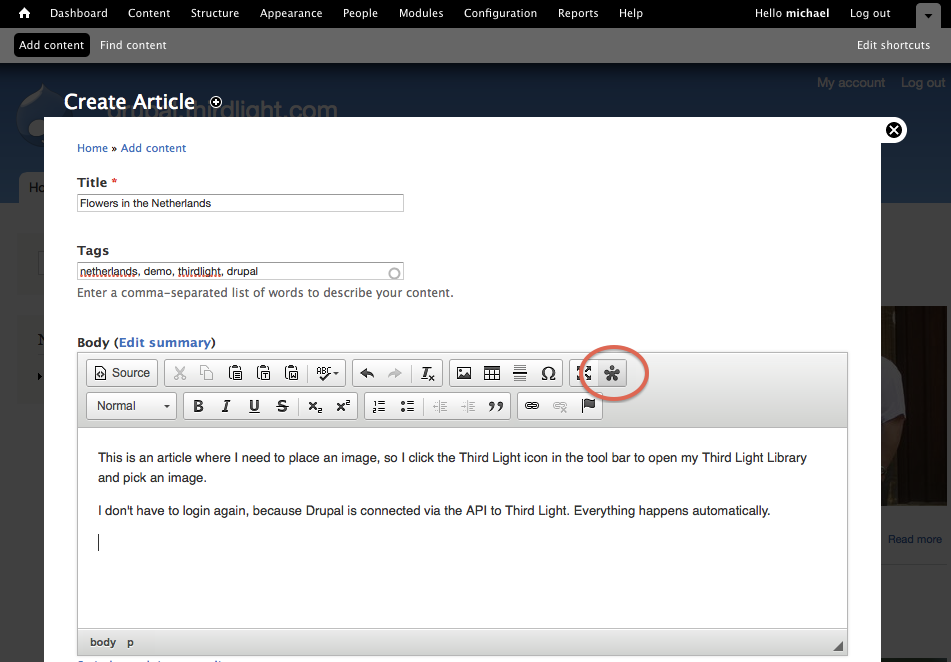 When an article is being written in Drupal, the CKEditor is invoked. In the toolbar, you can see that there is an extra Third Light icon (circled in red) which, when clicked, invokes the Third Light plugin. This button is configured to avoid asking you to login again at this stage, so the image library appears immediately.
Searching by keywords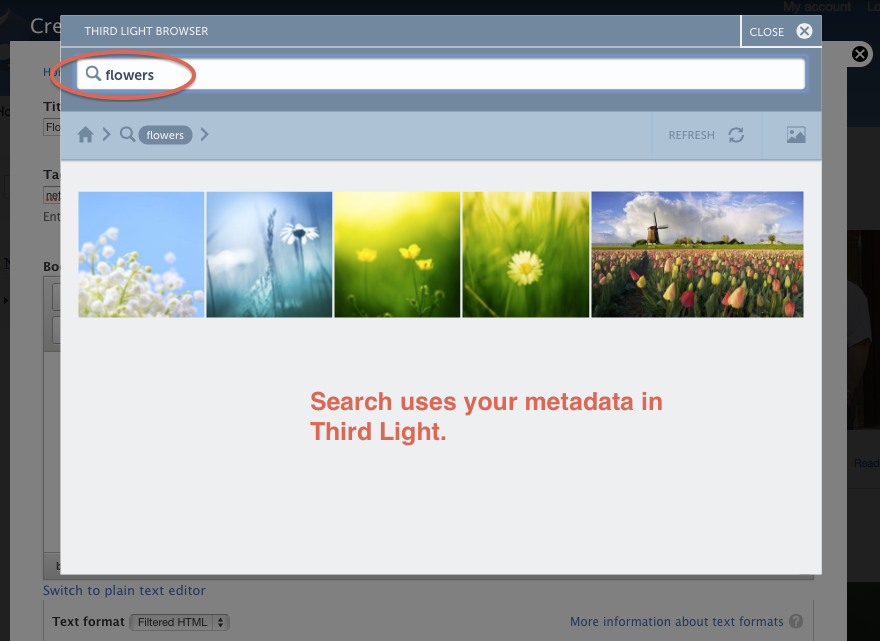 Using the full power of all of Third Light's metadata features - including your own custom fields - the search system lets you enter one or more words to quickly find the file you need. If you prefer, you can browse manually to a specific file. The thumbnails load dynamically and arrange themselves to use the space available.
Choosing the image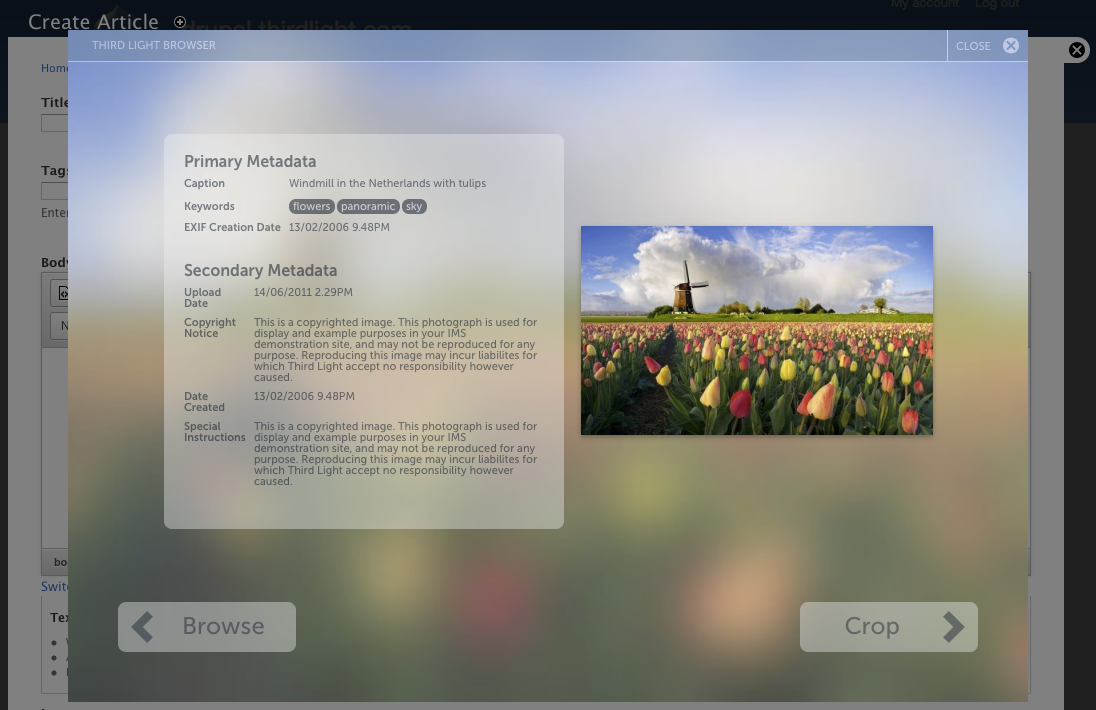 When you choose an image, you can optionally look at the metadata from IMS (and also any revisions that exist). When you've found the file you need, it can be cropped or resized (not depicted) to a specific Drupal image height/width, too.
Finishing up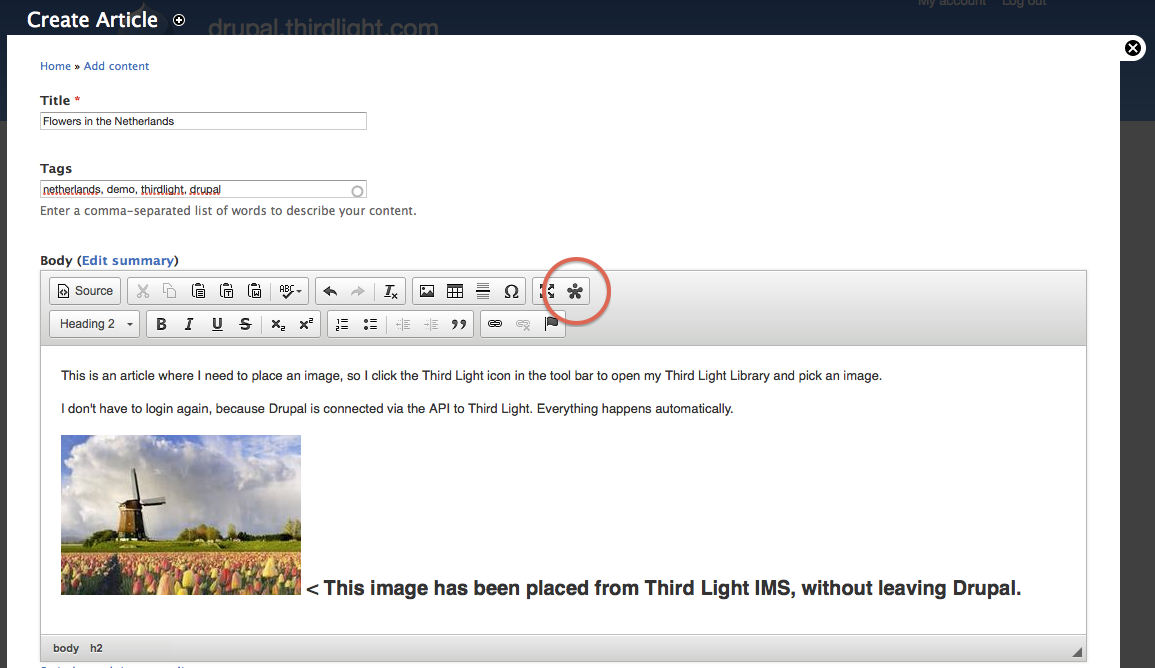 At the end of the process, the image appears inside the Drupal CKEditor - and you're done! Without leaving Drupal, you have placed an image from Third Light in a fast and convenient process that is easy to access via the icon in the toolbox.
How to get the Drupal Plugin
It's ready now, it's open source, and it's free of charge. If you have an IMS v6 site then you can install the plugin in Drupal 7 or higher. The minimum supported version of IMS is v6.0.18, which is available at the time of this newsletter as a release candidate. If you need help upgrading to this version of IMS (or prefer to test the plugin on a demonstration IMS site) please don't hesitate to contact support for help.
To read more about how the plugin is installed and configured, please click here to view the installation instructions.
How about WordPress, ExpressionEngine or other CMS plugins?
If Drupal is not your CMS of choice, why not let us know what your organisation uses? We have plans for more plugins for popular CMS platforms (and you can also use our generic example code if you want to build a plugin quickly). Our code will be available in GitHub for use in open source projects shortly.
Please remember to join our developer exchange if you are working on integrating with Third Light - we'd love to hear more!
Free Training Webinars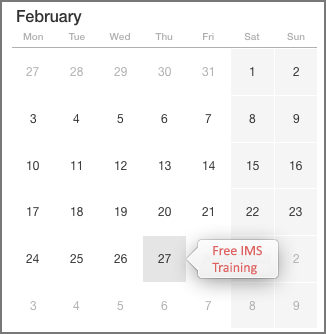 We offer a free web-based training session once a month which is open to all Third Light customers. Each session lasts around 90 minutes. If new staff have joined your company and you'd like them to be familiar with Third Light IMS, why not let us help you out? Here are our next sessions:
Our trainer will take you on a 360° tour around the features of an Intelligent Media Server, based on an example business. The sessions are informal so you can ask any questions you like, and, because the seminars are open to all our customers, you will hear questions from other businesses which can be an interesting insight into a different way of working with your digital media.
If you are finding that the times offered are not suitable for your location, we invite you to email our Training Manager (email: Martin Cox) so that we can make sure one of our future sessions in 2014 is scheduled conveniently for you. Thanks!
IMS v6.0.18 release notes
We're very pleased to announce that the latest update to Third Light IMS is now scheduled for release, and will be available to install on your Premium or Enterprise servers in a few days. If you have an IMS Standard site, this will occur automatically. Included in this release are a number of performance enhancements, usability enhancements and bug fixes - as always, we do recommend you upgrade as soon as you are offered this upgrade.
Click here to view a full list of changes in IMS v6.0.18.
If you'd like to install our release candidate, you'll need to enable this option. You can do this by clicking "Show Release Candidates" on the Configuration > Software Updates page of your IMS (this will only be displayed on relatively recent versions of IMS - make sure your site is fully up-to-date if you can't find this page). Alternatively, wait until this update is promoted to a final release, which will be in a few weeks' time.
Feedback and Referrals
We operate a referral scheme to reward any Third Light customer who directs a new client to us. If you know of a business that would benefit from using IMS, please make an introduction - we'll provide a period of free use on your account if they buy one of our products. Every feature of IMS is based on your ideas and feedback. We keep a thorough record of all feedback and aim to implement the features that are most requested as part of our development plans. Simply email [email protected] to send us your comments.
Third Light Ltd - The Digital Asset Management Specialists
---
DAM - Digital Asset Management Drupal Modules Newsletters Training