Cloud Hosted DAM
Owning and managing a large, valuable content store means finding the right location to host your service. While it would often be ideal to store media in house, unless you have a good internet connection and DMZ for hosting services, this will limit your ability to interact with customers, suppliers and partners.
Third Light can supply and host a complete solution so you can run your new digital asset management system on a high-performance internet connection, with reliable storage and backups.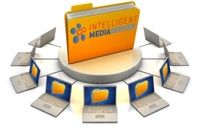 We operate facilities in two UK-based data centres. Our main server farm is in Berkshire, UK and our secondary data centre is in Milton Keynes for geographical redundancy.
These facilities are connected to diverse parts of the UK national grid, and are linked by independent internet connections.
Servers: Third Light can supply and maintain your fault-tolerant server equipment with no in-house requirements for your organisation.
Power: All equipment is connect to fully redundant, uninterruptible power supplies, including diesel generator backups.
Bandwidth: We provide high performance 400Mb/s networks for your Third Light server to connect to the internet.Your server will be connected to an independent switch port at 1Gb/s.
Rack space: We provide the physical space in a locked data cabinet for the servers.
Management time (including remote maintenance): on-site and off-site intelligent management by skilled systems administrators at Third Light.
Fire suppression: Inert gas suppression prevents fires in the data centres.
Cooling: Air inside each data centre is kept at 21 degrees Celsius year round.
Physical security: physical, electronic and manual confirmation of identity is required for clearance to enter the data centre.
Cloud Resources, Backups and Storage: We can supply storage and cloud computing resources. Our Storage Area Network isavailable to provide high-speed production storage capacity, with daily backups and daily off-site replication.
Co-located Hosting
Co-location is charged annually per 2U server rack space. Our co-location price includes your IP address allocation and up to 400GB transfer per month, as well as all power and cooling services. Backups for co-located servers are available on the basis of the number of gigabytes needed.
Private Cloud Hosting
If you prefer not to own the equipment, cloud hosting is offered. An annual charge provides you with the Third Light software on our shared platform and includes support, maintenance and backups - 100GB of storage is included in the annual fee. Additional storage can be added at any time, and all storage used includes backups.
Amazon EC2 Hosting
You can use Amazon's Elastic Computing Cloud (EC2) to host your system. We provide a fully tested bootable image that is ready to go, complete with documentation and help to get your new server up and running in a matter of minutes.
How will you lauch your DAM server into the cloud?
To find out if we can help you with a hosted DAM solution, please get in touch today. We'll be happy to scope your requirements and provide a solution with the right amount of storage and capacity for your digital asset management project.
---