Third Light goes to the BAFTA TV Awards
The British Academy of Film and Television Arts (BAFTA) supports, promotes and develops the art forms of the moving image - film, television and video games - by identifying and rewarding excellence, inspiring practitioners and benefiting the public.
Third Light is used by BAFTA throughout the year to store and distribute images from high-profile awards nights; this includes photos from the red carpet, acceptance speeches and many other celebrity pictures which you will see in newspapers and magazines when BAFTA events are held.
Janette Dalley, Photography Director, explains how Third Light IMS helps BAFTA deliver great content to the media:
"BAFTA has a vast photographic archive, spanning seven decades of Awards and events featuring the best in the film, television and games business. As our photography archive - and its uses - continues to grow, we needed a versatile, user-friendly system that would allow our staff and partners to access and work with BAFTA photography - Third Light was the natural choice."
"The scale of our Awards ceremonies, from Children's to Film, means we work with between two-six photographers on the night to get the coverage we need. Third Light has helped us process and deliver photography quickly and efficiently on Awards nights, with the trouble-free way that files are uploaded and processed into the system simplifying our task."
"We were also comfortable that IT problems would not disrupt our work, as Third Light provided a 'hot spare' backup system in a secondary location, with the equivalent functionality of our main server. Third Light worked with us closely, helping to brief our team and BAFTA's partners well ahead of the night - and sent a skilled engineer to each of our locations in London during the Film and Television Awards ceremonies. We felt completely at ease with the software, and having Third Light's team on site was an extra reassurance."
"I am pleased we can rely on the Third Light software to deliver a great experience for everyone involved."
Janette Dalley, Photography Director, British Academy of Film and Television Arts (BAFTA)
On Sunday 18 May this year, Third Light joined the expert photo editors from BAFTA's media team at the Theatre Royal in London to experience first hand how gigabytes of images are tagged and uploaded rapidly, and to provide support for Third Light on the night.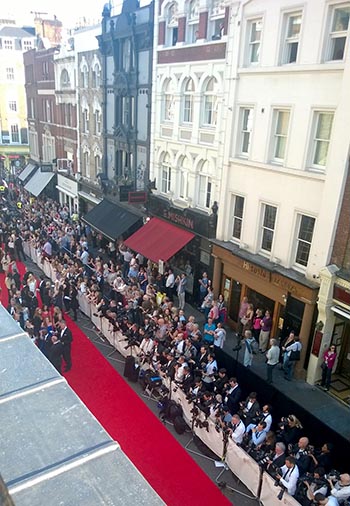 Above: Crowds gather outside, including autograph hunters and photographers from the world's media.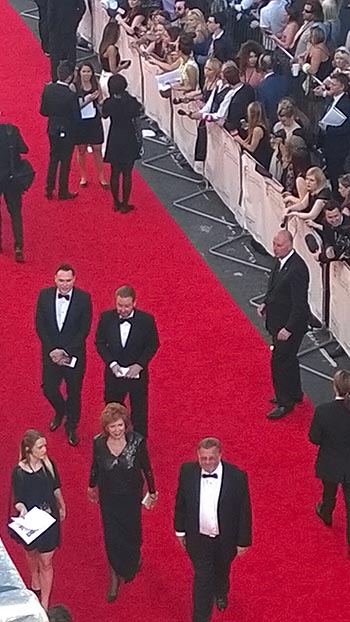 Above: Celebrities arrived to be greeted by TV interviewers and the media.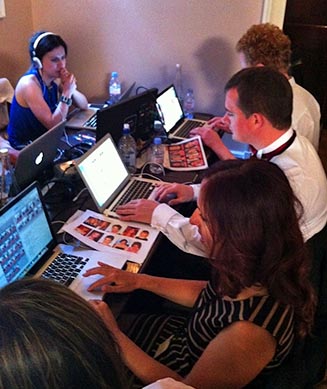 Above: Third Light's founder, Michael Wells, joins the photo editing team to see first hand how data is uploaded through Third Light IMS on the night.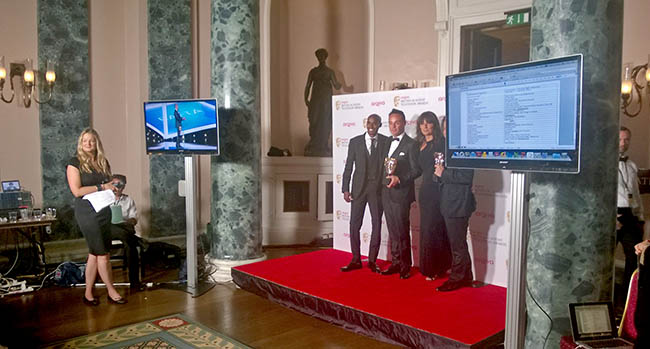 Above: There were plenty of photo opportunities after the awards!
BAFTA uses Third Light IMS Enterprise Edition hosted by Third Light on our high-performance internet connections. For more information about how Third Light can be used to rapidly centralise and distribute urgent media, please contact us.
The team from Third Light would like to thank everyone at BAFTA for their kind invitation and hospitality. Read more about how BAFTA supports new talent on their web site, at https://www.bafta.org/about/supporting-talent/ or follow BAFTA on Twitter @bafta.
---