How Chorus's derivatives supercharge creative campaign delivery
If you're struggling to control a tsunami of duplicate files, help is at hand. Our digital asset management solution, Chorus, comes with a clever tool that doesn't just control versioning of your media – it makes all the amends you need, too.
A photo's been taken, polished and approved. But once an image has been saved to a media library, the creative process doesn't stop there. It needs to be cropped for banners, web images, social media posts; RGB changed to CMYK for printing; a layered Photoshop file saved as a quick-loading PNG. Potentially multiple times over, all the while clogging your storage and making it impossible to find the source.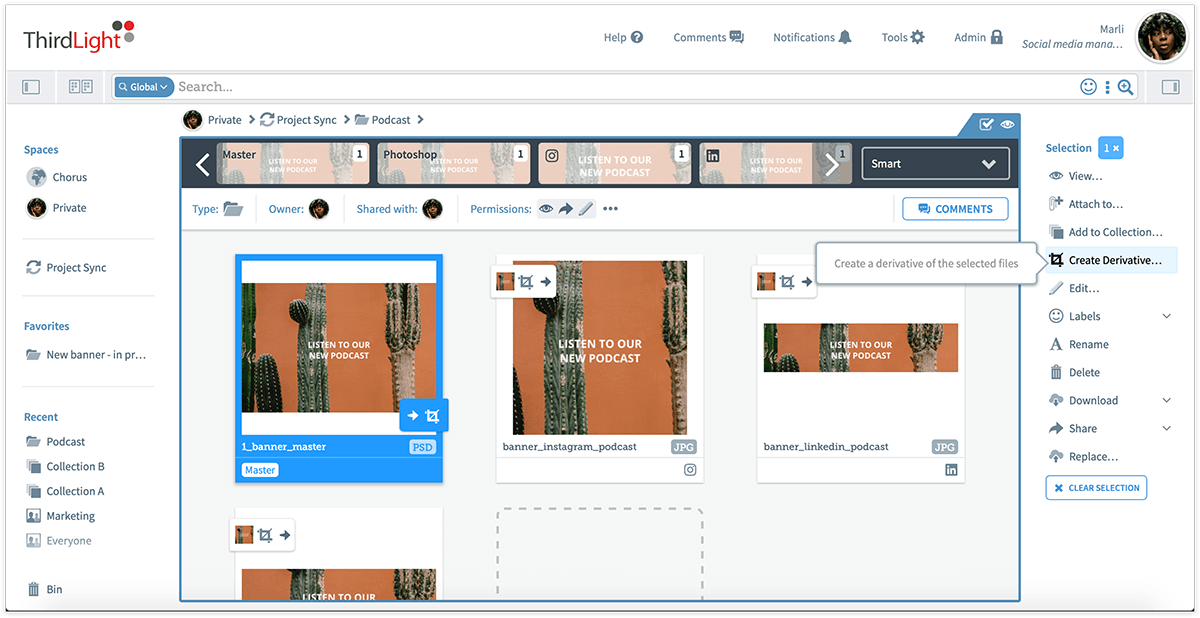 "People working in fast-paced marketing environments are crying out for flexible, convenient editing tools that save time and maintain a high quality of content," explains Marco Michelutto, Third Light's Product Specialist. "Chorus's derivatives feature allows users to modify the files stored within its media library for every creative purpose – quickly, easily and with no risk of harming the original."

Save storage space
Digital asset management specialists estimate around 80% of files are duplicated between the marketing functions creating content and the digital teams making their own copies. With derivatives, the storage space taken up by a rapid proliferation of crops, resizes and formats snaps back to just one source file. "Every other 'version' takes up no room as it is simply a set of instructions," explains Marco, "applied each time that particular file is requested by any user."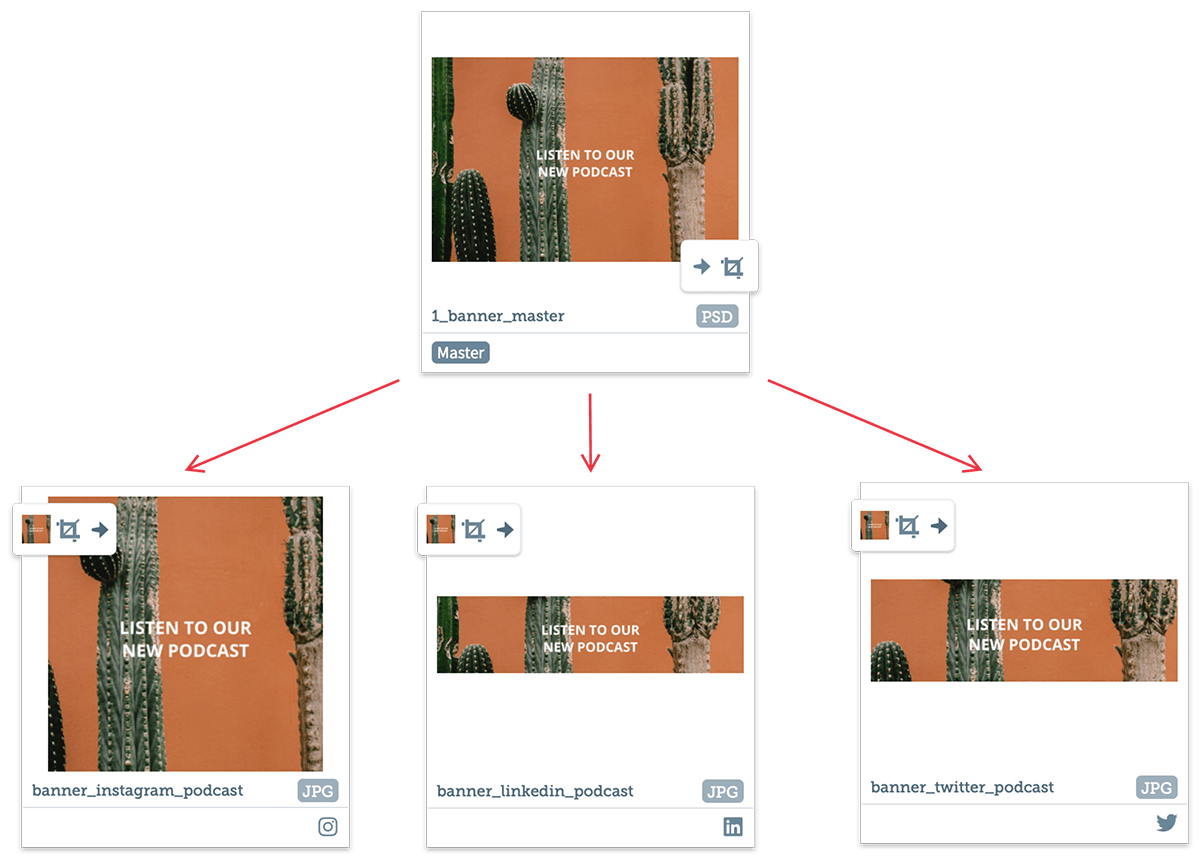 Control every version of an original file
To content managers, there's no scarier outcome than 'version creep' of an asset. When control of an original source file gets away from you and iterations get edited into new iterations, inaccurate or poor quality results get published. Even scarier? No versions. Media stored on a traditional server is always at risk of deletion, or over-writing.
With Chorus that high-res file is protected, with the derivatives tool allowing everyone to help themselves to the versions they need. And if that original needs to be amended, a whole library's worth of crops and formats will update to match it in a split second.

Create a campaign's worth of assets
The derivative tool can be pre-set with the cropping and format settings you use every day, making preparing multiple assets for a campaign a breeze – just select what you need from the dropdown menu, and save away. It doesn't take long to create everything in one go, from web banners to Instagram posts, and save it into a collection that's ready to download from your Chorus site or share with whoever needs it – perfect for global organizations with multiple social teams, for example.

Swerve the software, free up the specialists
Without derivatives, someone reformatting or cropping an image will need a subscription for Photoshop – or the services of a trained designer, who could be much better placed on work that needs creative expertise. "Derivatives give a greater number of users the autonomy to produce their own content, without costly individual software subscriptions or specialist training," says Marco.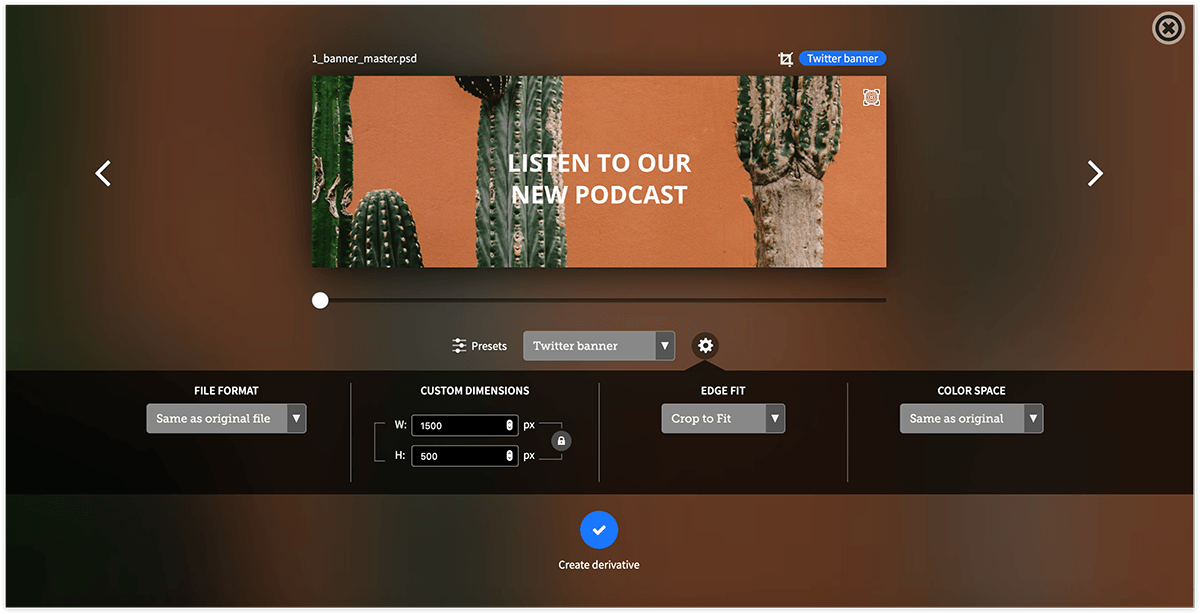 Chorus has powerful syncing and communication features that free up precious time for the creative, collaborative work that counts – wherever you are. We're offering a free 30-day trial so you can see its powerful features in the best possible context: in action on your own projects. And if you have any questions, just [email protected]; we're here to help.
Author: Edie Mullen
Other articles you may find useful:
How Third Light's teams found space to collaborate – wherever we are
When everyone at Third Light suddenly had to work remotely during lockdown, Chorus's configurable, secure 'spaces' helped everyone keep working, without skipping a beat.
How Chorus gives social media teams time to think
Social media teams have to be responsive and consistent - but keeping effective, good quality media flowing across multiple platforms doesn't always leave breathing space for strategic work. Here's how Chorus automates the digital content management chores that can eat up your time.
---