Skip to end of metadata
Go to start of metadata
Comments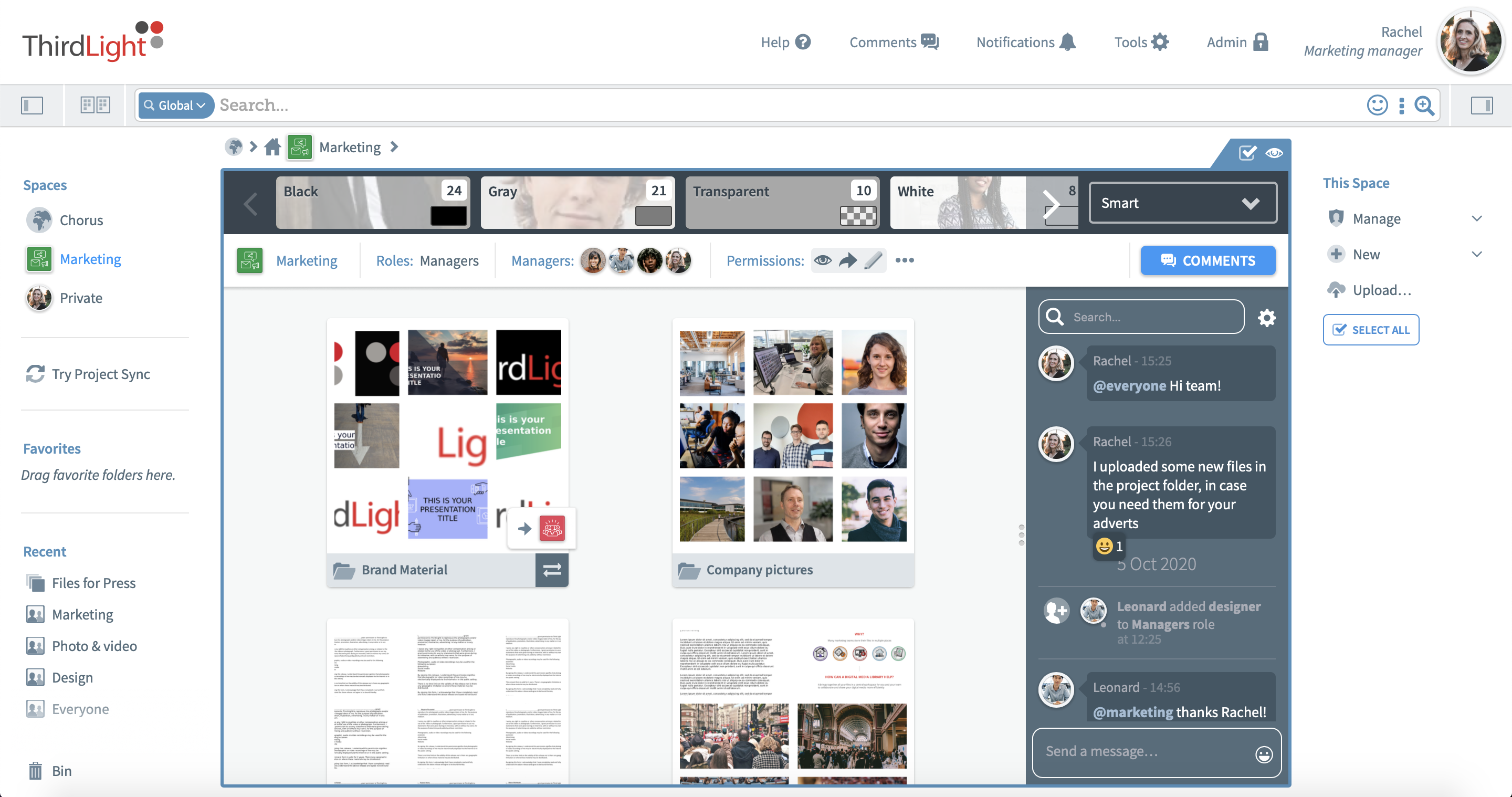 To collaborate effectively a team needs to see and discuss the work getting done. Activity logs let everyone on a team see what is getting done, comments allow them to discuss it. Together they create a powerful way to keep track of a project and to request changes or approve edits.
There are two places in Chorus that these conversations can take place:
Activity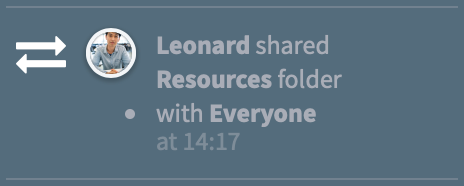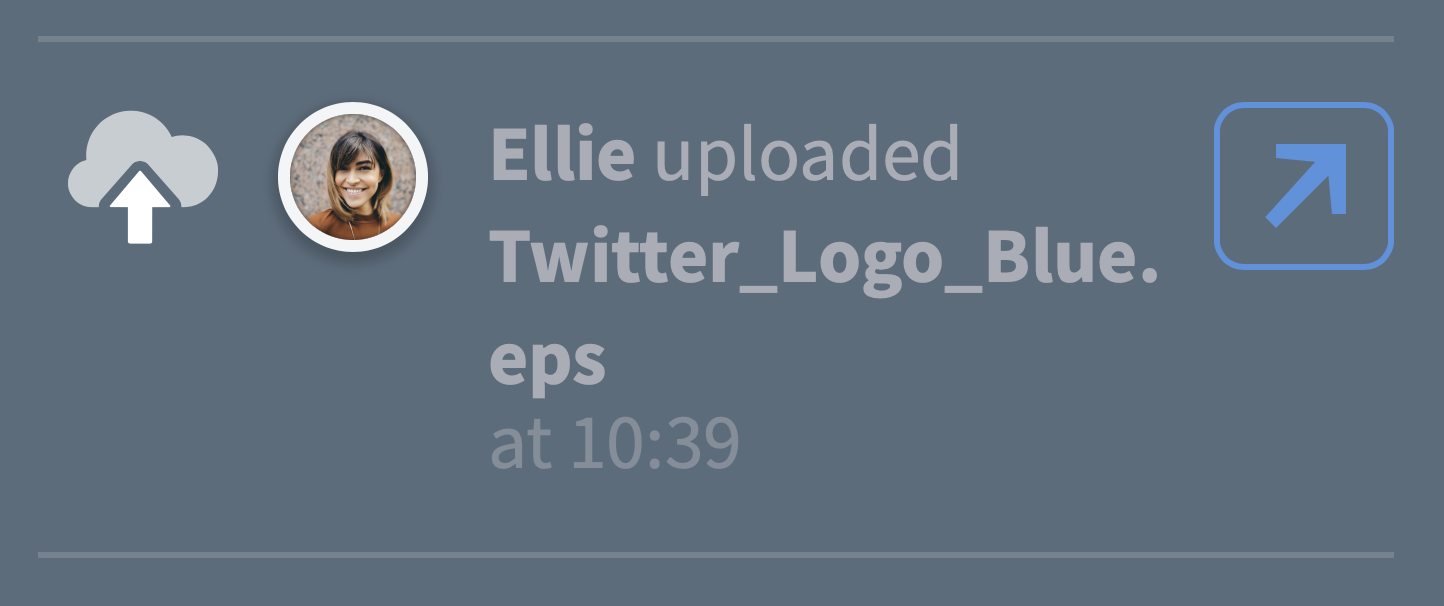 Any entries in the activity log that refer to this folder will be mentioned in the conversation interleaved between any comments, so that you can see a complete timeline of what's been going on in the folder.
To learn more about the activity log please see this section of the documentation.
You can hide the activity log if you would rather just see what people are saying (see below).
The events reported are currently:
Adding or removing users
Adding or uploading files
Creating folders, collections, smart collections
Deleting, recycling, or removing files
Sharing folders, collections, or smart collections
Replacing or activating a revision
Syncing into the folder from Project Sync
Removing or recycling a folder, collection, or smart collection
Adding to or removing a file from a collection or smart Collection
Making a comment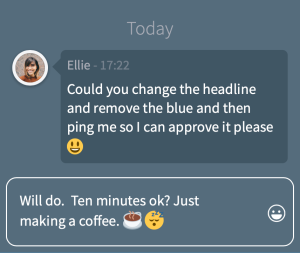 Making a comment is as straightforward as you might expect. Open the comments panel using the button in the banner. Type your comment in the text box or click on the face icon to use an emoji.

When you mouse over a comment you will see some options depending on whether the comment is yours or someone else's.

You can:
Edit, delete or add an emoji to your comments.
Add an emoji 'reaction' to other people's comments
Adding a reaction to a comment
Reactions
Reactions are emoji that other people can attach to someone's comment. They are very useful for quickly responding to someone's comment: noting that you've read a message, saying you are acting on a message, approving an edit.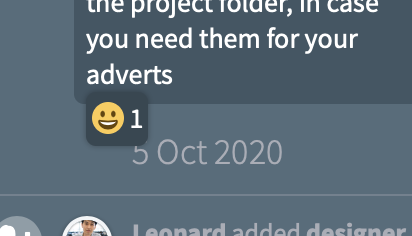 You can react to other people's comments by adding a an emoji 'reaction'. Mouse over the comment and click on the face button that appears. Your emoji will appear on the comment with a count next to it. To remove the reaction, simply click on it again. To add your voice to someone else's reaction you can click directly on it.
Emoji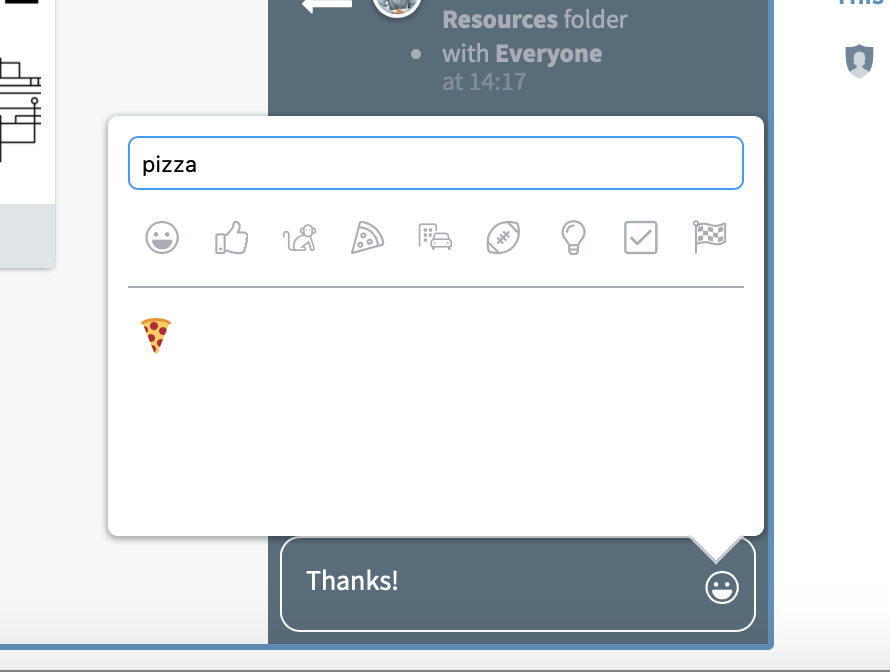 You can use a full range of emoji in your comment. To enter an emoji either use the standard popup on your Mac or PC (e.g. control+command+space on a Mac) or click on the face button to use the built in popup provided. You can search for emoji by entering keywords into the search bar.
Adding an image or a folder to a comment
Any images in the folder being discussed can be dragged into the conversation. This is much easier than using their filenames.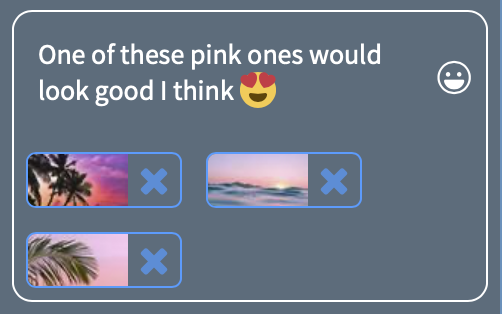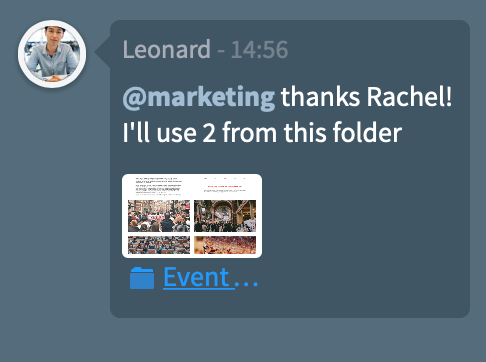 You can also drag folders in to highlight and provide a link to them.
Editing a comment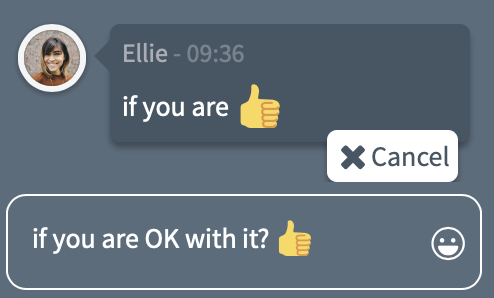 You can edit a comment to fix a typo by mousing over it and clicking on the edit icon. You can only edit your own messages.
Deleting a comment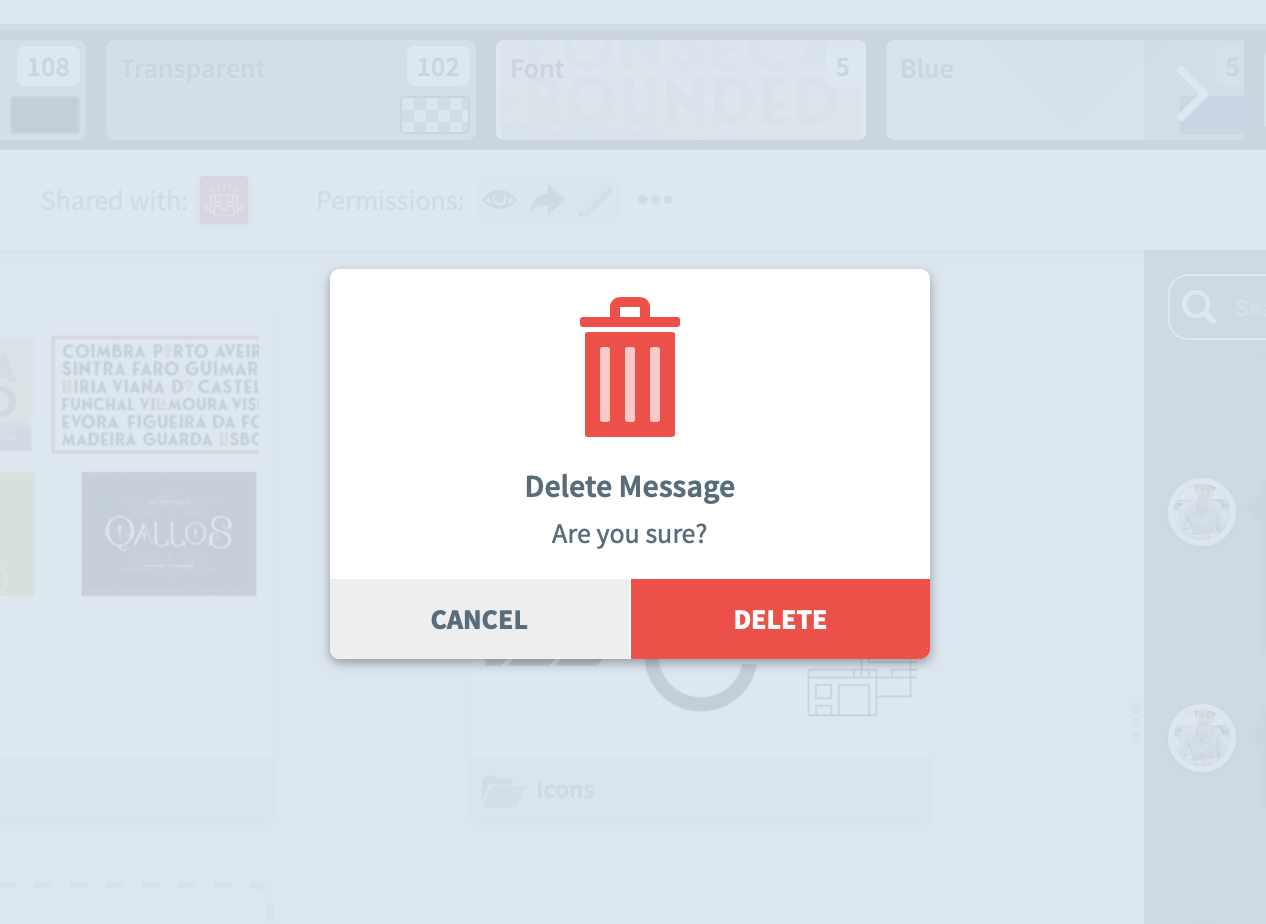 You can delete a comment by mousing over it and clicking on the delete icon. You can only delete your own messages.
Searching comments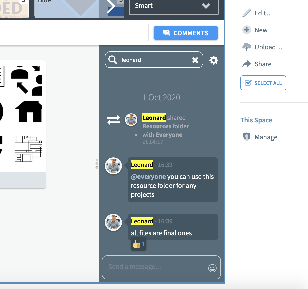 Conversations can be searched by using the search field at the top of the comments panel. Any text or name can be searched for. Only the comments that match the search will now be shown and the matching text will be highlighted.
Unread comments count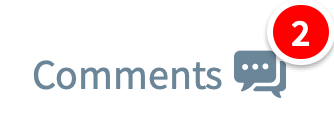 The number of unread messages you have in a conversation will be shown on the comments button in the banner.
New Comments Line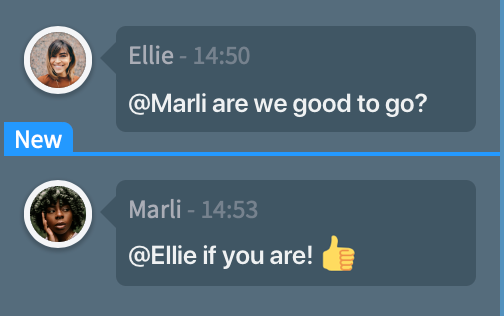 The new comments line shows which comments were made since you last viewed this conversation. Anything below is new, anything above is old.
Mentioning people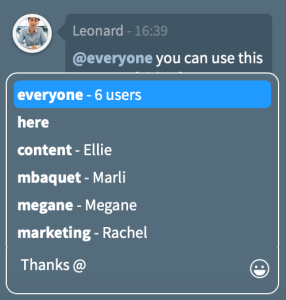 You can mention people by their username by adding an '@' before it. This will ensure that they are notified.
@name to mention a person directly
@here to notify everyone taking part in the conversation
@everyone to notify everyone who can see the conversation but hasn't actively taken part or has chosen to 'watch' it
To be considered in a conversation you need to have commented, reacted to a comment, or explicitly chosen to watch a conversation.
Settings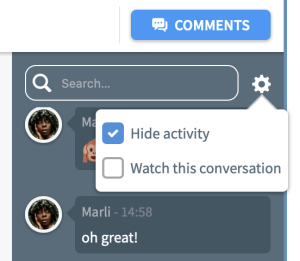 Hiding activity
If you would like to hide the activity entries in a conversation you can do so by using the 'Hide Activity' option in the settings menu next to the search box.
'Watching' a conversation
If you would like to be notified about this conversation without leaving a comment you can watch it by using the 'Watch this conversation' option in the settings menu next to the search box.