Third Light will shortly be releasing a brand new product, called Chorus.

Our aim was to take our intelligent media library tools, add a smart workflow system, and most important of all, create the most approachable and user-friendly experience possible. In Chorus, sharing, collaboration and editing will become a lot quicker and easier. To do this, we've completely re-written our product. Chorus isn't IMS v7.0 - virtually everything about it is new.

I'm excited to share this news with you. Our team is looking forward to showing you a fresh and vibrant product which we think you will love!

Sam Phillips, Head of Design, Third Light
Introducing Chorus – rethinking traditional DAM
The most obvious and important change we've made is to optimize our user experience with an entirely new, state-of-the-art interface. Chorus provides a beautiful, easy to understand user interface (UI) with retina-quality images and exacting attention to detail. The product comes with drag-and-drop features and iOS tablet optimizations, so it's perfectly usable on PCs, Macs and iPads.
Tip: We've included screenshots here, and if you click them you'll get the full, high-resolution screenshots of our current development version.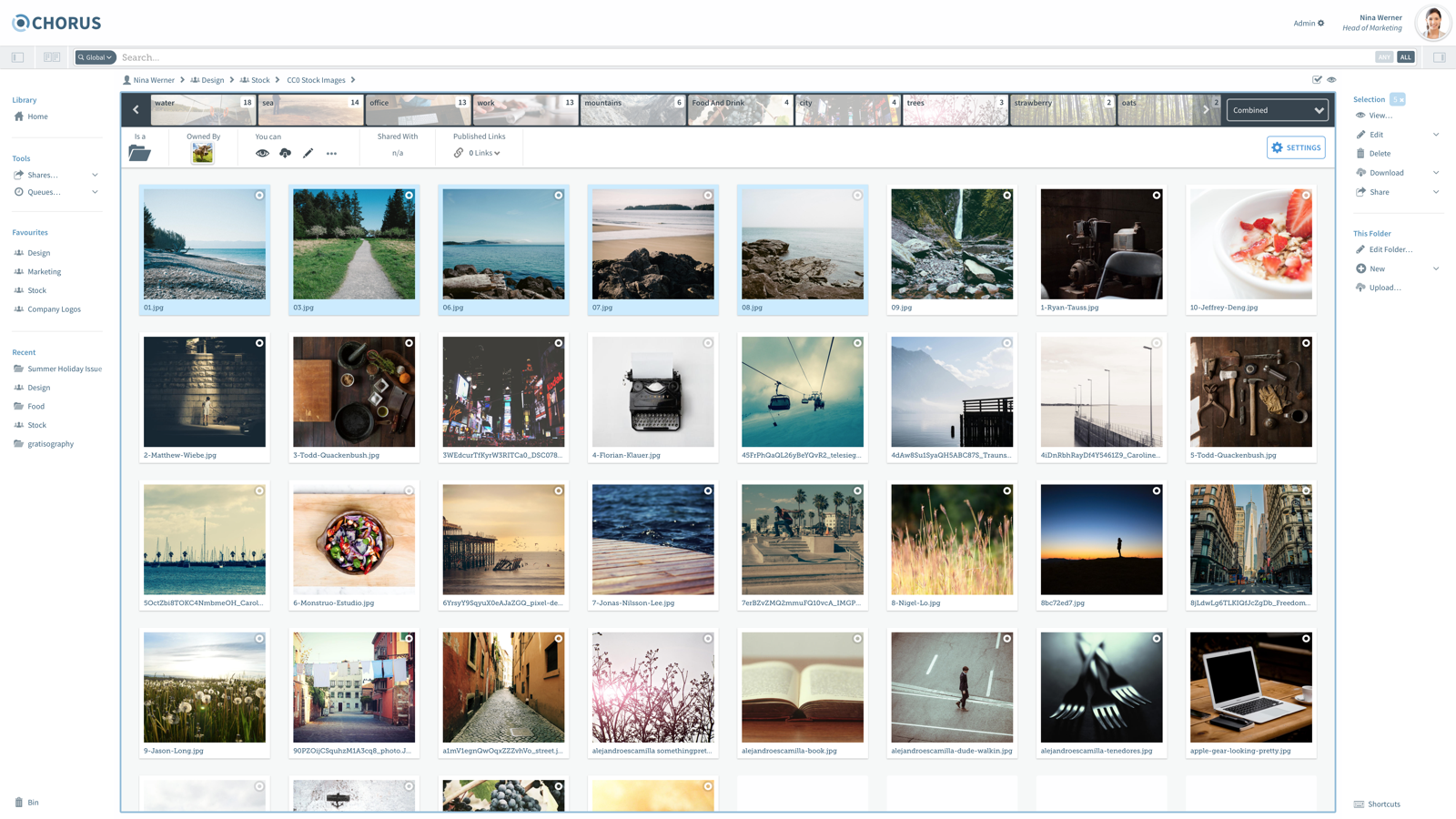 Using the Chorus UI, you can manage and view your digital assets in one central workspace – branded, customized and personalised by choosing from multiple system and display options.
When you're viewing images, we give priority to the preview itself, and provide access to metadata in panels. In fullscreen mode, Chorus is an amazing presentation tool.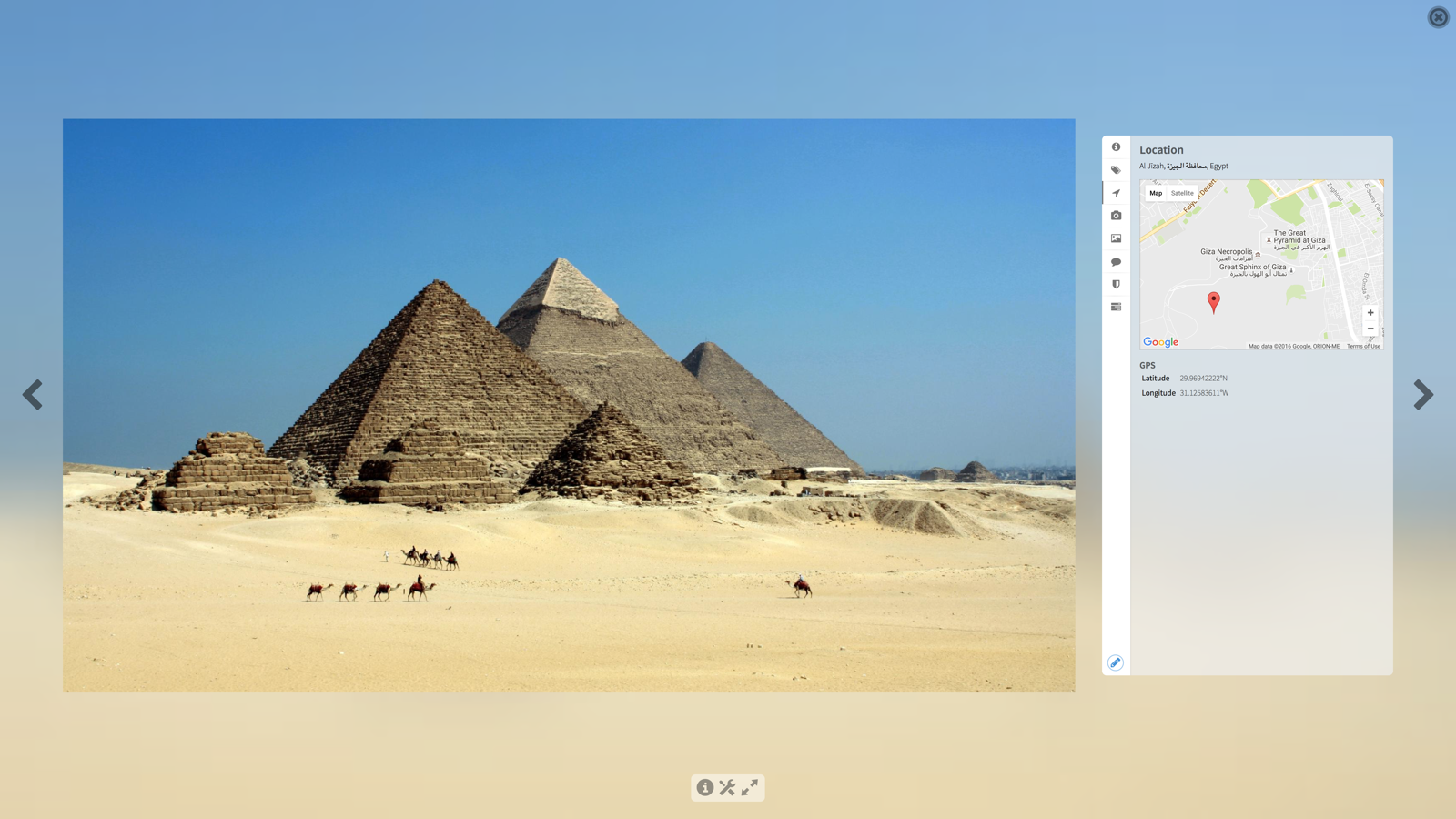 Other user interface upgrades are found in every detail of Chorus. For example, we've focused on some of the most important areas we know you use regularly:
Uploading, batch editing and downloading files is highly streamlined. Folder uploads can be queued by dragging them onto Chorus in your browser, and upload in the background while you continue to work, even if you leave the page.
A new split-pane view function allows you to view assets side by side and compare assets whilst making edits or changing backgrounds.
It's simpler to manage large collections of files in Chorus thanks to the new list mode (see the left hand pane in our next screenshot), which lets you view and sort files by any metadata field.
Every major action has a keyboard shortcut to save you precious time.
Since Chorus uses a lightweight browser client, it looks and feels like an application, and loads incredibly fast (even on slow connections).
Beautifully blended background images, typography and iconography are good to look at, but we've also made a point of reducing the amount of text in the user interface so that it's easier to translate.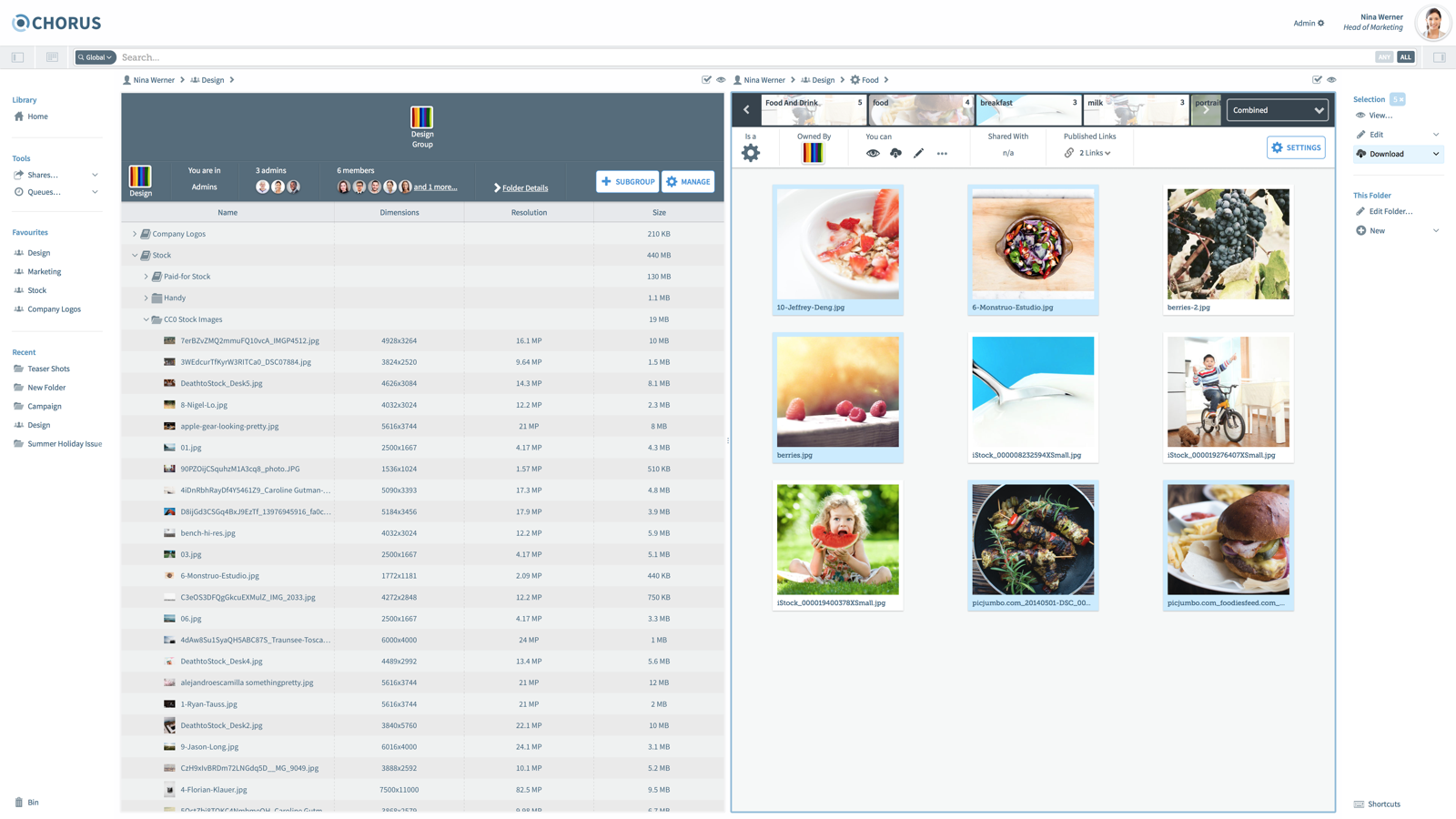 Specific features make working together easier. In Chorus, you'll have the ability to work with others on changes in real-time and see those changes everywhere immediately. If you work in a team, you'll be connected by chat tools with other users and, of course, your web browser will never need to reload to see changes. These are just a few of the reasons why the new user interface in Chorus is such an important leap forward (and why we're excited to share it with you!)
Distributed administration enables more natural teamwork
Distributed administration means that your DAM will have the ability to support individual workgroups who can control their own part of the system, without being super-users. This leads to much more user-friendly permissions, and helps the people in your business get their creative work done conveniently.
By creating workgroups, you can allow secure access and sharing just by adding users to their required groups. You can also set site, folder, user and other organizational permissions for added security, and of course users can hold different roles in multiple groups. Chorus works the way you work, and doesn't expect you to be an administrator of the whole system.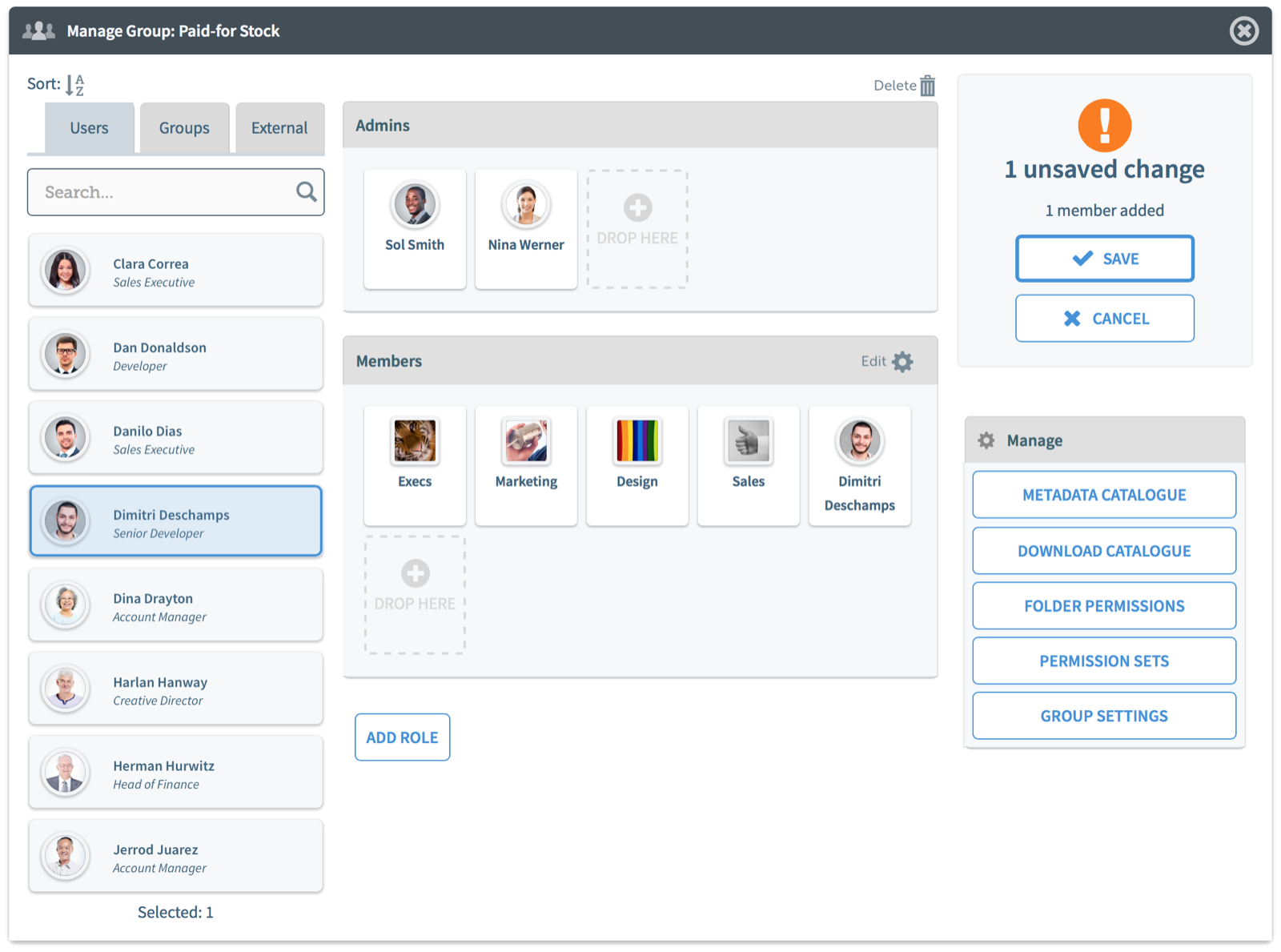 Built with workflow and team processes in mind
Chorus uses groups and roles to improve your workflows, and comes with ready-made approval paths and notifications. You can configure your workflows so that notifications can be sent via different channels, like email or text message, or maybe via our API as events – whichever you decide. You can configure different types of automated actions for your workflow paths, like the addition of metadata, or the approval of assets. A new workflow programming language is available to tackle every possibility.
Repurpose media in your browser
As you have come to expect from Third Light, Chorus excels at providing graphics and video editing in your browser. You can edit, crop, convert to any file format, recolour graphics and backgrounds, set download format options, and take snippets of videos from a completely new graphics module.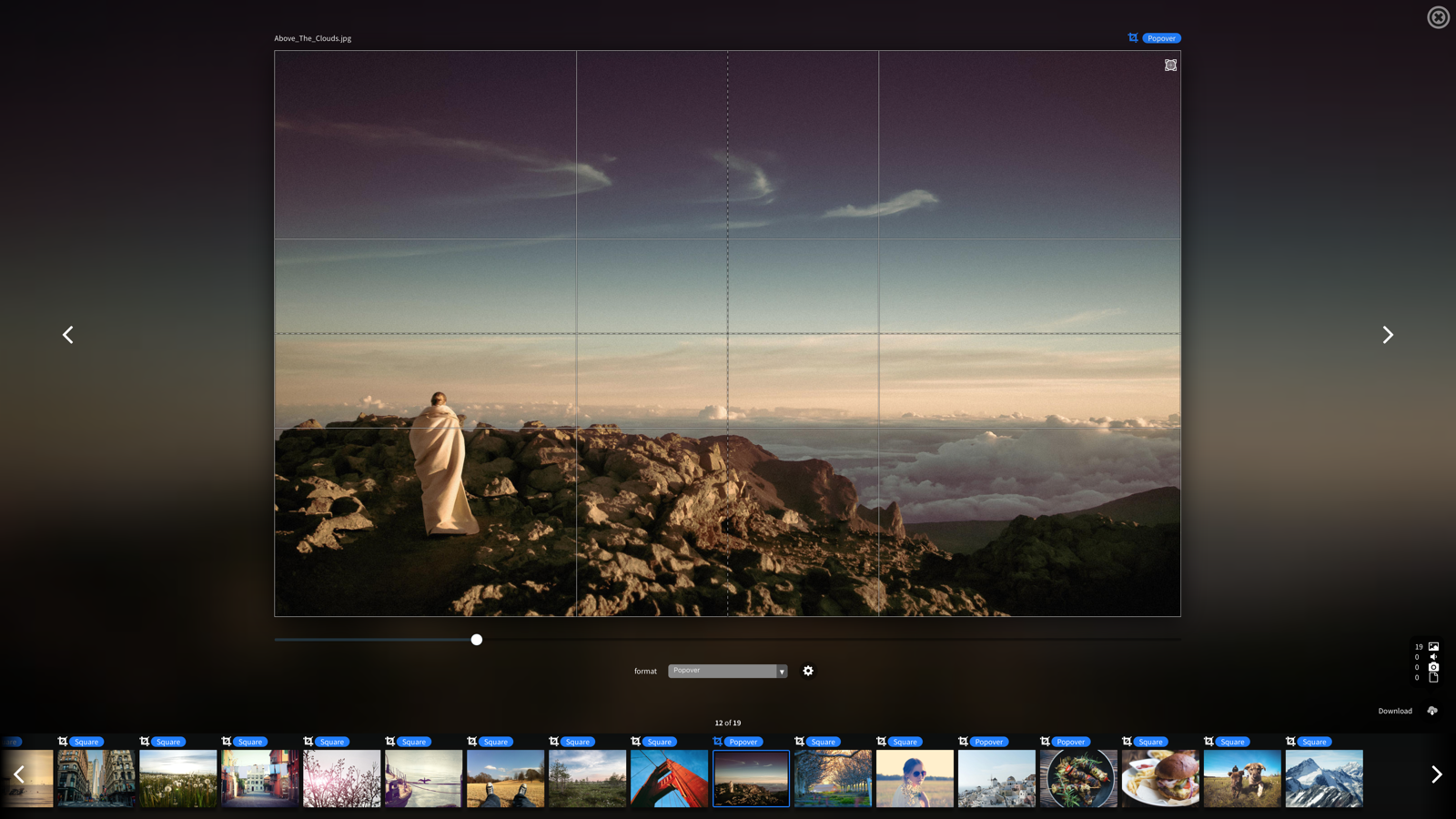 Secure and professional-looking publishing in your brand
In Chorus, we've created the idea of "publishing" content to external users who just need convenient access to search and download. Publishing lets you create pristine, presentation-grade portals with branded, clutter-free layouts and custom URLs, perfect for convenient and professional sharing to a wide audience. Smart reporting tools ensure you have complete visibility of your media's history, too.
Chorus lets you publish email-able links to libraries, folders and smart folders, as well as single files in beautiful, deeply themed templates (and if you're a developer, you can manage these using Git code repositories). Links to published content can be embargoed or expired, watermarked and protected by Terms and Conditions. Using a unique security system, links can be locked to individuals to prevent re-sharing without the need for a password sign-in. Additionally, we've used a special set of optimizations to make publishing robust when very large flash crowds visit a page. Together, these features will make online working seamless – we think that Chorus will be an invaluable tool for the whole company and your customers to share.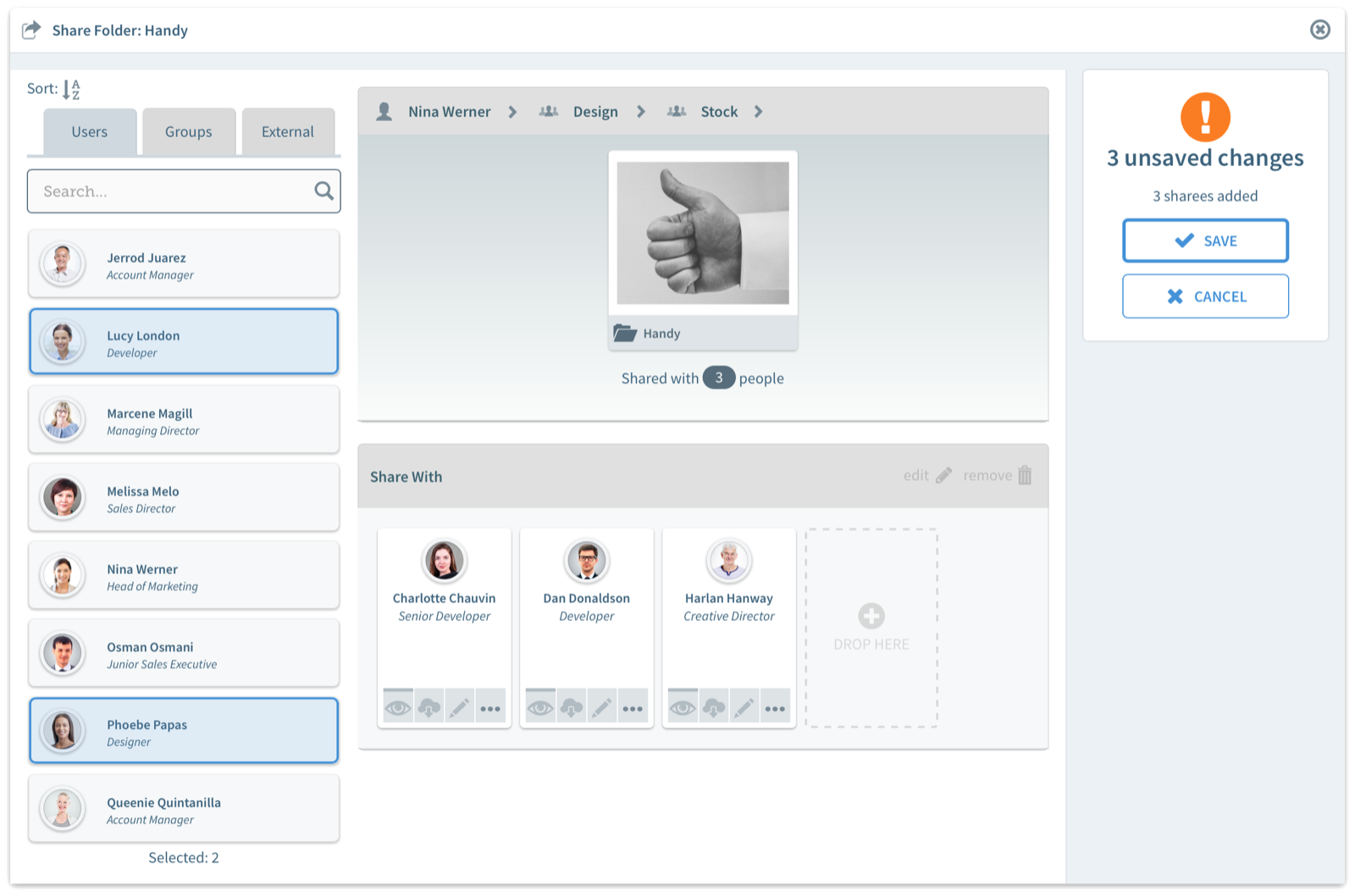 Metadata taken to the limit: in Chorus, it's adaptive, layered and cascading
Chorus has a lot of new capabilities in the metadata features we've added. In Chorus, metadata is adaptive, layered and cascading.
Here's what we mean by those terms.
If a file moves from one folder to another it will not lose any metadata. But, with adaptive metadata, what the user will see displayed can depend on where that image is being viewed. For instance, a file that moves from Sales to Marketing can stop showing Sales-specific metadata and start to display Marketing metadata. If it's moved back the file will adapt and the Sales metadata will return. Metadata is never lost, it just adapts.
Folders can have multiple metadata categories at the same time. This is referred to as layered metadata, which means you can have different kinds of metdata attached to an asset. For example, you can have a category that is relevant to the engineering team that likely contains engineering and technical metadata, and another that's used by the marketing team that contains press information or sales materials. Visibility of the metadata is as configurable and flexible as you need (even if it's just a single metadata catalog, of course!).
Cascading metadata means that metadata added to a parent folder will cascade down to any sub-folders and files underneath it. This allows for tree-like taxonomies to be created within the metadata of a folder structure with the minimum of manual tagging needed. Chorus gives attractive visual cues to optimise the user experience when it displays metadata that's been cascaded down.
Using the distributed administration features in Chorus, you can assign metadata admins and rules to your groups. Chorus has Smart Folders, too - a great way to organize content based on metadata rules - and just one of a wide range of automation features that are coming to Chorus in our roadmap.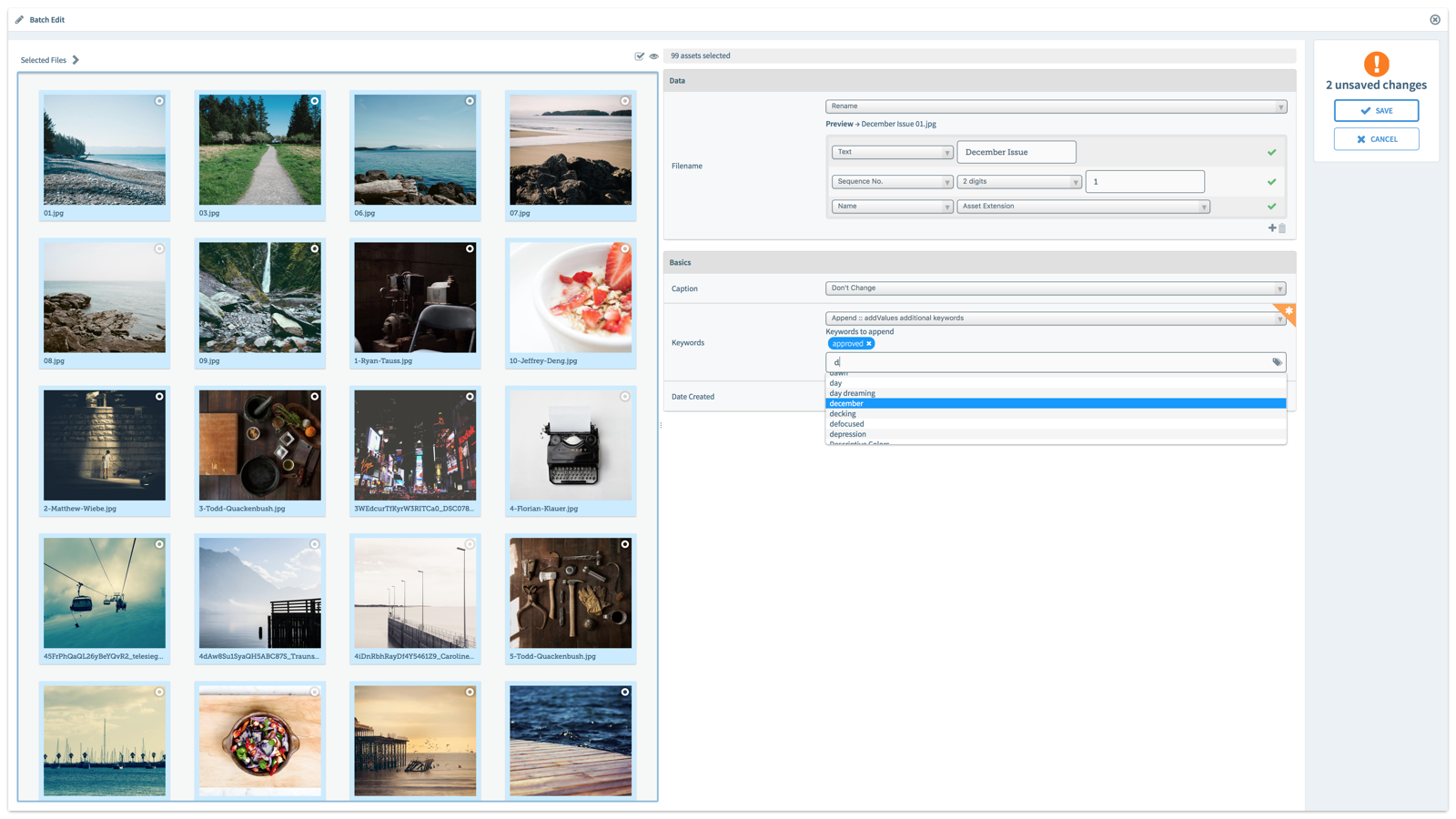 Centralized, secure and affordable storage that takes the load off your IT department
With no desktop software to install, and the ability to store your entire media collection on our high-speed private cloud, Chorus is a cost-effective product that fits into modern enterprises perfectly. It uses the latest WebSockets and message queue technology to interact with an efficient Javascript client. Chorus runs cleanly and efficiently over networks of all kinds, with minimal latency. It's securely encrypted end-to-end with HTTPS. We also offer on-premises deployments for customers who require it for security or policy reasons. The choice is yours, and as always we provide regular software upgrades to keep your system secure and fresh with new updates.
You will never lose your data with our backup and synchronisation features, which are available for both kinds of deployment, and Chorus also guarantees quick, secure and audited private sharing for every situation. Chorus uses industry standards like Adobe XMP, and has a full coverage JSON API for every single action (as you'd expect – we use it to build the user interface!).
The Chorus API is stable, trusted and easy to use. It's also ideal as a platform for affordable one-off customizations from our Professional Services team. IT integrators and resellers will find Chorus rich in interfaces, events, triggers and ready-made integrations. Important features like SAML2 and Active Directory are built-in, designed to help you put Chorus at the heart of any growing digital media management project, too.
---
Questions and Answers
Q: When will Chorus be available?
The beta launches on 1 December 2016, with release of Chorus V1.0 in early 2017. Hosted versions will be launched first, followed by the on-premises edition. Chorus will be expanded with additional modules during 2017 and beyond, so you can expect Third Light to cover more and more areas of functionality over time (including a lot of new innovations that we have waiting in the wings!).
Q: How do I access the beta programme?
We're offering two betas; one for existing customers (a private beta) and another for general use (public beta).
If you are already a Third Light customer, please get in touch to register your interest – simply email chorus-beta@thirdlight.com and provide details of your existing Third Light subscription. The private beta starts on 1 December 2016.
A full public beta will be announced here, with an online sign-up form, for a period before the product is released. Anyone who participates in the public beta programme will be eligible for any incentives we announce for buying the full release when it becomes available.
Q: If I have an IMS v6 (Intelligent Media Server) site, can I upgrade, and how much will that cost?
There is no charge for Chorus provided you have an active subscription, or a support and maintenance agreement. However, we are not encouraging IMS v6 customers to migrate immediately as IMS v6 and Chorus contain different features (mainly because Chorus is an entirely new product). The initial release of Chorus will not offer an automatic upgrade tool to move from IMS v6, but a migration tool will be offered in 2017. To help with this transition, all Third Light customers who have an IMS v6 license will be given dual access to both products (free), so you will be able to make the most of the significant architectural changes in Chorus sooner if you want to.
Q: We are very happy with IMS v6. Can we keep using it?
Absolutely – IMS v6 is an industry-standard solution and very popular product in its own right, so we won't be making any sudden changes. We plan to provide IMS v6 support and maintenance as usual, until at least the year 2020. You can choose whenever you're ready to upgrade to Chorus, and we'll be making that process as simple as possible with tools and guidance.
Q: I have more questions. Who should I ask?
Thanks for your interest! You can contact us at ask@thirdlight.com to send us your questions about Chorus.
As Chorus is a pre-release product, details are subject to change and should not be relied upon until the initial, full release of Chorus is made available. If you need clarification about functionality, we'll do our best to respond on the email address, above.