MAM, DAM, Image or Media Library? What Should You Look For?
The Most Popular Names
We asked our current customers what name comes to mind when they think of software like ours - the results are given below.
We asked: "How would you describe Third Light's Intelligent Media Server? All of the following names are used in the industry to refer to products like ours, but we want to know which you find most meaningful and accurate and which would be easiest for newcomers to this kind of product."
| | |
| --- | --- |
| DAM (Digital Asset Management) software | 25% |
| Image Library software | 22% |
| Media Library software | 18% |
| Photo Library software | 8% |
| Media Management software | 8% |
| MAM (Media Asset management) software | 6% |
| Media Server and Management software | 5% |
| Media Server software | 4% |
| MRM (Media Resource Management) software | 0% |
The Significant Differences
DAM
Michael Moon is credited with inventing this widely-accepted term for software that helps you manage your photo, video, audio and other artwork files so you can store them, tag them, control who can access them, find them easily and reuse them. Use of "digital asset" helped distinguish this type of software from stock image libraries and other software that dealt only with photos - not video or audio - and was also part of an effort to properly value digital content as something other than files on a disk.
For more information about Michael Moon and some useful perspectives on this type of technology and its use, please refer to: Michael Moon
MAM
One of the more recent newcomers to our industry is "MAM". What does it mean?
According to the Real Story Group and some others, MAM stands for "Media Asset Management", while for Saepio and others it's "Marketing Asset Manager".
A Media Asset Management system is a DAM that's specifically oriented for use by film production companies, broadcasters and TV networks dealing with time-based audio-video assets (such news clips and sports clips). If you are such a company, you could to look for such systems, which may include specific features as the ability to import film from tape, for example.
A Marketing Asset Management system, some will argue, is a super-DAM that enables you to store and tag assets but also to repurpose those assets (crop images and publish to the web for example): "With traditional DAM, if a crop of an image is made, that crop is saved as new image with new metadata applied. Because MAM assembles content on the fly, MAM handles cropping in a different, more efficient manner. Instead of real crops, virtual crops are applied. Therefore, multiple views can be created from a single base image." (Kashyap Kompella, Real Story Group)
"The Difference Between MAM and DAM"
Saepio analyse the difference between MAM and DAM in this blog post.
A clear way to describe this functionality is the ability to assemble end user content from parts. There is a widely accepted view about what this is: a feature that enables you to maintain documents (like brochures) in your library system, to link into new instances of the document other assets stored in the library (typically photos and diagrams) and to change the text blocks. This is particularly suited to distributed marketing situations where a corporate brochure is distributed from a central marketing team to regional offices, who translate and localise it with appropriate text and images, for example.
However, I know of at least three "DAM" systems that support the creation of "multiple views from a single base image" (AKA "versions"), and at least two that support clipping and frame capturing from master video files. The systems that Real Story and Saepio are describing also do most of the other things that avowedly "DAM" and "image library" software does: tagging assets, controlling user access to assets, sharing assets over the internet and so on.
Another factor to bear in mind is that while a Media Asset Management (the film broadcasting flavour) system may have some specialist functions, those functions may actually be better completed by dedicated tools already used in the industry. On the other hand, a lack of image rather than film-based functionality in a "MAM" might mean you also need to get a DAM system to manage your images. Therefore, a DAM system that stores and enables you to tag all your media files (video, photo and audio) may well be the best solution if you are a broadcaster and also do a lot of marketing.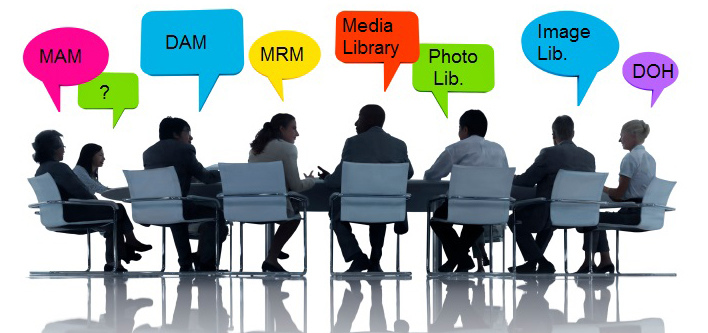 Photo, Image and/or Media Library Software
We find that a lot of people still search using the terms "image library" and "photo library" which were the predominant ways to describe the products that have come to be known as Digital Asset Management software. Of course, many marketeers will deal with images for inclusion in brochures, social media and so on - so it's natural that they think in this way and not in terms of "digital asset management". However, one of the reasons "DAM" came about was to help distinguish DAM software products from other types of image library (Getty, iStock, etc.) and if you use these terms to search today you will still get those services presented to you and have to filter them out.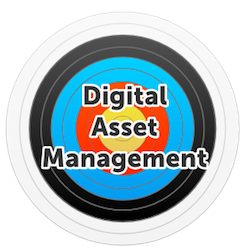 Media Server
This term highlights a feature supported by several DAM systems - the ability to host images, videos and audio files on the web so that you don't have to keep a copy of the files in both a library and on a fileserver. The software makes the file available to other web pages, with no need to take a copy. Hosting all your media assets from such a system can save a great deal of duplication of assets - and the associated work on the assets, such as several people from different departments using the same file the same way.
Another aspect of this name is that sometimes a library will be purely web based - you login via your browser to access the library as a web site. Some vendors enable you also to access the library like any other PC/network drive, which has the great convenience that you can click a file to open it in the application of your choice and be confident that any changes you make are available to anyone (a remote business partner, for example, can access changes as soon as you've finished).
However, again these feature area offered by several "DAM" vendors. "Media server" is a useful concept, but if you limit your searches to this term you will exclude the majority of vendors who do offer these features as a component part of their DAM package.
These terms are really forerunner to "DAM" and not a reference to a distinct type of product. The use of the phrase "media library" is quite common, but both this and "media management" when used as search words will return lots of results for services, consultants and software in the PR industry - as does "image management". Use of the word "photo" will also generate lots of results for myriad processes and service relating to photography generally.
Most vendors of DAM software will also index themselves as photo and image library or management software.
Fundamental Types of System?
Wikipedia proposes that Digital Asset Management products (July 2013) fall into the following categories:
Brand asset management systems, with a focus on facilitation of content re-use within large organizations. Here the content is largely marketing- or sales-related, for example, product imagery, logos, marketing collateral or fonts, to give a few examples.
Library asset management systems, with a focus on storage and retrieval of large amounts of infrequently changing media assets, for example in video or photo archiving.
Production asset management systems focus on managing assets as they are being created for a digital media production (video game, 3D feature film, animation, visual-effects shots, etc.) They usually include workflow and project management features coupled with the storage, organization and revision control of frequently changing digital assets.
These distinctions are useful in helping one understand some of the different applications for DAM systems as well as the basic job they can do. The problem with the above distinctions is that they are almost entirely academic - a lot, possibly most, commercially available products would fit reasonably into all three definitions.
Many DAM products would only fall into one or other of these categories based on how particular customers use them rather than because of their range of functionality. Even then its rarely that pure or simple. A museum starts off with a requirement to store media, keep it safe and find it again when needed. But when the marketing and communications team use it, they use selected items in promotional work, start cropping images in the media library and post them on social media sites. So, in this sense the use of an image library product can evolve significantly and again, in my experience, all three of the categories above would be involved in a typical business using a digital asset management system. I haven't seen many DAM systems that do not include reproduction tools and don't support brand management.

Cloud Impact?
The relatively recent introduction of cloud-based solutions has not changed the nomenclature in the industry very much. DAM vendors have taken advantage of the relative ease with which additional storage can be made available in cloud-based solutions. Systems that were previously "Software As A Service" are now described as "private cloud" services. A number of products operate exclusively "in the cloud", while others support local installation too (allowing associated security and performance gains for locally-installed software).
Referring to "the" cloud is a misnomer as there are many possible sources of cloud computing. Amazon cloud services are a particular product with a reputation for resilience and global performance. However, there are many competitive products both on performance and price such as Microsoft Azure. Since most organisations now have their own pool of computing resource for virtual servers, it may make more sense to use an in-house "cloud" in any case.
In terms of searching for solutions to manage your media files, I don't recommend searching specifically for cloud-based DAMs because the majority of DAM vendors now provide cloud implementations - and the few who haven't might include better-priced solutions you could use.
More likely is that if your media assets are particularly sensitive - a private collection for example - you may want to exclude vendors who do not offer the ability to run their software on your own network. I can't think of any quick way to exclude such vendors from your search and suggest you include this as one of the first requirements you ask selected vendors to confirm they provide.
Conclusions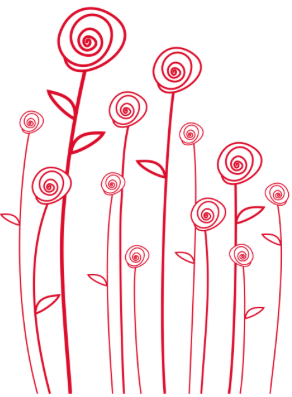 In all but the two exceptional cases listed below, search for "Digital Asset Management software" and you will find the vast majority of available offerings.

Bear in mind the way Google works. If your budget for a system is on the low side - say less than $5,000 dollars in the first year - the products presented on the top pages of Google will not help you. "Finder" services like Capterra only deal with vendors that can pay for their service, so to find the lower priced offerings you need to pick up as many names as you can and send an email asking if the vendor can provide a solution with your budget, with details of what your core and optional requirements are.

Third Light supports pricing transparency. For details about the pricing of our Intelligent Media Server, please refer to our Products.

If you need to manage video media produced by a film or broadcasting studio, search for "Media Asset Management software". If you don't find enough choice or breadth of features because you also want to support marketing processes, also search for "Digital Asset Management software" and filter for those offering video and broadcasting support.
If you need to pass customisable artwork to distributed operations around the world (a PDF brochure for example) for local offices to fine-tune and localise, look for DAM products that advertise web-to-print as a main feature. This will ensure you get a good choice of products.

Click here to review Third Light's pricing
Free 30-Day Trial
---