Company History
Third Light's success is built on our unique ties with the University of Cambridge. Our product is a reflection of the smart and inventive people who have made their careers at Third Light.

Michael Wells - Founder of Third Light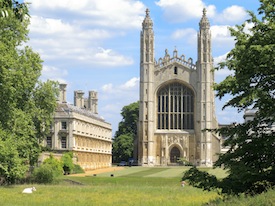 Founded by University of Cambridge engineers and photographers, today Third Light proudly helps the United Nations, NASCAR, the Virgin Group, and many more loyal clients manage their digital media.
With years of experience and 500 customers in the digital asset management space, we're valued for our powerful and simple products, our reasonable pricing, and our support services that consistently earn us 5-stars on TrustPilot.
Our story
Third Light was established in 2002 by University of Cambridge engineering graduates, Michael Wells and Ben Holland, at a time when the growth of digital photography and the potential of the internet were coming together at the cutting-edge of media innovation.
Our initial goal was to design a web-based media library for storing and managing the explosion of digital images. Being a small business, Third Light was able to quickly react to trends in this market and attract talent from the world-class technology hub of Cambridge.
Soon, Third Light's original product expanded into a business solution that could solve the emerging challenges of storing, searching, and sharing media on the web. Third Light also established its own private cloud for storing and backing up content at an early stage, so solving the common problem of where to store data on the internet.
Today, Third Light remains privately held by its company directors, with a talented and determined team who share our vision: to save time and increase productivity wherever digital media is managed.
We're always growing – our products and our people. Start a conversation with us today: ask@thirdlight.com.